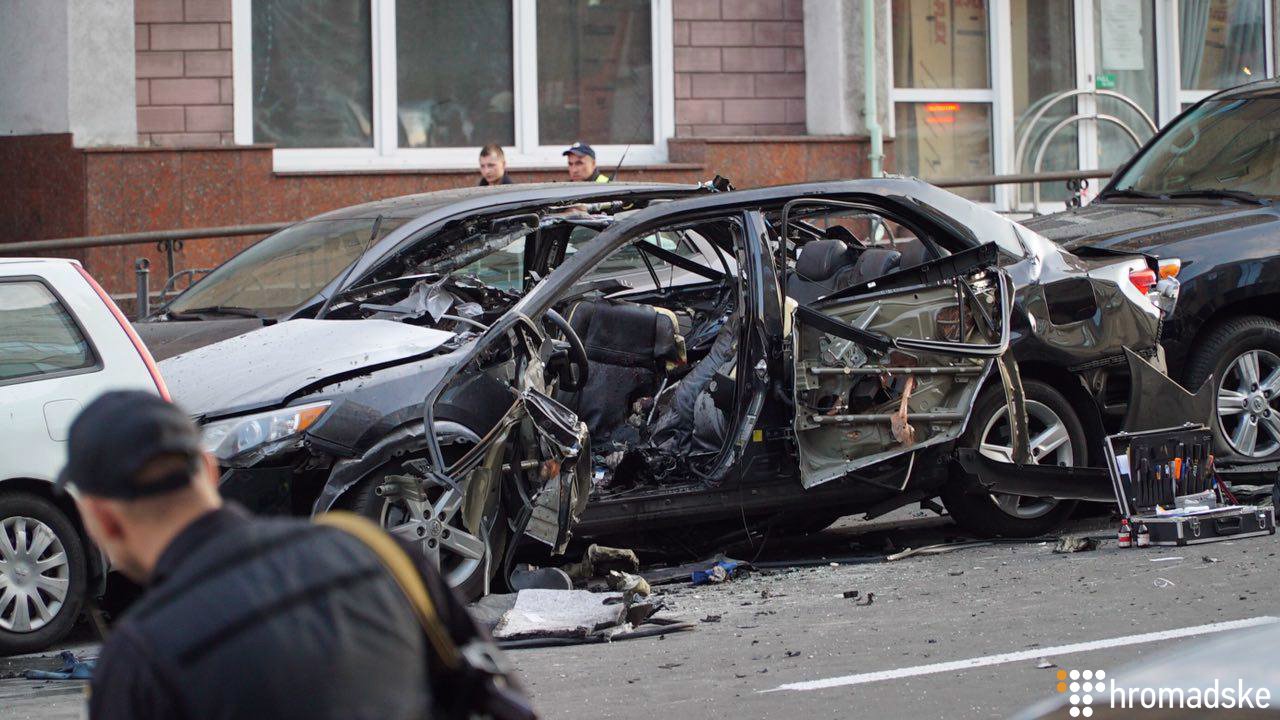 Toyota Camry damaged in a blast. Kyiv, 8 September 2017. Photograph: Dmytro Rusanov/Hromadske 
On 8 September at 18:08 a car blast rocked the area of Bessarabska Ploshcha in the center of Kyiv. Preliminarily, an unidentified explosive device was planted in the Black Toyota Camry with a Georgian registration plate. The spokesman for the Ministry of Internal Affairs Artem Shevchenko has reported that Timur Makhauri, a national of Georgia, died in the accident. Two more passengers were in the car, a woman was brought in hospital, a child survived, according to Shevchenko.
https://www.facebook.com/r.grabezhov/videos/10214516080042553/?permPage=1
A Facebook video shows the aftermath of the car blast in Kyiv.
The police have opened a criminal case under Part 2 of Article 115 of the Criminal Code of Ukraine (felonious homicide committed in a socially dangerous way).
Foe of the Chechen leader?
Makhauri was born and raised in Chechnya, later he became a citizen of Georgia. His comrade-in-arms Timerkhan Munaev told journalists that Timur Makhauri was a member the Chechen Jokhar Dudaev volunteer battalion, one of two unofficial Chechen groups involved in fighting in the war-torn region of the Donbas on the side of Ukraine. According to Munaev, earlier Makhauri participated in the Chechen war and pro-Russian Chechen leader Ramzan Kadyrov considered him a personal enemy.
Kadyrov is believed to be behind murders of high-profile Chechens abroad who were rivals and critics of the Chechen leader. The latest assassination attempt of Chechen opposition leaders occurred in Kyiv on 1 June 2017, when Artur Kurmakaev, who worked earlier for Kadyrov, gunned down Adam Osmayev, commander of the Dzhokhar Dudayev battalion who was earlier charged with plotting to kill Putin. Osmayev's wife Amina Okuyeva returned fire and wounded the attacker. Both attacker and his victim survived.
Contradictory past of Timur Makhauri
On 16 January 2017, Timur Makhauri was arrested in Kyiv on charges of illegal possession of weapons. He carried an ID card identifying him as a scout of another Chechen group, the Sheikh Mansur volunteer battalion.
ID by Timur Makhauri, identifying him as a scout of the Sheikh Mansur volunteer battalion. Kyiv, January 2017. Photo: FB KyivOperative
Glock pistol found by the police in the car of Makhauri. Kyiv, January 2017. Photo: FB KyivOperative
He had a Stechkin automatic pistol, the police had also found an unregistered Glock in his car. According to Artem Shevchenko, the case ended in a plea bargain, Makhauri had admitted his guilt and the court sentenced him to 5 years in prison with suspension the sentence for a 3-year period.
In fall 2012, the Turkey authorities arrested Timur Makhauri (also known as Ali Dubaev and Ruslan Papaskeri) on the charge of murdering former Chechen field commander Musa Atayev known as Ali Osayev, however, three years later the court declared him not guilty.
Read also: Russia assassinated at least 13 Chechens abroad before victim returned fire in Kyiv
Reportedly, Timur Makhauri could be involved in the assassination of Chechen rebel field commander Shamil Basaev in 2006 in Russia.
The Security Service of Ukraine (SBU) gave insight into Makhauri's biography. His real name was Ali Tamayev, he was born in the village of Guchum-Kale, Chechnya. The SBU calls Makhauri "a personal enemy of Ramzan Kadyrov." According to the special service, he participated in fighting against the Russian troops in Dagestan from 1999 to 2000 where he got a gunshot wound. In 2008, Makhauri took direct part in the Russo-Georgian war on the side of Georgia. The SBU stresses that Russian special services hunted for him for a long time. There were three assassination attempts on him. Makhauri survived an explosion of an improvised explosive device in the staircase of a residential building in Tbilisi, Georgia on 8 March 2009.
It is too early to speak of another Russian state-sponsored assassination abroad. MIA spokesman Artem Shevchenko said that Mahauri was "well-known in criminal circles," this might be criminal infighting.
Former MP, political scientist Taras Chornovil has voiced his opinion in favor of another Kadyrov's attack abroad:
"This resembles me neither pure criminal infighting nor pure Moscow-style [attack]. It resembles me [pro-Putin Chechen leader] Kadyrov's methods, where they absolutely don't care about other possible victims. A car was blown up during the rush hour, in one of the most intense-traffic areas of Kyiv. It was a mere accident that other people were not killed or badly injured," believes Chornovil.
Update, 12:15 September 09:
An aide to the interior minister, Zoryan Shkiryak has reported that the investigators suspect that an explosive device of TNT equivalent of 600-1000 grams went off. He voiced 2 major versions of the crime being considered by the investigators: Russia's FSB activity, and a contract murder. A "personal enmity" or"criminal business infighting" are considered as a possible cause of the murder.
---
Read more: