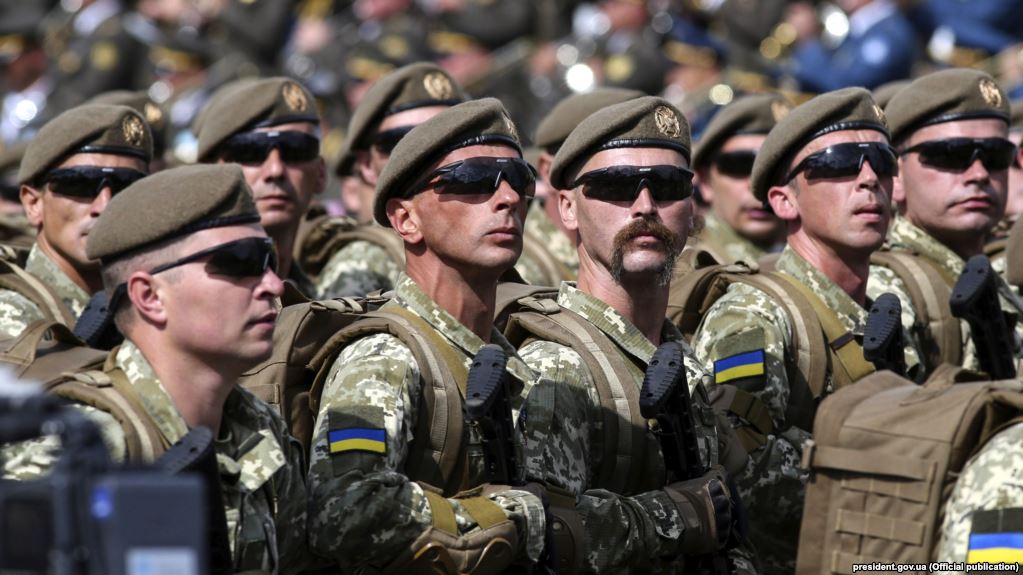 Ukrainian soldiers on Ukraine's Independence Day, Kyiv, August 24, 2017. EPA-EFE/SERGEY DOLZHENKO 
When Russia began its "hybrid" war in the Donbas, I had a discussion with a colleague, a well-known Moscow journalist, about the likelihood of a real war — complete with the unconcealed introduction of regular troops, the use of aviation, and an offensive on Kyiv. My colleague, who was very familiar with attitudes in the corridors of the Kremlin, told me that such a war could begin only in one instance — the arrival of NATO troops on Ukrainian soil. This Russia would never allow!
I have no doubt that he related the opinions he heard from Russian government representatives with absolute accuracy. But now we see soldiers of NATO countries marching in the parade in Kyiv, we see the US Secretary of Defense and other defense ministers of NATO member states participating in the same parade.
And nobody is launching a "real" war. Furthermore, we can see the first signs of a real ceasefire in the long-suffering Donbas.
In fact, I never had any doubts. The Kremlin respects only strength and determination. Russia had protested against the expansion of NATO into Eastern Europe, but after the former Warsaw Pact countries joined the alliance, Moscow began to perceive the Soviet Union's former "sphere of influence" as foreign territory that was not worth claiming. After that, Russians began to say that NATO must not cross the "red line" that was drawn along the former Soviet borders. It is clear that Moscow considered the Baltic States, occupied by Stalin in 1940, as part of the USSR. However, after the admission of Latvia, Lithuania, and Estonia to NATO, Russia did not embark on a war.
Russia arranged wars against Georgia and Ukraine. Both countries had not received plans for NATO membership. The West began to fear that the Euro-Atlantic integration of the former Soviet republics could lead to destabilization. But it was the lack of Euro-Atlantic integration that has led to destabilization. Everything turned out to be exactly the opposite!
Russia attacked Ukraine when the country officially declared its non-aligned status. When the majority of citizens did not support Ukraine's accession to NATO. When the Ukrainian army was not able to oppose Russian troops and when, until the escape of Yanukovych, the intelligence and security services were headed by Russian agents.
And if Ukraine had received at least a plan for membership, not to mention if it had been a member of NATO, there probably would have been no attack. And Europe would have remained peaceful.
This is something that most Ukrainians could not understand. And this is something that many in the West still cannot understand. Russia does not want to take part in a real war. Russia wants to take part in exercises, special operations, sabotage, and parades.
This is why it always attacks only those who are weaker.
Tags: Kyiv, military parade, NATO