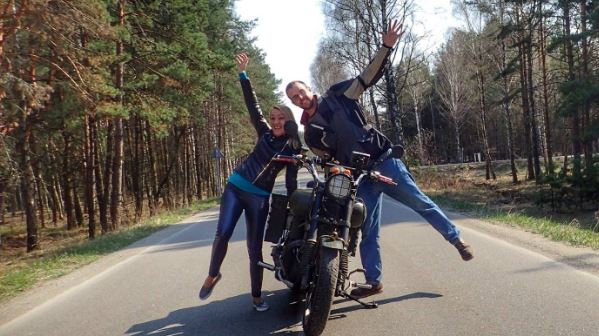 Monty and Natasha, American and Ukrainian, motorcycle enthusiast and travel journalist, have set on a journey to discover Ukraine with one motorcycle and one summer. Photo: fb.com/Ukraineinsideout
 
Ukraine Inside Out is a project to create a Travel App in English, Ukrainian and Russian to show the world the rural sights of Ukraine. As its official launch draws closer, its creators shared with Euromaidan Press the story of how the project appeared.
Hardened aluminum makes a loud bang when it snaps. We were in a village of 1,500 people on the Dniester river in Ternopil Oblast when our rear shock broke. We did the only thing we could and limped the motorcycle into the nearest clearing we could find and set up our tent. I remember saying "This is it. This is how Ukraine Inside Out ends. In a clearing behind a village doctor office."
Within 30 minutes a man stopped to see what we were doing there. He promised he could help us as he left. An hour after our shock broke another man came and assessed the damage. After we talked in a combination of Ukrainian, Russian, English, Sign Language and drawings it was decided in the morning we would convene at his house with the bike. The morning started with the roughest ride you can imagine down 1km of dirt road on a 300-kilo bike with no rear suspension. By the end of the day, we had the bike in pieces, a new part was manufactured and successfully installed! This is just one of the many stories we have from our travels around Ukraine in 2017
How the idea appeared
Canyons, castles, caves, beaches, mountains, palaces, geysers, waterfalls, mud volcanos and a desert… It could be a list of things to be shown in the next episode of Game of Thrones, but it's not. It's a few of the things you can find in Ukraine!
Many people can tell you about Kyiv, Odesa, Lviv, Chornobyl, or the Nuclear Missile Silo. Have you heard of Aktovskyi Canyon or Monastyryshche? Have you seen the sweeping bends of the Dniester as it snakes its way across Ukraine? Gazed at walls of fortifications built in the 15th century? Explored palaces long ago abandoned? Ambled down back country roads surrounded by wheat fields?
Ukraine Inside Out is a project to create a Travel App in English, Ukrainian and Russian to show the world the rural sights of Ukraine! The spark for the idea was created while hiking in Turkey. That spark was fanned while doing volunteer work in Khmelnitsky. Finally, the fire erupted over a couple beers and a broken Volkswagen in Kyiv!
Now what we have is a truly international attempt to get info about Ukraine out into the world! The amount of info on the rural sites of Ukraine, in English, online is embarrassing. That is where the underlying idea for this project came from. A Ukrainian, an American, and a Dane spreading the good word about Ukraine!
Where are we now
It is now approaching September. We have been traveling around Ukraine since June 1st. Traversing over 15,000km of roads, seeing over 200 sights, and visiting an endless number of villages and towns.
Our journey started on June 1st at the motorcycle festival Tarasova Hora, near Cherkasy. Since then we have spread across Ukraine like smetana on warm deruny. We traveled first west, then back east, turned south, circled back west, headed north, had an extended jaunt in Ternopil Oblast before diving south, then ducked into the Carpathians where we are now.
Our favorite places
Our favorite places, to this point, have been, hands down, natural sites.
Aktovskyi Canyon, Mykolaivav Oblast was simply spectacular! We were completely blown away by the beauty of this place. Another plus was the roads to get here were in good condition!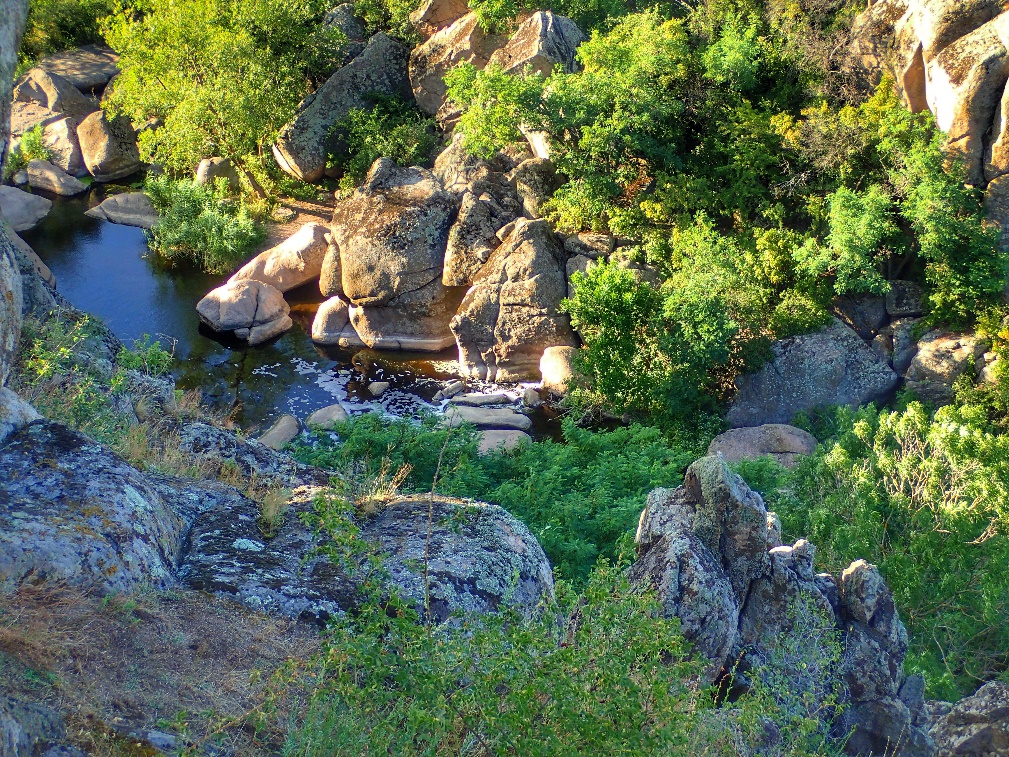 Oleshky Sands in Kherson Oblast. The only desert in Europe. This was one of the places that sparked the idea for this app. Unless you know to search specifically for this it's a relatively unknown phenomenon that exists in Ukraine.
One last place that was not on either of our radar when we started was the Dniester and Southern Buh rivers. Most people think of the Dnipro when they think of Ukraine and they are sadly missing out. At 250km long, the Dniester has created the longest canyon in Europe. It is simply breath taking and so few people know to visit it.
The good, the bad and the ugly
Along with the good, we have of course seen a bit of bad and a little ugly. We do our best to bring the whole picture and our experiences out. We don't like seeing projects that make it seem like a place is all lollipops and roses. We all know that's not true so why not show the whole picture. Overwhelmingly our experiences have been amazing and wonderful but we have had our share of downs to go with the ups. We were screamed at by a museum manager in Ternopil for asking for clarification if we could take videos, pictures were ok but videos apparently not. We have also grown very tired of the amount of trash we see in such beautiful places.
In the end, though, our tour through Ukraine has been worth it! We both believe strongly in the potential of Ukraine and are doing our best to show it.
If you want to be involved with our project there are a few ways.
First, tell the world about this project and download the app!
We also would appreciate anyone who has the time to download the app and tell us any mistakes they find in it, whether it be simple spelling or worse.
We are funding this entire project with our savings. We have been unable, so far, to get any sponsors that share our excitement for the potential of Ukraine and this project. You can find us on gofundme under Ukraine Inside Out. 
The app is available to download from Google Play and iTunes.
Follow the news at our facebook page.