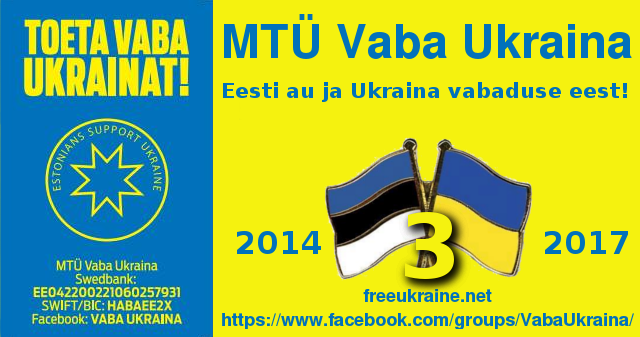 Exactly three years ago, the Estonian NGO Vaba Ukraina was launched in order to assist Ukraine in repelling the Russian-led militants engulfing the east of the country in war. Over these three years, the NGO has steadfastly assisted the Ukrainian efforts to repel the aggressor – via charity concerts, organizing medical trainings, shipping medical supplies. How can an NGO in a small country far away care so much? "We have a common enemy, so support is a given," Sven Salumets told Euromaidan Press. "For the honor of Estonia and the freedom of Ukraine." Here is a very brief report on all the things that Vaba Ukraina has done for Ukraine -for which we thank our Estonian friends from the bottom of our hearts.
353 413 euros and 69 cents. This is the sum that has passed through the accounts of NGO Vaba Ukraina (Free Ukraine) since the organization was founded exactly three years ago, on 11 August 2014. It includes both private donations and incomes from our unforgettable charity concert "From Estonia to Ukraine" in 2014 (in the total amount of 279 635 euros and 63 cents) as well as support from the Estonian Ministry of Foreign Affairs (73 778 euros and 6 cents). 
For the honor of Estonia and the freedom of Ukraine.
This is a lot of money. Really, A LOT of money for a country of 1.3 million inhabitants, donated to a non-governmental charity organization that supports Ukrainians fighting for their freedom and independence, focusing on the most valuable – the saving of human lives.
This amount does not include the first aid supplies collected during our street campaigns – this was when our fellow Estonians brought us piles of bandages and dressings, until the neighboring pharmacies were out of stock on those first-aid supplies. Nor does it include the loads of chocolate, candy, and coffee that were brought to us so we could send it to Ukraine. And finally, this calculation does not include the immense warmth of hearts that accompanied all these generous donations, it simply does not compute.
I believe that we have not let you down.
Below, let me list some of our main accomplishments – those, that  can be easily quantified:
Together with the Centre of War and Catastrophe Medicine of the Estonian National Defense College, we have trained 80 Tactical Combat Casualty Care (TCCC) instructors and 20 Advanced Trauma Life Support (ATLS) specialists. Before the launch of our program, there were only a handful of TCCC instructors in Ukraine, and ATLS was entirely unknown to the Ukrainians. TCCC protocol has now been officially integrated into the training program of the Ukrainian army – with the help of instructors trained by us.
Instructors trained by us developed a Ukrainian mnemonic system, known as KOLESO, based on the Western mnemonics of  <C>ABCDE describing the protocol of patient treatment. We have helped to cover the cost of the printing of the first test batches of individual cards describing the essential steps in providing first aid in accordance to said KOLESO system in combination with MIST report. By now, all fighters in the ATO zone are required to carry such cards.
We have shipped 50 CPR mannequins to our instructors so they can train others.  Again, previously only a few such mannequins were available in Ukraine. With the help of these mannequins and thanks to the efforts of our instructors, thousands of people have been trained to provide modern life-saving first aid, both in civilian life and frontline conditions.
We have shipped loads of first-aid supplies that have helped save the lives of hundreds of Ukrainian patriots. The list below includes only the most important items:
312 fully equipped battle medic's trauma bags, paramedic's rucksacks, and medic's supply bags;
393 stretchers,
1059 individual first-aid kits (IFAKs)
The war continues, and NGO Free Ukraine carries on its work – with your help, together, step by step closer to the victory. Eventually, we shall win no matter what!
Many thanks to all of our donors, supporters, and partners!
Sven Salumets
Member of the board
If you are a volunteer with an NGO connected with Ukraine and would like to tell your story, please write us at euromaidanpress (a) gmail.com.
Read also:
Tags: Archive, Estonia, Help, Volunteers