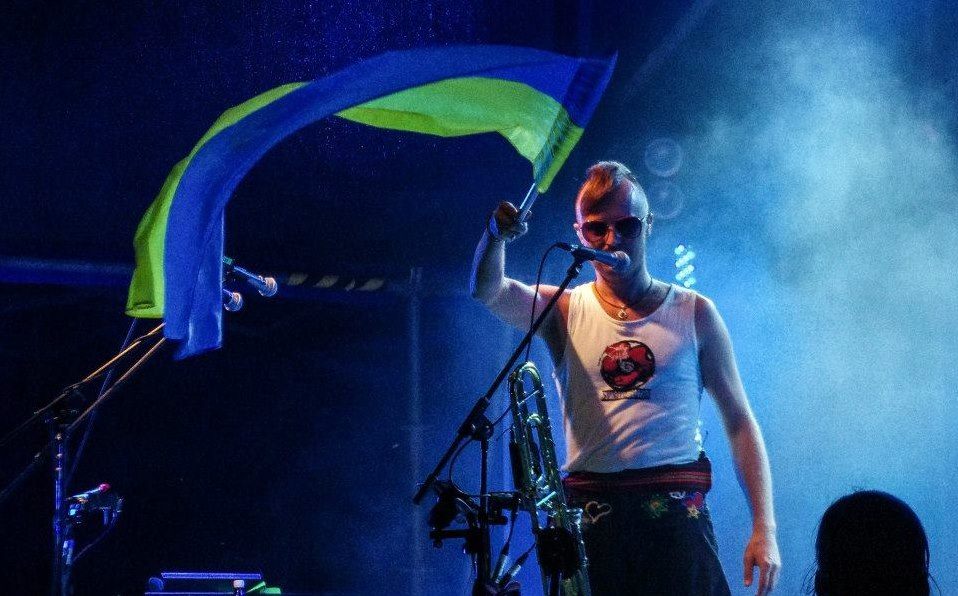 Estonians are finding musical ways to raise funds for Ukraine suffering from Russian aggression. Three charity concerts are to take place in Estonia in the next week. Cover photo: Svjata Vatra, a Estonian-Ukrainian band 
You may say I'm a dreamer
But I'm not the only one
I hope someday you'll join us
And the world will be as one
-John Lennon "Imagine"
It is no secret Estonians just love to sing. Take a look at our Song Festivals, for example. Even our fight for freedom from Soviet occupation was named accordingly – the Singing Revolution. Now, in these days of battling for freedom in Ukraine, Estonia is willing to pay it forward and sing to support Ukrainians, raising money to support fighters, refugees, and culture. If you have planned a trip to Estonia or are simply willing to help, here are some things you could do.
Folk music charity concert

First, on October 19 there will be an Estonian-Ukrainian Folk Night charity concert at Endla Theatre in Pärnu, Estonia, conducted by Museum of New Art and supported by, amidst others, by City Council of Pärnu and Estonian Public Broadcasting. Performers list Svjata Vatra, Kukerpillid, Kihnu Virve ja  children instrumental ensemble Kihnu Pillilapsed. Revenues of this event will be used to buy lifesaving equipment for Ukrainian fighters. Further details can be obtained on the event's facebook page.
 Opera for Ukraine
Next, on October 20 the Estonian National Opera in Tallinn holds a charity gala concert in cooperation with the National Opera of Ukraine, "Estonia for Ukraine," in order to use the money raised from the donations to purchase a new high-end Estonia Piano for the pupils of Sloviansk School of Fine Arts. The program features performances by Estonian National Opera Chorus, Boys' Choir and Orchestra, Estonian National Ballet, and soloists Lilia Grevtsova (soprano, National Opera of Ukraine), Olga Zaitseva (soprano), Andrei Romanenko (tenor, National Opera of Ukraine), Angelina Shvachka (mezzosoprano, National Opera of Ukraine), Pavlo Balakin (bass), Olga Golitsa (principal dancer, National Opera of Ukraine), Aleksandr Stojanov (principal dancer, National Opera of Ukraine), Katerina Dyadyura (pianist, Ukraine), conducted by Jüri Alperten, Mykola Dyadyura (National Opera of Ukraine). There is no fixed price for the concert – everyone can decide how much they want to donate. In addition, it is possible to support the project with a money transfer to the bank account of the Estonian National Opera EE351010002011259003 with the keyword "Ukraine" as the description. You can also donate by leaving the money directly in the charity boxes available in the Estonian National Opera beginning from September 29. It is possible to make donations until December 1. Further details are available at the Tallinn Opera House website.
Eurovision finalists, pop and folk bands to hold charity concert
Then, on October 21 a charity concert "From Estonia to Ukraine" is staged at Nordea Concert House in Tallinn by NGO Vaba Ukraina/Free Ukraine, raising funds to buy medical supplies for people suffering in Ukrainian conflict. Contributing artists include Grandmasters of Estonia's pop music Tõnis Mägi and Ivo Linna (Eurovision Song Contest 1996), Lenna Kuurmaa (ex-Vanilla Ninja, Eurovision 2005) Birgit Õigemeel (Eurovision 2013), Sandra Nurmsalu (ex-Urban Symphony, Eurovision 2009), Ott Lepland (Eurovision 2012), InBoil, Karl Erik Taukar, Rasmus Rändvee, ensembles Svjata Vatra and Elephants from Neptune, Ukrainian folk rock group Haydamaky, Defence Forces Orchestra and Estonian-Ukrainian choir "Ukraina." For additional information see the event's website.
In addition to the above Estonia's Women's Home Defence organization has launced a campaign for it's members to knit warm cotton socks for Ukraine's fighters and war refugees. As a rule all the socks have to be hand knitted to pass on the warmth of hands and hearths of Estonian women.
Even if you can't attend these events, you can still support the cause to help Ukraine by donating money to NGO Free Ukraine (Bank name: Swedbank; Bank address: Liivalaia 8, 15040 Tallinn, Estonia; Account holder: MITTETULUNDUSÜHING VABA UKRAINA (NGO Free Ukraine); IBAN: EE042200221060257931; SWIFT/BIC: HABAEE2X) or to corresponding relief organizations in your country. Every bit counts and perhaps a simple roll of bandage bought for your donation will save someone's life. Lest not forget: evil only can prevail when good men do nothing.
Russia's aggression in Ukraine continues. We, the peoples of the world can not stand by. Let's bring the victory closer, together!
Bonus: video  of the Estonian-Ukrainian band Svjata Vatra, one of the performers at the upcoming events. Live at Viljandi Folk Music Festival 26.07.2014 first at Kaevumägi, Estonia:
UPDATE: During the concert, the Estonian NGO Vaba Ukraina was able to raise 175 635.50 € in donations. Here is a compilation of the best songs of the concert on 21 October 2014:
Tags: Archive, Estonia, help, Help Ukraine, Stories