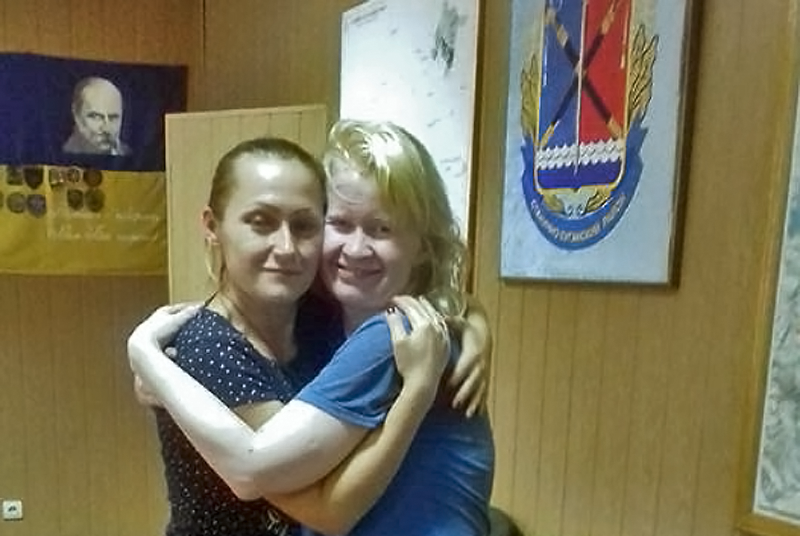 Liudmyla Surzhenko (right) and civic volunteer Kateryna Artemenko embracing each other in the office of the Administration of Stanytsia Luhanska Raion after Liudmyla was released from captivity in Luhansk. Photograph: FB Sveta Svetikova 
On 29 July following her 16-day illegal captivity, the occupation authorities of Luhansk released Liudmyla Surzhenko, a hearing-impaired civilian woman, and expelled her to the Ukraine-controlled settlement of Stanytsia Luhanska. Ms.Surzhenko was detained at a checkpoint of so-called Luhansk People's Republic ("LNR") on the line of demarcation in eastern Ukraine on 13 July when attempting to return to her occupied home town of Luhansk from the government-controlled territory. In captivity, operatives of LNR's "Ministry of State Security" tortured her to get false confessions of spying for Ukraine out of her. A Ukrainian official is of the opinion that Ms.Surzhenko has been released because her relatives, volunteers, and other activists raised the alarm that she had gone missing. Ukraine prepared appeals to international organizations and courts.
Abduction of Liudmyla Surzhenko
On 16 July, Donbas activists shared urgent calls about the suspected abduction of Liudmyla Surzhenko, a 39-year-old woman who has had hearing disabilities since her childhood. According to the published reports, the disabled woman was allegedly detained by Russian-backed militants from the "LNR" at the checkpoint near the government-controlled settlement of Stanytsia Luhanska on July 13.
Living in the occupied city of Luhansk, Ukrainian national Liudmyla Surzhenko kept a pro-Ukrainian Facebook blog. Earlier, special services of the "LNR" detained several active Luhansk bloggers for their pro-Ukrainian position. However, this time the reason for the detention was different.
On that day Surzhenko visited Stanytsia Luhanska to get some humanitarian aid for herself and her mother. Liudmyla uses a hearing device. On her way back to Luhansk when she passed control entering the occupied territory, the battery of her device had gone low. Liudmyla couldn't hear and understand what the members of illegal armed formations wanted from her at their check point. Reportedly, last time she was seen at that check-point, later Ms.Surzhenko did not come back home. Passers-by saw her forced to unload her things from bags, her mobile phone was taken from her.
A day later, Liudmila's mother made inquiries to so-called "authorities" and got no answer from them.
Read also: European Court of Human Rights hints Russia responsible for Donbas damages
Deputy Head of Luhansk Oblast Civil and Military Administration Yuri Klymenko told Euromaidan Press that the police commenced a criminal proceeding in response to arbitrary detention on 17 July.
A tweet and a Facebook post by Euromaidan Press about suspected abduction of Liudmyla Surzhenko published on 16 July.
Captivity
The Kharkiv Human Rights Protection Group in Ukraine reports that Ms. Surzhenko was tortured in captivity. Her finger is badly swollen after her kidnappers "applied tweezers for several days and held her in handcuffs trying to force her to 'confess' to spying."  On his Facebook page, local Luhansk Oblast official Yuri Klymenko mentioned that Liudmyla was tortured with pliers into confessing for the camera that she works for the Ukrainian special services.
Read also: Liudmyla Hlondar: My brother, hostage in "DNR" for 2 years, says only hope is prayer
During her 16-day captivity, Surzhenko had no attorney, her mother and grandmother were not allowed to visit her. No charges were raised. Moreover, the representatives of so-called LNR in the Trilateral Contact Group on Ukraine (TCG, Minsk group) even denied any knowledge of Ms.Surzhenko's whereabouts at the last meeting in Minsk, according to Ukraine's humanitarian envoy in TCG Iryna Herashchenko.
Release
On 29 July, Liudmyla Surzhenko's captors released her and she crossed the checkpoint into the Ukraine-controlled town of Stanytsia Luhanska. Ukrainian Prime Minister Volodymyr Hroysman wrote on his Facebook page that Ms. Surzhenko "is safe now and under the care of doctors in an extremely difficult psychological condition" after her release.
Local government official Yuri Klymenko has commented to Euromaidan Press that the investigating officers met with Surzhenko for the first time only today, on 31 July.
Liudmyla Surzhenko (right) after her release in the office of the Stanystsia Luhanska Raion administration. Photograph: FB Sveta Svetikova
Captors didn't return even the shoe laces to Liudmyla Surzhenko. Stanystsia Luhanska. Photograph: FB odalug
The reason for her release could be the pressure of the public, as suggested by local authorities.
Prime Minister Volodymyr Hroysman said that Ukraine has prepared appeals to international organizations and courts in connection with the torture that militants of ORDLO (certain districts of the Luhansk Oblast uncontrolled by the Government) used when they illegally captured Ukrainian citizen Liudmyla Surzhenko and held her behind bars.
---
On 31 July, Ukraine's envoy in the Trilateral Contact Group Iryna Herashchenko urged the OSCE coordinator in in the humanitarian working group of the TCG Toni Frisch to visit Ukrainian hostages in the occupied territories, where the ICRC and other international organizations have not been allowed for a long time. Mr.Frisch will visit hostages in prisons in the occupied territories in August.
"We demanded access to the prisons in the occupied territory for [Ukraine's] ombudsman Lutkovska, but heard once again in reply that one lawmaker [Nadiya Savchenko] had already visited those prisons and had no issues with incarceration conditions," Herashchenko informs.
Occupation authorities imprisoned many civilians in the occupied parts of Luhansk and Donetsk oblast as Luhansk and Donetsk were captured in 2014.
Read also: #FreeDonbasHostages twitter storm on 12 February 2016 – clickable tweets [EN, UA]
According to Adviser to the Chairman of the Security Service of Ukraine Yuri Tandit, DNR and LNR terrorist organizations are holding 137 Ukrainian hostages, both civilian and military. At the beginning of the July, the total number was 132. Ukraine's humanitarian envoy in TCG Iryna Herashchenko reported that the ORDLO representatives admitted that they hold 71 Ukrainians.
Much more Ukrainian citizens may be actually held captive by the occupation authorities of the LNR and DNR fake republics, but only a few such cases go public, journalist Denis Kazansky suggests. Relatives of captives are frightened that the abducted person could suffer if they make such facts public.
---
Read more:
Tags: Donbas war (2014-present), human rights violations, LNR ("Luhansk People's Republic"), Luhansk, News, Ukraine, Ukrainian hostages