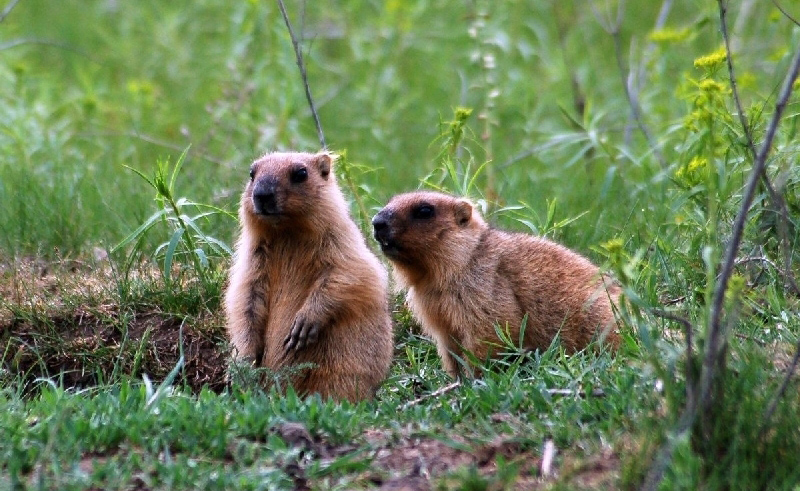 The steppe marmots, "Ukrainian groundhogs", in Striltsivskyi Steppe. Credit: zapovednik.lg.ua 
Striltsivskyi Steppe is a nature reserve in the north of Luhansk Oblast, one of four divisions of Luhansk Nature Reserve. It is the only one of four untouched by war. Two other parts of Luhansk Reserve, Prydintsivska Zaplava and Tryokhizbenskyi Steppe, are situated near the war-torn settlements of Stanytsia Luhanska and Krymske just at the frontline. Finally, Provalskyi Steppe is the deep rear of the occupied territory.
Striltsivskyi Steppe was established in 1923 to preserve the steppe marmot, an endangered species also known as bobak marmot. Later the reserve's mission was extended to preserve the steppe wildlife, flora, and fauna.
The reserve is named after Striltsivka, a village 15 km away from the protected area of Striltsivskyi Steppe. Back in 1923, the nature reserve was called wildlife sanctuary Striletskyi Steppe and some sources still use its old name.
Read also:  Minister of Ecology: Russian troops are ruining Donbas' environment 
Striltsivskyi Steppe houses 673 species of vascular plants, 25 bryophyte species, 78 species of green algae. Also, about 150 fungi species have been discovered in the reserve. 25 plants are on the Red List including a local white mushroom (Agaricus tabularis), a species of the couch grass (Elytrigia stipifolia), several species of the feather grass (Stipa).
The nature reserve provides habitats for 47 species of mammals, as well as other wildlife including 190 bird species, 7 reptile and 6 frog species. In addition, there are about 1100 insect species.
Read also:  Rare animal and bird species return to Chornobyl after 30 years of abandonment
Striltsivskyi Steppe preserves 13 species of animals from the European Red List, 62 species are on Ukraine's Red List, 156 species are listed on Appendix II (Strictly protected fauna species) of the  Bern Convention on the Conservation of European Wildlife and Natural Habitats.
The dark and Strand's birch mice, the great jerboa, the long-eared hedgehog, the steppe polecat are among the Red List species together with the steppe marmot.
[slb_exclude]