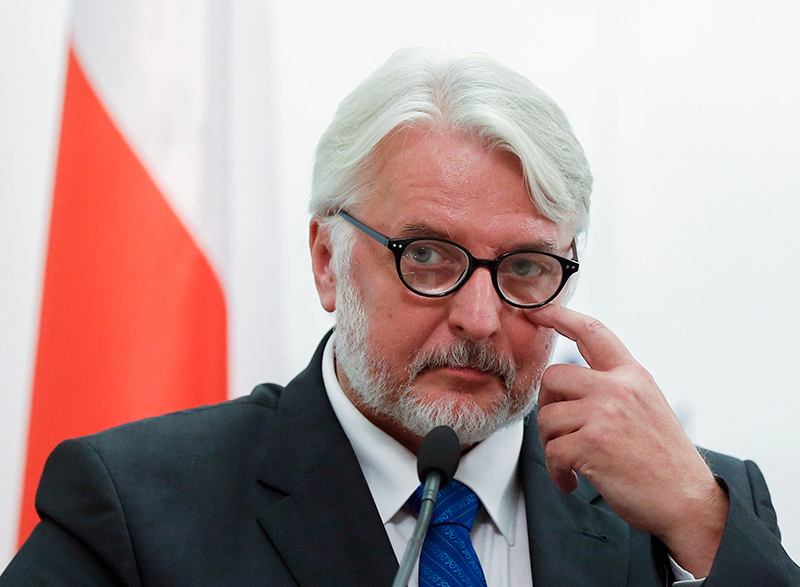 Photo: Sergey Dolzhenko/EPA 
Support for Ukraine is not only in the interest of Ukraine but above all it is in the interest of Poland. And the refusal to provide this support is not the betrayal of Ukraine; it is the betrayal of Poland.
In one careless interview Polish Minister of Foreign Affairs Witold Waszczykowski has questioned the main capital of Polish-Ukrainian relations of the last 25 years. And this core capital is not even based on trust and mutual understanding. It is based on a sense of reality.
The minister of foreign affairs used a Polish publication to convey a message from the Polish leadership: "You will not enter Europe with Bandera." It is a loud, striking, and meaningless slogan.
I will not engage in polemics with the high-ranking diplomat regarding the historical role of Stepan Bandera. It is primarily a task for historians and not for politicians and publicists. I am much more interested in Ukraine's advance to Europe.
The Association Agreement with the European Union, which was signed three years ago, will enter into force only in the fall of this year. Facing our country are the years needed for its implementation. It will be necessary to carry out a whole range of important reforms, to achieve the restoration of the territorial integrity of the country, to meet the Copenhagen criteria (rules defining if a country is eligible to join the European Union — Ed.), to obtain the prospect of membership. All this will require not one year, not two, and not ten.
Nobody knows what the European Union will look like then. Nobody knows whether Poland will be a member of this association. Nobody knows if Ukraine will want to apply to the European Union at that time. All this is a matter for the distant future.
 Therefore, it is clear that ultimatums concerning this distant future are complete nonsense.
The one thing I can guarantee Witold Waszczykowski with complete clarity is that he will no longer be the minister of foreign affairs of Poland when Ukraine knocks at the door of the European Union.
The future of Polish-Ukrainian relations then will be determined by people who now may still be in grade schools and universities.
Even more striking is the example that the Polish foreign minister cited as a positive example of pressure  on a sovereign state — the behavior of Greece towards the Republic of Macedonia. The refusal by Greece to recognize the name of a neighboring country and to block Macedonia's entry to NATO has resulted in negative consequences for the alliance itself due to the growing influence of Russia in the region and the destabilization of the situation in Macedonia.
But Greece's attitude toward Macedonia has brought about negative consequences for Athens as well. Greece has lost the chance to become a regional leader. Skopje had never hoped for support from its neighbor and therefore constantly turned to other players. Earlier it was Greece's main competitor in the region — Turkey. Then Russia. Finally Greece itself began to play according to Russian rules in defining the prospects for its energy policy. Is this not a vivid example of being transformed from a subject to an object?
Unlike the Macedonians who did not trust the Greeks, in Ukraine we trusted the Poles from the first day of our country's proclamation of independence, and we had every reason for doing so. But what we are seeing now is the real suicide of Ukraine's "advocate."
Because Ukraine is interested in supporting Poland no less than Poland is interested in supporting Ukraine. Our country is precisely the country that separates — and protects — Poland from Russia. By cooperating with our country, Poland can at least theoretically claim to be a regional leader at a time when many of its neighbors are inclined to pursue special relations with the Kremlin. If Poland does not support Ukraine, it will be transformed from a subject to an object much like Greece. And Ukraine will be forced to seek other "advocates" and no doubt will find them.
I have always believed that common values united us and the Poles. The general understanding of democracy, the freedom of speech, human rights, Europe. That Ukrainians could learn freedom from the example of Solidarity just as the Poles could learn from the example of the Ukrainian Maidans.
But from the interview with the Polish minister of foreign affairs I discovered that questions of historical memory divide us and the Poles whereas there is no "ideological war" between Poland and Belarus. Did I miss something? Poland has no ideological problems with a country governed by an authoritarian regime where there are no honest elections, no free press or free market? With a country that has destroyed the independent organizations of Belarusian Poles? With a country that allowed Russian troops on its borders with Poland?
And Poland has problems with Ukraine — a country whose citizens have paid for all these values with their blood? Who with their courage have prevented Russian troops from reaching Ukraine's borders with Poland? Maybe I'm missing something. Maybe I am naïve – but that is how, with superior carelessness, the Polish minister characterizes Ukrainians in his interview.
No, Mr. Minister. We are not naïve. We know very well that Europe will not win the conflict with Russia for us simply because Europeans do not want to fight and die with us. Neither do the Poles.
I'm not prepared to blame them for that. I simply want to remind the foreign minister that while you and your interlocutors were communicating in a cozy office a few more of my naïve compatriots could have perished on the line of demarcation. For Ukraine. For your freedom and ours. For the security and future of Poland. That is why support for our country is not only in our interest but, first of all, it is in yours. And the refusal to provide such support in not the betrayal of Ukraine.
It is the betrayal of Poland.
Tags: EU, Poland, Stepan Bandera, Ukraine