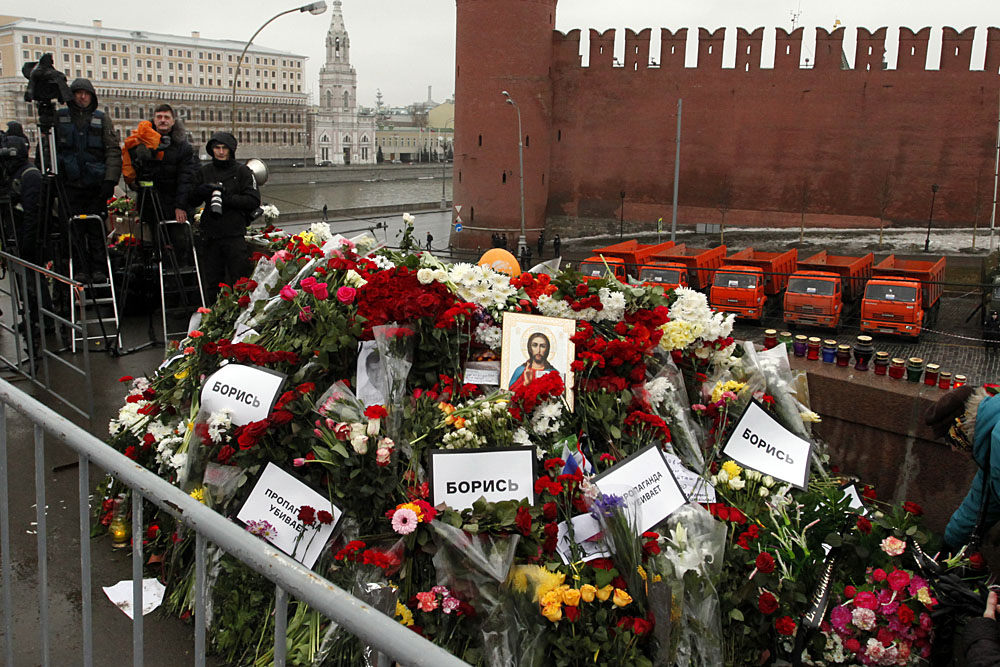 The site of Putin's critic and opposition leader Boris Nemtsov's murder located near the Kremlin on the day of march in his memory. March 1, 2015 (Image: kykyruzo.ru) 
New political murders in Russia are likely because Vladimir Putin needs them as part of his effort to whip up hysteria against his opponents and thus protect his own power, lawyer Mark Feygin says, even though there are many elements in the regime who are opposed to such measures also out of a concern for self-preservation.
In an interview given to Yulia Zabelina of the Apostrophe portal, Feygin points out that Putin uses Ramzan Kadyrov for such things even though there are institutions such as the FSB which oppose that Chechen leader for his independence.
But in the current situation of dictatorship and the absence of democracy, the lawyer continues, "Putin has the last word, not the FSB. In this system, Putin himself personifies the FSB, the North Caucasus and the entire system as a whole. He is the goal and means of this system and doesn't need to ask the FSB what its officers think."
Putin "has his own strategic plan for preserving himself in power, and Kadyrov serves this plan as a most important detail. So why should Putin himself destroy this machine?" He will continue to use it, even if it sometimes causes troubles for him as it has following the murder of Boris Nemtsov.
"I am even convinced," Feygin says, "that all this isn't useful for Putin because for Putin Nemtsov wasn't dangerous. He didn't represent any decisive threat to the system … and so Putin didn't need to remove him. To overcome the consequences of this murder will be much more complicated that ignoring the existence of people like Nemtsov."
But there is an explanation for why this process will go on for some time, an explanation that reflects the profound differences between Ukraine with its investigation of the Gongadze murder and Russia with that of Nemtsov.
"In Ukraine, what is needed to investigate is political will because there is democracy there, admittedly weak. In Russia," however, "there is no democracy, we are held back by an authoritarian and quite harsh system. In this is the difference between the two countries. The political character of both murders is obvious, but he consequences can be different because of the different opportunities of the system to answer a question that is of interest to society."
Because of the nature of the Putin system in Russia, Feygin continues, he says that he has "no doubts" that there will be more political murders." The head of the regime still benefits from them and civil society and democratic institutions remain respectively amorphous and weak. Consequently, such murders will be part of the regime's plans to defend itself.
Such murders will take place "not frequently." But they will continue "because, on the one hand, the hysteria which is supported by Kremlin propaganda divides society into the loyal and disloyal, 'the fifth column' and the majority, and therefore these attitudes always will be inspired from above and generate desire to solve all these problems at a stroke by killing someone. As they say, no person, no problem."
And on the other, they will continue because the Kremlin's political opponents "have no opportunities for response. For them, the non-use of force is a more important principle than power itself … and therefore selective political murders will take place" and the regime will do what it has to both to carry them out and cover up its role in them.
Related:
Tags: FSB crackdown, Nemtsov murder, Putin, Putin regime, Russia, Russian opposition, Russian opposition murder, Russian special services