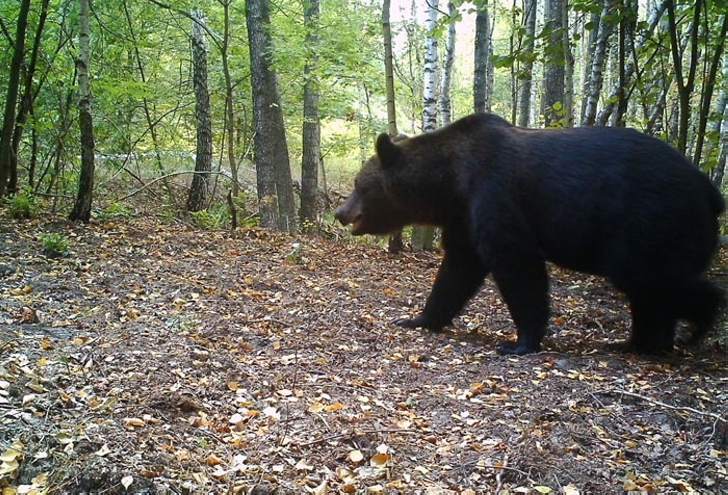 Brown bears weren't seen in the Chornobyl forests for many years, Now they're reappearing in the exclusion zone. Photo: factor-e.ru 
While scientists worldwide are deeply alarmed at the rate at which we're losing plant and animal species, they're returning to Ukraine's Chornobyl area. The nuclear accident at the Chornobyl power plant in 1986 forced people to abandon vast areas, and wild nature started to recover there.
The tragedy on Chornobyl Nuclear Power Plant in 1986 forced 90,000 people to leave their homes because of radioactive contamination. 81 settlements were turned into ghost towns. Nowadays, the place became more crowded, as tourism to the exclusion zone became more popular. However, without permanent human presence, animals started to feel more at home. In April 2017, a biosphere reserve was opened up in the Chornobyl area.
Sergiy Gashchak, Deputy Director of the International Radioecology Laboratory, Head of the Radioecological Research Department has observed nature in the Chornobyl territory for many years already. He says that the endangered species which vanished from the area long ago started to reappear, including the brown bears, which are quite rare for Ukraine.
"My colleagues and I observed the first brown bears in 2003, however at that time nobody believed us," says Gashchak. Later, they proved their discovery thanks to new technologies – the researchers set up photo-traps in the area.
Numbers of other species have also risen. Elk, deer, wolves, lynx, and Przewalsky horses, which were brought there in the 1990s, have become much more abundant.
In 2014, together with British scientists, Gashchak launched a project to document the animals living in the area. With the help of western partners, 42 photo traps were set up.
Scientists insist that the whole territory of the exclusion zone should be turned into a reserve rather than returned to economic use.
Let's take a look at the species which the scientists revealed living near Chornobyl.
Photos: http://factor-e.ru