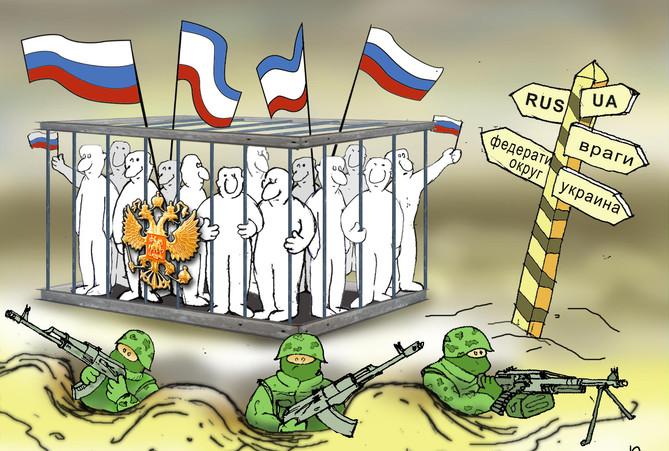 Ukraine is going to investigate and prosecute Russia's violations of the Geneva Convention in occupied Crimea 
From now on, Ukrainian prosecutors will consider offenses against life and the rights of their fellow citizens in Russian-occupied Crimea as crimes under international humanitarian law. The cases of kidnapping, murder, persecution, torture, illegal detention and forced transportation to Russia will be investigated under Article 438 (violation of the internationally recognized laws and customs of war) of the Ukrainian Criminal Code.
The Prosecutor of the Autonomous Republic of Crimea Giunduz Mamedov, whose office has been operating in mainland Ukraine since the annexation of the peninsula, has confirmed recently that a substantial part of violations committed by the occupation authorities will be regarded as war crimes in view of the 1949 Geneva Convention (IV) relative to the Protection of Civilian Persons in Time of War.
Earlier in November 2016, the Office of the Prosecutor of the International Criminal Court (ICC) noted in its report that the situation in Crimea since the deployment of the members of Russian armed forces there at the end of February 2014 "amounts to an international armed conflict between Ukraine and the Russian Federation." The law of international armed conflict, the report went on, continued to apply after the formal act of annexation "to the extent that the situation within the territory of Crimea and Sevastopol factually amounts to an on-going state of occupation."
The report also listed the types of crime reportedly committed by Russian administration in Crimea, namely the harassment of Crimean Tatars based on ethnic origin, killing, abduction, unlawful detention, ill-treatment of those deprived of their freedom, denial of the right to fair trial, and compelled military service of Crimeans in the Russian army. The document then elaborated on the crimes supposedly committed in Donbas. Immediately after the release of this report, Russia announced its withdrawal from the ICC claiming that the Court "failed to meet the expectations to become a truly independent, authoritative international tribunal."
Two weeks ago, a local Ukrainian court in Sloviansk, a city in the Ukraine-controlled part of Donetsk Oblast, has passed the first guilty verdict in the case of the violation of the laws and customs of war since the start of the Russian intervention in Ukraine. For nearly three months in 2014, Sloviansk had been the center of invading Russian hybrid forced led by Igor Girkin. Ukrainian military had liberated the city in July 2014. Now, on 1 June 2017, a militant of the so-called "DNR" was sentenced to ten years in jail for tormenting at least thirty Ukrainian prisoners of war.
Read also:
Tags: Crimea, Geneva Convention, human rights violations, International Criminal Court, News, Russia's war crimes