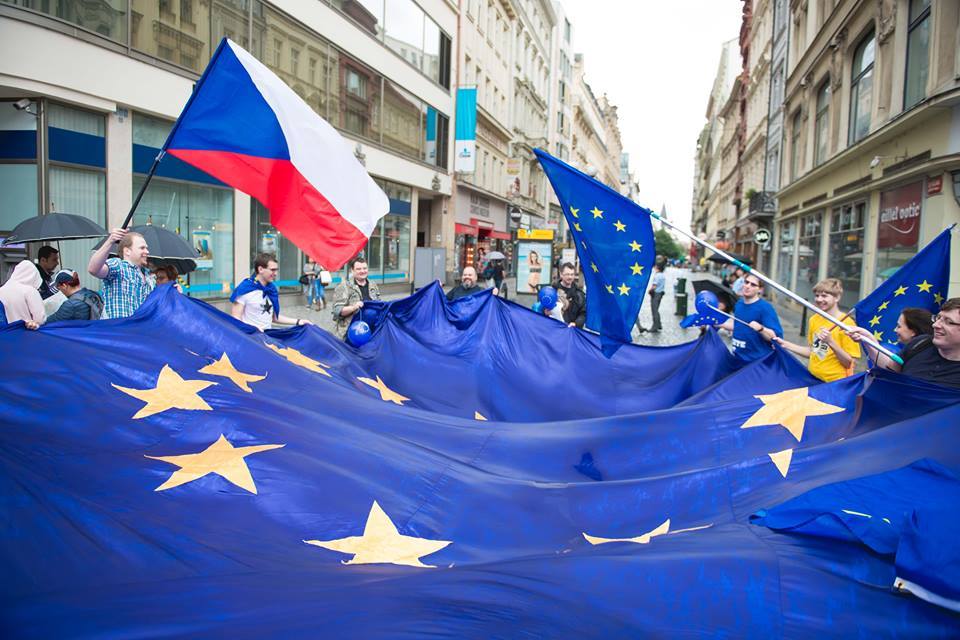 A giant EU flag is carried through the streets of Prague as part of the Pulse of Europe march on 4 June 2017. Photo: fb.com/pulseofeuropeczech 
The Slovak institute GLOBSEC and its partners have conducted an interesting opinion poll in seven Central and Eastern European Countries. One of the questions focused on the acceptance of news outlets oriented towards spreading disinformation.
"Almost 10% of people in Central and Eastern Europe trust online disinformation outlets as relevant sources of information on world affairs," the authors say. The highest percentage was found in Romania (37%), followed by Slovakia (12%), Poland and the Czech Republic (both 9%).
Given that one of the aims of the pro-Kremlin disinformation is to sow confusion and mistrust of reliable sources of information (including solid media), the potential audience for the outlets serving the disinformation campaign is thus rather high.
Moreover, the apparently low percentage of people considering disinformation outlets as a credible source of information may be misleading. As similar polls have shown before, some people might not state they consider disinformation-oriented outlets trustworthy – yet when answering subsequent questions, it can turn out that they are in fact ready to accept the messages spread by these very outlets.
This fact was documented in an opinion poll conducted by Detektor Media in Ukraine. Although only 1.3% of Ukrainians said they believed Russian outlets, many more of them accepted the disinformation messages that were spread exclusively by Russian and pro-Russian channels. Some of the disinformation messages were accepted by more than one-third of the Ukrainian population.
In addition, the GLOBSEC poll also measured the attitude of local populations towards the EU, NATO and the liberal democratic order. See the full study.
Tags: Disinformation, EU