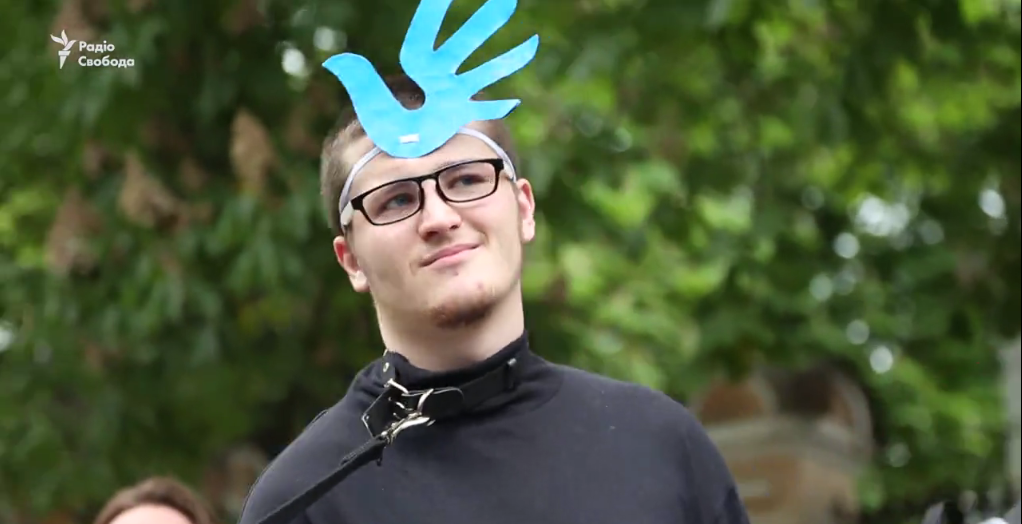 Activists brought an "Ombudsman on a political leash" to a protest held at the Ukrainian Parliament on 26 May 2017. Photo: snapshot from Radio Svoboda 
The future of Ukraine's top human rights authority is under jeopardy as the three candidates to be put up to a vote are seen to be political appointees. A broad reform and human rights coalition is calling for parliamentarians to initiate a public contest for the Ombudsman (officially the Ukrainian Parliament Commissioner for Human Rights) to prevent electing a chief public advocate who would be on a "political leash."
The Ombudsman, a National Human Rights Institution, is the government's human rights defender with a broad mandate, responsible for reporting on human rights in Ukraine, intervening in cases where the right to access public information is violated, monitoring and documenting abuse and torture in closed detention facilities and more. The current Ombudsman, Valeriya Lutkovska, has been quite involved in human rights in occupied parts of Donbas and Crimea, has established a working relationship with the Russian ombudsman, and has worked to free Ukrainians detained by separatist and Russian forces. The current acting Ombudsman is very well respected and has played a very important role during a tumultuous and challenging period for Ukraine. The Ombudsman currently has about 175 staff across the country, with a majority of them in Kyiv.
The mandate of the current acting Ombudsman ended in April. According to the procedure, the Rada should select a new Ombudsman. The procedure, however, is problematic, and does not comply with international standards known as the Paris Principles, which, among other things, require that the Ombudsman be selected in broad consultation with civil society and academia. While the Ombudsman has received an A rating for compliance with the Paris Principles in the past, this may change in the future depending on what happens with the selection of the new candidate.
On June 6, the Rada is set to vote on 3 candidates, none of which have expertise in human rights or were suggested in consultation with civil society. In fact, they are members of the Rada (current law forbids officeholders from being Ombudsman so they will have to give up their mandate) and are widely perceived as political candidates that will not garner the same legitimacy and authority that the current Ombudsman has. Namely, they are Serhiy Alekseiev, proposed Petro Poroshenko's Bloc of Petro Poroshenko, Ludmyla Denysova, the choice of the People's Front, and Andriy Mamalytyi, put forward by Oleh Lyashko, leader of the Radical Party.
The Human Rights Agenda, a broad coalition of human rights organizations, Reanimation Package of Reforms , the OSCE/ODIHR, Freedom House, the European Network of National Human Rights Institutions, and others have urged the Rada to reconsider, and called for a more consultative and inclusive selection process..
The Human Rights Agenda demands the Head of the Verkhovna Rada initiate a contest for candidates to the position, the Rada Human Rights Committee facilitates the participation of representatives of civic society in the organization of such a contest, and asks the MPs to request such a contest and refrain from voting if the contest won't be held.
Matthew Schaaf is the Project Director of Freedom House in Ukraine
Tags: Human rights, Lutkovska, ombudsman