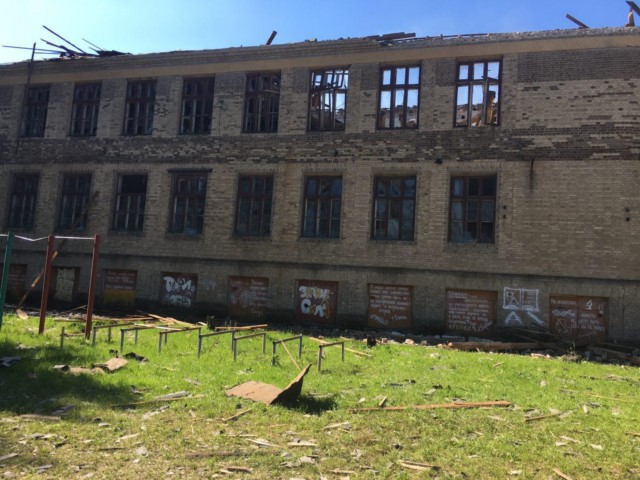 The school no.2 damaged in the 28 May morning shelling. Krasnahorivka, Donetsk Oblast 
On 28 May, the frontline town of Krasnohorivka came under artillery shelling from the direction of occupied Donetsk. The barrage lasted more than 2 hours, direct hits set ablaze a school and a hospital, homes were damaged, eight civilians got wounded. What was the purpose of this attack?
The attack on Krasnohorivka
On 28 May about 6:30 EET, two-hour bombardment of Krasnohorivka began. Russian-hybrid forces conducted fire from the territory of occupied Donetsk city. The ATO Headquarters reported that 120mm and 82mm mortars, tanks and BMPs armament, grenade launchers were used to attack the residential area of Krasnohorivka. 152mm and 122mm artillery systems were also used, as well as more than 10 Grad rockets hit the town.
Eight civilians got wounded. Among them, two female patients of the neurology unit in a local hospital. Fortunately, no one was killed.
42 buildings were damaged, including the city hospital, the school no. 2, at least 13 private one-story houses, a five-story apartment building where more than 10 apartments were damaged and 3 of them ruined; an ambulance was hit and 3 private cars. Centralized water supply and sewerage systems were broken down, temporarily leaving 2000 residents of Krasnohorivka without water.
[slb_exclude]