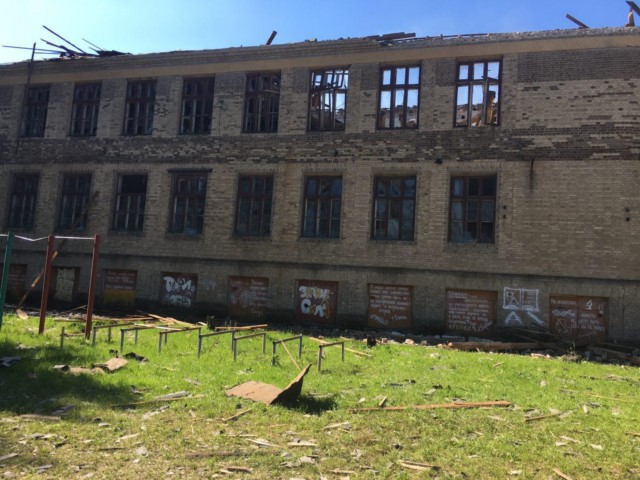 The school no.2 damaged in the 28 May morning shelling. Krasnahorivka, Donetsk Oblast 
On 28 May, the frontline town of Krasnohorivka came under artillery shelling from the direction of occupied Donetsk. The barrage lasted more than 2 hours, direct hits set ablaze a school and a hospital, homes were damaged, eight civilians got wounded. What was the purpose of this attack?
The attack on Krasnohorivka
On 28 May about 6:30 EET, two-hour bombardment of Krasnohorivka began. Russian-hybrid forces conducted fire from the territory of occupied Donetsk city. The ATO Headquarters reported that 120mm and 82mm mortars, tanks and BMPs armament, grenade launchers were used to attack the residential area of Krasnohorivka. 152mm and 122mm artillery systems were also used, as well as more than 10 Grad rockets hit the town.
Eight civilians got wounded. Among them, two female patients of the neurology unit in a local hospital. Fortunately, no one was killed.
42 buildings were damaged, including the city hospital, the school no. 2, at least 13 private one-story houses, a five-story apartment building where more than 10 apartments were damaged and 3 of them ruined; an ambulance was hit and 3 private cars. Centralized water supply and sewerage systems were broken down, temporarily leaving 2000 residents of Krasnohorivka without water.
The OSCE Special Monitoring Mission to Ukraine (SMM) reported damage in Krasnohorivka:
At 4 Nakhimova Street, the SMM observed a fresh crater (five-six metres in diameter and two metres deep) about six metres east of a house, assessed as caused by an artillery round fired from an easterly or south-easterly direction.
At 1 Nakhimova, the SMM saw a hospital with broken windows and damage to the south-eastern side of its roof. The SMM saw damage to a tree on the south-eastern side of the hospital and assessed that a projectile had hit the tree and blown out the windows of two wings of the hospital.
The SMM saw that another building nearby had been completely destroyed and spoke with the resident of the building [who] told the SMM that an impact had occurred early in the morning on 28 May.
At 15 Tsentralna Street, the SMM observed damage to the north-facing roof and walls of a school, as well as broken windows. The SMM was unable to assess the cause of the damage or the direction of fire.
A local resident uploaded a video of Krasnohorivka in the morning of 28 May:
On the same day, combat engeneer Andriy Shor reported in his post on Facebook that modified MLRS Grad rockets were used to attack Krasnohorivka. According to him the Grad-based rockets had heavier warheads "like [makeshift ammunition] in Syria":
However, photographs published by the ATO headquarters show nothing like modified tail parts of Grad rockets, only usual remnants of rockets are depicted on them:
Lt.-Col. Anton Myronovych, a spokesman for the anti-terrorist operation headquarters, commented the alleged use of modified rockets in the attack on Krasnohorivka to EuromaidanPress, he said that regular ammunition was used.
What for?
There was no military purpose for the artillery attack on 28 May. The artillery of the Russian-hybrid forces didn't support or repel an attack, they didn't hit any military objects in the town, it wasn't a random mishit because the attack on Krasnohorivka civilian infrastructure lasted more than two hours, various types of weapons were involved. Civilian objects at least one kilometer away from the nearest Ukrainian positions were shelled.
That attack was not unique. The same hospital damaged in 28 May attack was already hit a few days ago on 25 May, the OSCE SMM observed the same two meters-deep craters, assessing them as caused by 152mm rounds, as far as damage caused by 122mm artillery.
Several days ago, Russian-supported forces bombarded residential area of another frontline city, Avdiivka:
#Avdiivka: aftermath of today's afternoon shelling @666_mancer pic.twitter.com/YA7fMLLU2n

— English Lugansk (@loogunda) May 23, 2017
Read also: Russian-hybrid forces kill four civilians in Donbas amid Eurovision grand final
Overnight into 30 May, they shelled a summer children camp about 20 km away from the frontline:
1/3 #Volnovakha area: last night a children's camp was shelled, only guards were on premises, no one hurt https://t.co/ZfyqgqK1bT

— English Lugansk (@loogunda) May 30, 2017
2/3 #Volnovakha: The camp is situated in #Velykoanadol forest deep in the rear, 20km away fr/ the front @solomazheka pic.twitter.com/zLbAkqahsm

— English Lugansk (@loogunda) May 30, 2017
3/3 #Volnovakha area @solomazheka "1st photo – by crater & fallen winter wheat the impact direction is clearly seen" pic.twitter.com/sB3XXhaz4N

— English Lugansk (@loogunda) May 30, 2017
Later on the same day, a mortar shell hit a bus stop in Avdiivka, wounding three civilians:
#Avdiivka: 2 men, 1 woman got shrapnel wounds at a bus stop. + courtyard hit on #Lermontova https://t.co/KhjBcBEVcr pic.twitter.com/5vjPoq6btd

— English Lugansk (@loogunda) May 30, 2017
Such attacks on Ukrainian civilian infrastructure occur almost every day. Over the last three years, many agricultural objects deep in the rear were destroyed by artillery fire.
The attacks are a part of Russian-hybrid harassing fire tactics combined with attempts to destroy the rear civil infrastructure. Harassing fire is a form of psychological warfare intended to disrupt enemy troop and vehicle movement, disturb their rest, and undermine their morale. However, the Russian-hybrid army in the Donbas uses the same tactic against not only the military but also civilians. Ukrainian police qualify every such attack as a terrorist act.
Usually, the artillery attacks on Avdiivka, Krasnohorivka, Marinka are conducted from within the city limits of occupied Donetsk, Makiivka, Yasynuvata to provoke the Ukrainian Army to return fire causing damage to the city's residential areas. If Ukraine doesn't shell back, terrorists can sometimes mortar certain areas of the city themselves to have a good picture for the Russian news. For example, provocative bombardments occurred in Donetsk on 31 January 2017 and on 1 February 2017.
7 Ukrainian servicemen were wounded in the Donbas on May 28, 3 more on the next day. On 30 May, 1 soldier was killed, 5 wounded.
Principal Deputy Chief of the OSCE Special Monitoring Mission Alexander Hug said that 44 civilians were killed and 181 sustained injuries in the Donbas in the period from January 1 till 24 May 2017. The OSCE SMM observed 84 civilian injuries and 23 deaths in the relevant period of 2016, he said, adding that 110% year-on-year growth had occurred.
As the police reported that over 500 homes – private houses and flats belonging to civilian residents in Avdiivka – have been damaged by attacks mounted by Russia's hybrid military forces since the beginning of the year.
Read more:
Tags: Donbas war (2014-present), harassing fire, Krasnohorivka, Russo-Ukrainian War (2014-present), Ukraine