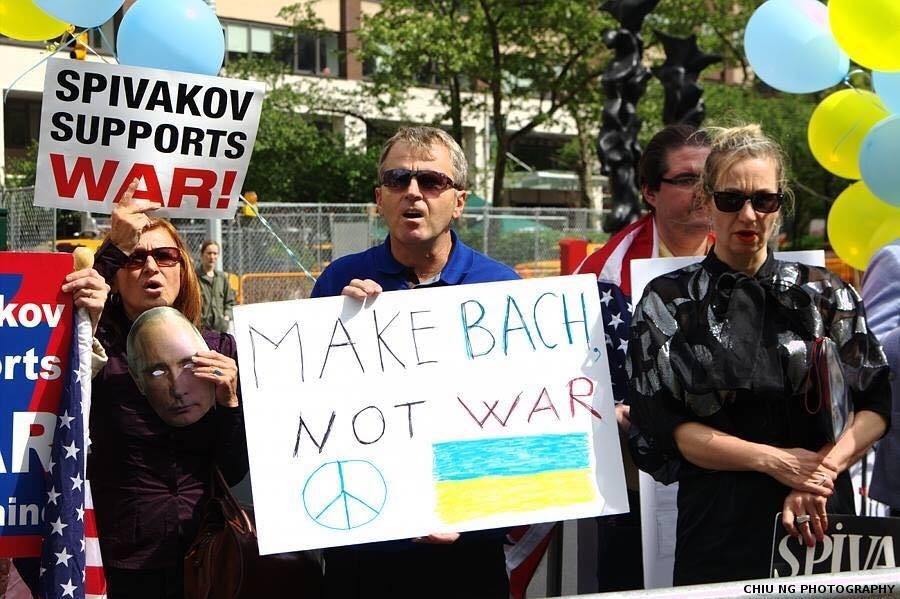 Protests against Putin-supporting musicians have been ongoing for three years already. Photo: Chiu Ng 
On 2 June 2017, Russian artists, violinist-conductor Vladimir Spivakov and soprano Hibla Gerzmava, will perform at Boston's Cutler Majestic Theater, which belongs to the renown communications and performing arts institution Emerson College. Like the performances of many other Russian artists worldwide over the last three years, the news of their appearance in Boston was received with protests. Spivakov and Gerzmanova, along with 511 other Russian cultural figures, signed a letter announcing their direct "support for the position of President of the Russian Federation regarding Ukraine and Crimea." Dated 11 March 2014, days before Russia occupied and illegally annexed Crimea with the help of a sham referendum, it gave, and continues to give, Russian aggression in Ukraine an air of moral legitimacy. Among other famous signatories who regularly appear in the West are world-known musicians conductor Valery Gergiev, pianist Denis Matsuev, violinist Vladimir Spivakov, and saxophonist Igor Butman.
A notable protest against Spivakov's performance took place at Harvard University in 2014, when an activist and alumni of the University disrupted the concert from the stage.
The protest group Arts against Aggression will meet concertgoers to Spivakov's and Gerzmanova's performance, who they call "War Boosters," with reminders of Russia's participation in the war in eastern Ukraine, which has killed over 10,000 and displaced 1.63 million people to date.
Why do you promote Putin's favorite propaganda tools #Spivakov & #Gerzmava? https://t.co/jwQwd0gGu0 pic.twitter.com/VM8qZTjJ1l

— ArtAgainstAggression (@ST0P_PUTIN) May 29, 2017
Among those protesting against this performance is an Emerson alumna Margarita Davydova, a citizen of Ukraine, who happened to be a former resident of the annexed Crimea and knows from her own experience what it is like to lose her home, business, and be separated from her own family. She graduated from Emerson in 2003 with a degree in Speech and Marketing Communications and is currently living in Kyiv. Her husband has gone to defend his motherland in the summer of 2014 and is now the veteran of this undeclared war of Russia against Ukraine.
Margarita has also worked at the charity fund "Save Ukraine," helping the displaced people from Donbas and those who remained in the war zone in Eastern Ukraine.
As the group's leader Dmitry Smelansky told Euromaidan Press, "very much disturbed by the undignified act of her alma mater and its indifference towards injustice, political crimes, and pain of millions of people, Margarita has written an open letter to the president, faculty and the whole community of Emerson College."
We publish the letter in full.
Dear Mr. Pelton, As a proud Emerson alumna, a citizen of Ukraine and a former resident of the annexed Crimea, I am writing this letter to the President and Faculty of Emerson College, the whole Emerson community and the management of the Cutler Majestic Theater in regards to the upcoming performance of Vladimir Spivakov and Hibla Gerzmava on the stage of the Majestic Theater.
Emerson College has given me much more than just great education. It has also played a major role in shaping me as an individual, which I will always be deeply grateful for. Among the important things I have learned at the Emerson family are the core values and principles of a Person. Emerson College Mission Statement includes the liberal arts values that "seek to promote civic engagement, encourage ethical practices, foster respect for human diversity and inspire students to create and communicate with clarity, integrity and conviction."
In February of 2014, armed and masked Russian troops took over the parliament of Crimea and, eventually, the entire peninsula. In March, the Russian army forces and the local terrorist organizations made an attempt to do the same in the Donbas region of Ukraine, which led to the war. Over the course of this war, continued by Russia until today, thousands and thousands of the Ukrainian people – civil, military, volunteers, medical personnel, men, women, children – have died, thousands have been wounded and held in captivity, whole towns and villages have been destroyed, over 1.5 million citizens of Ukraine have been displaced. I personally have been unable to see my family members and visit my abandoned house in Sevastopol for over 3 years, because my husband had to go to the war zone to defend his motherland, and because I communicate my views on Russia's crimes openly with clarity and conviction, as I was taught at Emerson. I can simply be arrested and imprisoned for that on the territory of Crimea.
The whole civilized world condemned the crimes of Russia's president and its government. Yet, there was a number of Russia's leading artists, who signed an open letter, hailing Vladimir Putin's actions. Vladimir Spivakov and Hibla Gerzmava were among those, who also supported this crime against humanity. Thus, in relation to Emerson's liberal arts values, I can say that with their acts and "firm" declaration of "support for the position of Russia's president on Ukraine and Crimea," Mr. Spivakov and Mrs. Gerzmava encourage utterly unethical practices and support the system that not only doesn't have respect for human diversity but never had respect for humans and their basic rights.
Moreover, they support the violation of international conventions, the unlawful annexation of another country's territories, and the war itself. Politics do not exist without us. When people make art, they cannot make it without thinking about the world around, about the children, about the future.
Art is not an isolated part of culture. It assimilates the values of morality, religion, science, politics and law, and then projects them on the public consciousness, transforming them into art forms.
Politics serve the interests of certain groups of people and prevent the unity of humanity. Politics are always connected to a specific group's egoism, while the real art is usually politically selfless and is driven by love towards humanity in general. Unfortunately, due to their huge power over the masses, people of art empowered with talent often become a tool of political manipulations, and it is about their moral choice to allow that or not. One of Emerson's listed values is moral courage. Wikipedia defines it as "the courage to take action for moral reasons despite the risk of adverse consequences."
I deeply hope that my Alma mater will preserve its values and dignified reputation.
Sincerely, Margarita Davydova (Class of 2003)
Related:
Tags: Archive, Music in Ukraine, Protests, Spivakov, USA