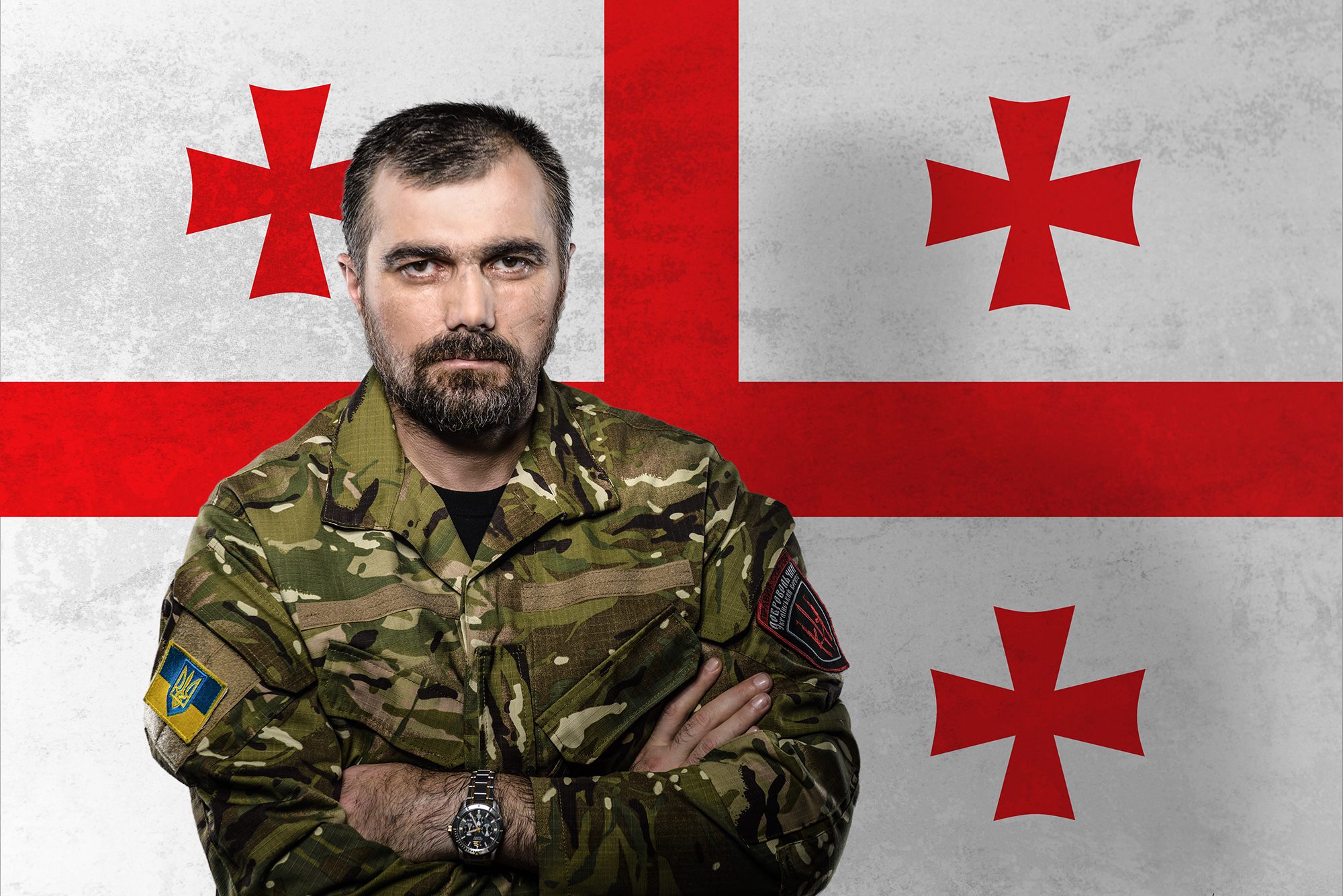 Levan from Georgia trains soldiers from the Right Sector battalion 
If it wasn't for the war… Many hundreds of thousands of people in Ukraine changed their lives drastically after Russia started its hybrid war in Donbas in 2014. Each soldier at the front line has a story to tell. Volunteers behind the photo project "If it wasn't for the war" set out to gather these stories for those who want to listen. In it, they talked to men and women, their mothers, recovering veterans, reconstructed the stories of soldiers who gave their lives for Ukraine, and interviewed citizens of other nations who are fighting for Ukraine's territorial integrity alongside Ukrainians. Euromaidan Press is publishing the story of Levan, a Georgian national who trains Ukrainian soldiers in the Right Sector battalion.
I was born on the 28th of June 1978 in the city of Sukhumi (earlier – Autonomous Republic of Abkhazia, now – Russia-occupied territory). I finished 8 forms in Abkhazia. After that my family and I, like refugees, moved to the Georgian territory where my family still lives – in Tbilisi.
Like every little boy, I liked weapons.
I dreamt of entering the Higher Military Academy. However, with the exacerbated military situation in Georgia at the time, the higher military institutions weren't the level I was seeking.
I went in for sports, played football, practiced karate. The football coach wanted me to play in the national team of Abkhazia, but I was not ready for this because I liked freedom a lot. I played football only for myself, it was an amateur hobby. At the same time, I played very well.
Sport is in my blood. My father was engaged in professional wrestling, was a medalist of the Abkhazia Championship.
I like to swim, I like extreme sports.
I have an older sister and three brothers. Two of my brothers are also servicmen and another is an artist.
My mother lives in Georgia, my father passed away.

After eight grades of school in Abkhazia, I passed the exams in absentia in Tbilisi, received a certificate. And in 1996 I went to a diversionist school, where I studied for two years. For one year I was assigned to a secret special operations unit, which functioned in the occupied territory of Abkhazia. After its disestablishment, I joined the Special Forces of Internal Affairs of Georgia, which was a part of the anti-terrorist center. Until 2006 I worked  in these institutions, which were all based in Tbilisi. I took part in various special operations both in Ossetia and Abkhazia. So that's my complex experience.
And then he made a decision to leave the system. It was 2006. He was just about to get the rank of captain when he submitted his letter of resignation.
At that moment, I wasn't interested in all these ranks and positions. As I saw it, the whole system of special forces, which should have been protecting the national and patriotic interests, began to lose its principles. Special forces fighters started to be separated with the aim of further control in an unclear manner, which was  unacceptable for me. There were many disputes, unpleasant conversations with the administration because of my decision to leave the system, but I was steadfast in my decision.
Levan says that he feels close to the events in Ukraine, as he is from Abkhazia, a conflict zone, and there are many similarities between the situation in both countries.
I was 13 years old when the stormy events took place in Abkhazia. But I remember the soldiers from Ukraine who fought for us even after the war – almost until 2003, as partisan battles still lasted in Abkhazia. There remained not a very large group of Ukrainians but a few people continued to take part in special operations in the territory of Abkhazia.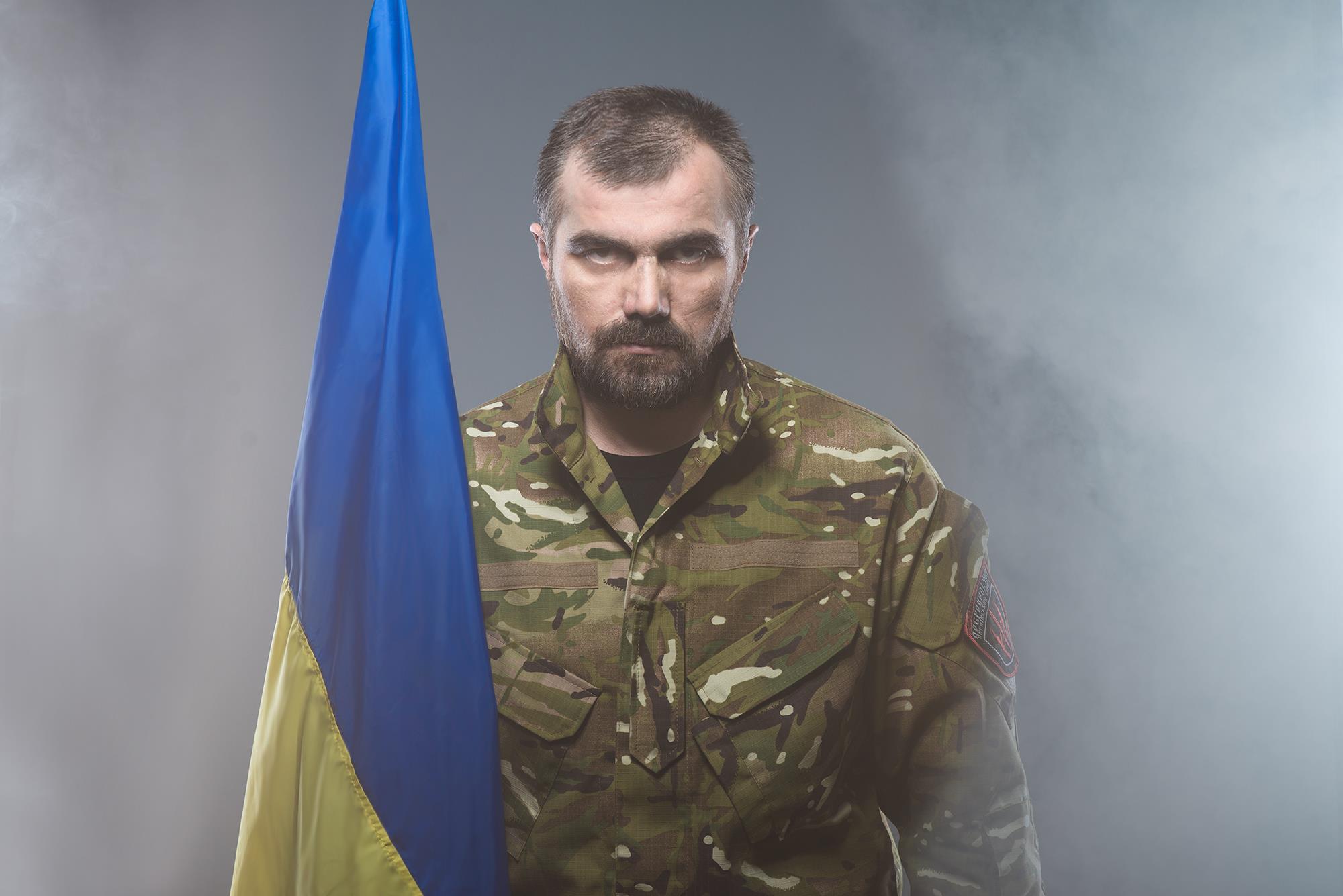 In 2004 I was appointed a commander of the tactical reconnaissance in North Ossetia, where there were small fights, but our Special Forces command operated there. There I had big plans as for reconnaissance and the proper training of fighters, both physical and moral, and not only in my battalion (in the brigade we had five battalions, which had its own recon elements). I had a whole flank. I even wrote a book about reconnaissance. It was a first in Georgia, because everyone worked under the Soviet system, by the books that were published in the USSR. I translated this book so that it was useful for the Georgian Special Forces. I took this book and developed program to the senior management. They all liked it. But a week later I resigned from work.
I agreed because it's my calling – I spent my whole life in a uniform with a weapon in hand, and I had to share my experience with Ukrainian soldiers.
For the first time I arrived in Ukraine at the invitation of businessmen from Kyiv in 2013, through a mediator from Georgia, who recommended me and another friend for security. This was before the events on the Maidan – in October-November 2013. In Kyiv I met very nice people. But because of the events on the Maidan, the situation began to change.
Eventually I came to work in a firm in Lviv, to help to create a security system.
I followed the events on the Maidan but did not participate. I don't follow politics very much, but I understand that a revolution is a critical step for the nation, when it decides to change something.  
It was the same in Georgia, we went through the same thing. I felt sorry for the Ukrainian people. The scenario in Ossetia andAbkhazia, and the events that took place in Ukraine – the creation of separatist groups, fostering of hatred – all this was conjured by the secret services, it all followed the typical plan. The same scenario was repeated in Ukraine, with the same principles, slogans. I believe that it is oligarchs who control the politics in the whole world. And when the people's discontent reaches the highest level, the people take up arms in order to change the leaders of the state by force. It was the same in Georgia.
Read also: Stages of Russian occupation in a nutshell
As I am a fighter, a soldier, I have my own ideology. I want to achieve order in the system, to make at least some contribution to its improvement. Right now, the people who try to manipulate others, create conflict zones and launder considerable financial resources while maintaining the external illusion of order in the country, despite it being in chaos, are the most prominent.

Working at the security firm in Lviv, in March 2016 I met soldiers from the Right Sector, some good guys. We talked for a few days, got familiar with each other. I became interested in their activity, in what they do, which purpose they have, how they work. I told them about my past, and then they said that they were really lacking such people. They needed specialists who prepare young men for the Right Sector to fight for the integrity of the state.
I agreed because it's my calling – I spent my whole life in a uniform with a weapon in hand, and I had to share my experience with Ukrainian soldiers. I became a serviceman not because I like to shoot or like the smell of gunpowder, but because after the conflict in Abkhazia, nothing good happened, my people were crushed, destroyed, as everything else in the conflict zone.
That's why I agreed and went to Donbas. My relatives don't know I am there.
I looked at the base of the Right Sector. It didn't have any suitable conditions for the physical training of soldiers, and there were not enough people to change the men in positions (for example, one group goes for a week, and a week later it is changed by a second group – as they are tired, they need to rest). So we had trouble with the preparation and training. I was given a uniform, handed a weapon, and I went to a position to study the situation.
Read also: Four days at the front with the Right Sector battalion
The soldiers of Right Sector whom I met in the Anti-Terrorist Operation zone (ATO) are good guys who want to protect their country, preserve its integrity and unity. But they have almost no experience in military affairs, especially in positional battles. At best, they could shoot from an automatic weapon, but this isn't the most important thing. I had never been an instructor, but I could and teach them military affairs, the things which I learned during my service in the Special Forces.  
It would be good to improve discipline in the ATO zone. For me, seeing how soldiers abuse alcohol or sort out their relationships is unacceptable – this has no place at war. However, despite these unpleasant situations when it comes to readiness for action, the negative aspects disintegrate and everyone performs his military function. Therefore, I believe that every unit should have a commander who can establish and maintain discipline; otherwise, there won't be a battle-ready unit…

I would like to mention a curious incident… I never liked borscht, the signature Ukrainian soup, despite my mother cooking it often, making my brothers and me eat it, because it's very healthy.
The guys in the ATO zone didn't like cooking very much, and mostly each man ate alone. And then, one of the guys says he would like to taste delicious homemade borscht. I said that I could cook. Everybody was skeptical of my borscht cooking skills and I started convincing them that I know how to cook it and it's not a problem in these conditions. I asked them to find me all the necessary ingredients for borscht and began to cook. When it was almost finished, I had to leave for my duty. I asked the guys to watch after the borscht and leave a little bit for me. After I returned, I could barely scrape out one bowl for myself (probably, everybody liked it). So that's the story of a Georgian cooking Ukrainian borscht in Donbas.

The Ukrainian fighters have a great desire to protect their country – you can feel it in the air.
I was wounded in the summer of 2016. But I want to recover as soon as possible and return to the boys. I don't like inactivity. I thought about returning to my guys on crutches, but they forbade me to even think about it. Though I understand that I could train the boys, pass on my experience to them, until I completely recover. I know that the Right Sector accepts new fighters who need to learn how to fight, with whom I can share my experience.
The Ukrainian fighters have a great desire to protect their country – you can feel it in the air.
I came to love Ukraine; the fighters whom I met became my brothers, my family.
It seems that our people are alike, but Ukrainians are a bit softer by character.  However, those who live in the western part of Ukraine are very similar to Georgians, perhaps, the Carpathians effect on this, as Georgia is a country surrounded by mountains…
Ukraine and Georgia are Orthodox countries with a long history, their own culture, customs and no one can tell us how we should live, whom to believe. Both Ukraine and Georgia during their long history fought and defended its territorial integrity more than once. Probably, it's for these similarities that I came to love Ukraine.
What should I wish to the Ukrainian people?.. I'm here not for money, not for a position, I'm here by choice. I want just to wish Ukrainian people peace, beauty and prosperity. I always wanted this for my native country – Georgia, because my country is sacred to me, and I wish this to all Ukrainians.
Tags: Donbas, Georgia, Right sector, Stories from the Front