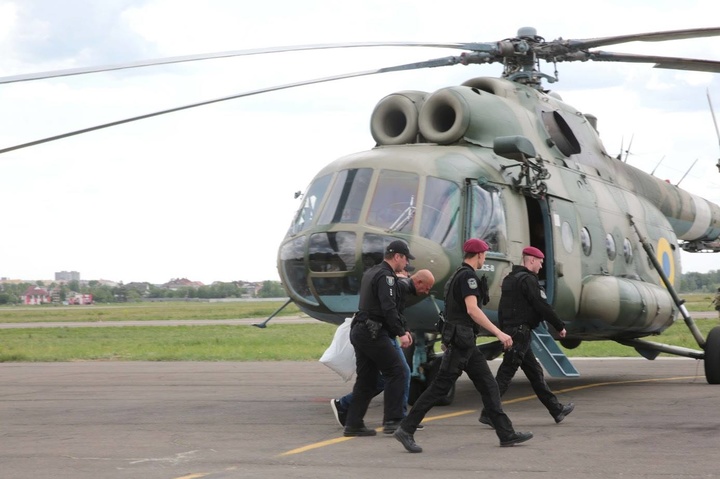 The detained officials were brought to Kyiv by helicopter. Photo: glavcom.ua 
On 24 May 2017, [the day of Prosecutor General Yuriy Lutsenko's annual report in the Ukrainian Parliament – Ed] 23 people have been arrested in a joint operation of Ukraine's National Police and Military Prosecutor's office. Arsen Avakov, Ukraine's Minister of Interior, and Anatoliy Matios, Chief Military Prosecutor, underlined in a joint press conference that the operation involved 1,700 policemen and 500 military prosecutors who simultaneously conducted 454 searches in 15 regions across Ukraine. Avakov stressed that this is the largest anti-corruption operation in the history of Ukraine. The detained were brought to Kyiv by helicopter so that the court hearing could have been held on the same day.
Here is what you need to know about this story:
1. Law enforcers detained officials of the former Ministry of Revenue and Duties
This is an institution of Yanukovych's time which turned into the State Fiscal Service in 2014. At the time, it was headed by Oleksandr Klymenko, who fled to Russia after Euromaidan, and now is Head of the "Uspishna Krayina" (Successful Country) political party. Law enforcers suspect the detained of having been involved in massive and systematic tax fraud. The investigation believes that this scheme has inflicted nearly a UAH 100 bn damage to the state.
2. The scheme was based on the so-called "conversion centers"
The suspects are believed to have created a whole system of fake companies which were used to cash out bank accounts. In this way, those involved in the scheme paid fewer taxes. The Ministry of Revenue and Duties headed by Klymenko used to control the whole scheme in 2010-2011. Yanukovych, Klymenko, and others took a commission from every transaction, law enforcers explained.
3. Detained Fiscal Service Chief himself helped the investigation to uncover the scheme
[Roman Nasirov, Head of the State Fiscal Service, is suspected of causing damage to the state in the amount of UAH 2 bn ($ 73.7 mn). He was handed a notice of suspicion on 2 March 2017 – Ed.] Anatoliy Matios stressed that Nasirov "has done everything to prove the guilt of the detained." However, Nasirov himself has been accused of using "conversion centers" earlier. Nasirov's case itself was believed to be a test case for Ukraine's new anti-corruption bodies. He was not put in jail, however, but released on UAH 100 mn bail. It seems that now authorities try to change his "media role" from a major suspect in fiscal corruption to a person that helps the investigation.
Read also: The case against Ukraine's Fiscal Service chief might break the corrupt political system
4. Klymenko called the operation "a show which staged to drag public attention from important things"  
Oleksandr Klymenko himself has reacted to the arrests. He stressed that the whole operation was staged on the occasion of Yuriy Lutsenko's annual report to the Verkhovna Rada. Klymenko argued that Poroshenko and the government did this "to drag public attention away from war, crisis and crazy declarations of the officials."
5. Pecherskyi court of Kyiv started releasing those detained on condition of bail
For instance, Volodymyr Zadorozhniy, a former head of Poltava region's tax agency, was released after the bail-out worth UAH 12 mn ($450,000) was paid. Oleksandr Antipov, his former colleague from Luhansk region, paid a UAH 15 mn ($570,000) bail-out.
Prepared by Vitalii Rybak, Internews Ukraine, for UkraineWorld group (ukraineworld.org). These theses are based on the reports by Hromadske, UNIAN and lb.ua.
Read also: 
Tags: corruption in Ukraine, Lutsenko, Nasirov, News, taxmen