On 16 May 2017, Ukrainian lawmakers banned the St.George's ribbon, a controversial emblem of the Second World War used in Russia which many Ukrainians see as a symbol of Russian aggression.
The black-and-orange striped ribbon is a state-embraced symbol of military valor in Russia, where it is widely used in commemorations of the 1945 victory over Nazi Germany. For many in Ukraine, however, the ribbon has come to symbolize Russia-backed separatists in eastern Ukraine in a war that has killed a bit under 10,000 and displaced over 1.6 million people.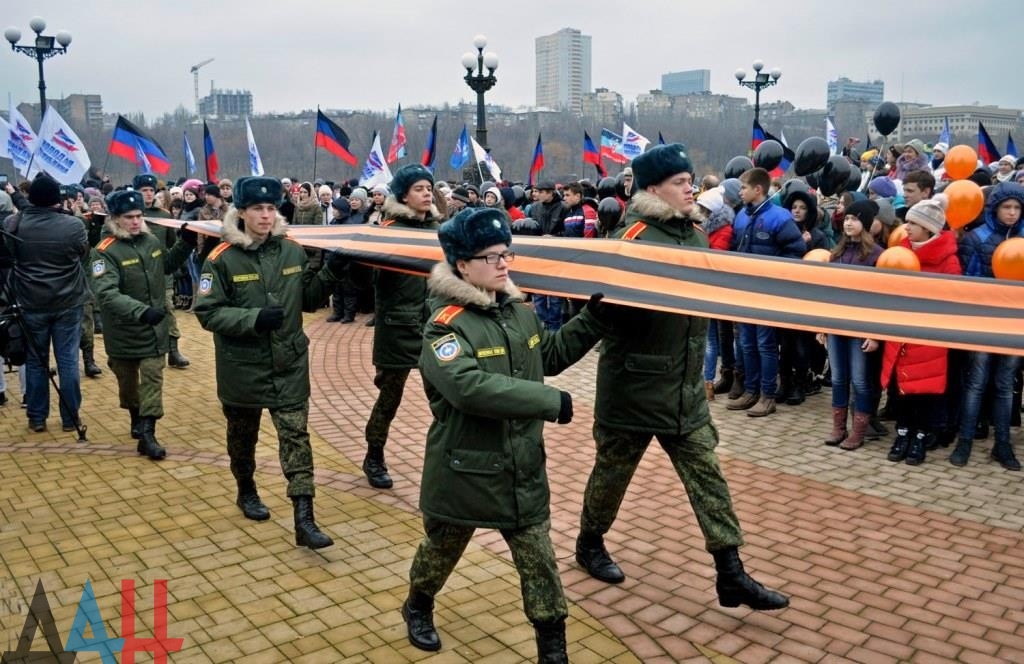 Now fines from 850 ($32 USD) to 2550 hryvnia ($97 USD) are envisaged for public use, demonstration or wearing of Georgian ribbons or pictures thereof, UaWire reported. For repeated infringement during a year, a more severe punishment is envisaged – a fine of up to 5100 hryvnia ($193 USD) or administrative arrest for up to 15 days.
The new rules do not affect World War II veterans, their awards or documents, TV channel 112 Ukraine reported. Furthermore, depictions of Georgian ribbons are permitted, for example, in works of art, educational material, on tombstones, and on documents issued before 1991. Use of ribbons in museum expositions, historical reconstructions, and objects of antique trade will not be punished.
The bill was initiated by MP Anton Herashchenko, the adviser to the Ukrainian Minister of Internal Affairs. An explanatory note on the document states that for Ukraine, the Georgian ribbon has become a "symbol of Russian occupation and aggression."
In a 16 May Facebook post, Russian Foreign Ministry spokeswoman Maria Zakharova slammed the parliament's backing of the bill as "antidemocratic and antihistorical."

History of the emblem
As James Hudzik wrote in his article, "the St. George ribbon originated in the reign of tsarist Russia's Catherine II. It was an addition to the Order of St George, which was founded in 1769 during a Russo-Turkish war that solidified Russian control over southernmost Ukraine and five years before Katherine's razing of the Zaporizhzhia Sich. The Order was discarded in 1917 following the Soviet revolution.
However, as the Soviet need for a richer military symbolic grew during World War II, the Tsarist trappings returned, first in 1941 with newly reconstituted Guard units utilizing the Order's distinctive orange and black ribbon, and then in 1943 with the Order of Glory. Most famously, the ribbon was used in decorations such as the Medal for the Victory over Germany in the Great Patriotic War 1941–1945, which was awarded to all who served in the war. It was as a reward for bravery in combat and for liberating еру fatherland from foreign invaders.
The ribbon has its modern use as well. In August 2000, the Russian Federation brought back the Order of St. George as its top decoration. Moreover, the St. George ribbon has been used since 2005 as a symbol of commemorating the victory over Germany and is seen frequently around May 9 Victory day celebrations. However, it is not used in any formal Ukrainian military decorations."
The ribbon was used by the Anti-Maidan camp opposing the Euromaidan protesters in 2014 and has ever since become a symbol of the "Russian world" and the Russian-led conflict in Donbas. St.George's ribbons have been handed out at pro-Russian rallies worldwide.
In 2014, Ukraine adopted the red poppy as the symbol of victory over nazism and is moving away from the Soviet conception of the "Great Patriotic War," introducing the Day of Commemoration and Reconciliation aside with Victory Day. Ukrainian historians note that Russia's usage of the "Great Patriotic War" is being used as an instrument of Russian imperialism.
Read more: