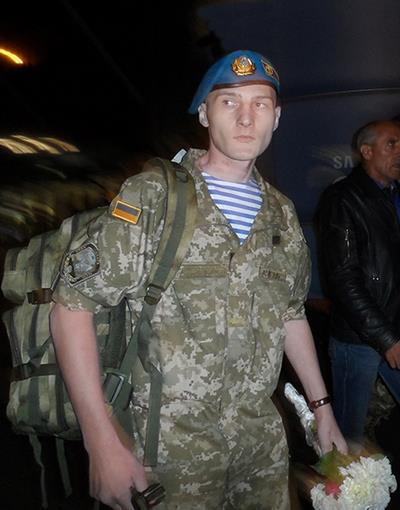 25-year-old Valentyn Kovalsky was laid to rest in Zhytomyr on May 7, 2017. He was gravely wounded during a combat mission in July 2014. For the next three years (33 months), he continued to fight for his life with incredible bravery and determination.
His friend Valeriy Lohinov, call sign "Askold", remembers him fondly:
"Valentyn enlisted in the Armed Forces of Ukraine and served in the Sniper Corps of the 95th Mobile Division. He was young, healthy and happy… a very cheerful guy. Before the war, he fulfilled his military service in Donetsk. Then, he enrolled at the Faculty of Mechanical Engineering at the University of Zhytomyr."
Valentyn was stationed at the front lines from the very first days of the war. Early in the spring of 2014, he fought at the Arabat Arrow near Henichesk, Kherson Oblast, where the situation was very tense after the Russian occupation of Crimea. He was then transferred to Sloviansk in Eastern Ukraine.
On July 27, 2014, his group of paratroopers fell into an ambush near Torez, Donetsk Oblast. Valentyn recounted the events of that tragic day:
"Our units were advancing towards Savur-Mohyla, but our vehicle broke down and we were separated from the main column. They made it to safety, but we were ambushed."
A fight ensued… Valentyn was seriously wounded in the stomach. A 7.62 mm cartridge (Dragunov sniper rifle) tore through his hip and shattered his pelvis. The bullet then ricocheted off the metal plate of Valentyn's bulletproof vest and penetrated the abdominal cavity, severely damaging the intestines.
Suffering from acute peritonitis, Valentyn was delivered to Kharkiv Hospital nine hours after the attack and was immediately taken into surgery. However, doctors announced that further medical treatment was needed, but such complex surgery was not available in Ukraine.
Volunteer organizations began collecting funds for treatment abroad. Thanks to donations from hundreds of people and the Kuzminskykh Brothers Fund, Kovalsky was transported to Israel in 2015, where he underwent three more operations. Rehabilitation treatment started, but Valentyn's greatest wish was to return to the front lines.
His weakened body, struggling to survive for nearly three years, was exhausted and finally surrendered. Valentyn died in Zhytomyr Hospital on May 5, 2017 where he had been hospitalized for internal complications. He would have turned 26 in four days….
Вічна Пам'ять!  Eternal Memory!
Герої не вмирають!  Heroes Never Die!
Tags: Donbas war (2014-present), Savur-Mohyla, severely wounded, Stories from the Front, Ukraine