Apostle, a Pravy Sektor fighter from Drohobych, was invited by one of his comrades-in-arms to visit Volodymyr-Volynsky (Volyn oblast). We cannot stop looking at his beautiful expressive eyes that seem to reflect the wonders of the whole world. After a few days in the city, he has become a favourite for many residents. His smile and sincere greetings will be remembered for a long time, even if we never meet again.
We spoke with Apostle about his life and why so many young men have gone to war, about separatism in Ukraine and the surrender of the Donetsk Airport.
You're so young and yet you decided to go to war… why?
I went to war because I'm an ardent and impatient man. I don't like having something of mine taken away. What our ancestors fought for belongs to us. This is our land, the land of my parents. When they grabbed Crimea, my friends and I went to the recruitment centre, but they refused to take us. They said that we were too young and they couldn't use us over there. So, we went to train with Pravy Sektor. We became volunteers. Some of my friends enrolled in Azov, and others in the Donbas Battalion or other volunteer battalions.
It was hard to find good boots, uniforms and gasoline. We got everything thanks to volunteers. They tried to be everywhere, break through to the front lines… to hellholes, just to supply us with what we needed. We thought they were all crazy. But, they're great people with a capital G, true and sincere patriots.
You have a strange call name… why did they call you Apostle?
Actually, I don't like talking about and I won't tell you who gave me that name. Several beautiful girls on the Maidan started calling me that. Everybody had a call name then, but I didn't. The girls thought my eyes were beautiful, so they gave me this call name. They said that my eyes projected holiness and the inner soul.
What did you feel and think when you first came to the frontlines?
It was the end of August 2014. I was scared, of course. I was afraid that something might land on me, that I wouldn't see it coming because I didn't have any experience. But over time, with the first battles, the first shelling, the first hail of mortar attack, my fear disappeared. I came to fight, and not to run after the girls in the park. Gradually I began getting used to everything. People say that only a fool is not afraid, but have you ever seen a wise man that has voluntarily come to the front. I even remember a poem: "Here, fear is forgotten…" And yes, we all forgot our fear in those places.
You were in Pisky. You were stationed at a strategic point. What can you tell us about it?
It was a corrective military position. It was called "Heaven" because some very good people were stationed there – Angel, Apostle, Demon, Bes (Evil), Archangel, Michael. In short, only "saintly" people sitting there…
Did the surrender of Donetsk Airport somehow impact on the fighters themselves? Was it a disappointment?
It was an enormous disappointment…in two ways. First, the airport was a symbol for us, and abandoning it meant a loss of faith. Secondly, we lost a lot of men. We knew something would happen; we talked about it all the time. But, we were told to hold on… and we held on. And then our president and his commanders issued their stupid, absurd orders, saving their businesses and leading everyone to such a terrible tragedy. So many young people were killed, good soldiers, our brothers, our heroes. Our president put his business first, above his men. I can't really say, but somehow the surrender of the airport coincided with the Lipetsk confectionery factory starting up operations again. Our government doesn't like us, doesn't respect or help us. They're all afraid of us. Sashko Polozhynsky (Tartak lead singer) has a song and some of the words go like this: "I don't want to be a Ukrainian hero because my country doesn't appreciate heroes." This song really describes the context of current events.
How did the local people in eastern Ukraine react to your presence?
I didn't talk to the locals. They were getting to me. They were all so nice and sweet, smiling and joking, but they can't be trusted because you really don't know what to expect from them. I'll fight for normal and ordinary people. I didn't ask Putin to come here. If someone from over there approaches me and says: "Come on, guys! Let's finish it all." Well, I'll tell them they asked for it, they wanted it, so go and help drive out the people you invited in. We're all tired of spilling Ukrainian blood here for these traitors, these chameleons. They don't care who they live with. It's like a scene in a bad movie – "Oh, the government's changing again!" We see the same kind of people in western Ukraine. They all know that the government is stealing, that it's wrong, but then they re-elect them because they've stolen so much that there's nothing left to steal. These people wish the worst on everyone, even themselves. They just don't want things to get worse for themselves and their families… that's the extent of their logic. It's a kind of homegrown separatism.
You were a student before the war…?
Yes. I didn't finish my studies. I went to see the director and told him I was going to the front. He understood me and helped out. He helped any way he could, as they say. I'm on a sort of sabbatical now.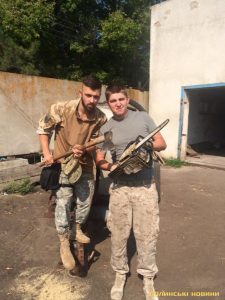 You're also on leave in Volodymyr-Volynsky, right?
Yes, I needed a rest.
What can you say about Volodymyr-Volynsky? Do you like our city?
You have a beautiful town, and the people here are very different; some are even indifferent. They are used to something and don't want to change anything. You can see it in their faces.
Are you planning to go back to the front?
Not just planning… I'm raring to go there. It's like the pull of a magnet. Believe me, I'm not the only one. All my friends, my comrades-in-arms are eager to go back; they feel the pull. When you come home, it seems that you've landed in another world. I now believe that there are parallel worlds. There's a poem that fully reflects this idea: "Go figure those people! There's no war over there, just the sea, and people hanging out on the beach. We're needed here and not there. There, they're wary of people in camouflage." I feel much worse here than over there. There, I've learnt to distinguish enemies from friends. The enemy's before me, whereas my friends are behind me. But here, you don't know where the knife is coming from. We've forgotten what these people are like.
On the other hand, we have faces of fighters and soldiers, so there are people who'll just come up, hug us and say; "Thank you, my son, for standing up and fighting!" Today, a friend gave me a watch because I was at the front, while he stayed here. That's really cool. A simple expression of attention is worth a lot. These are the people I want to protect.