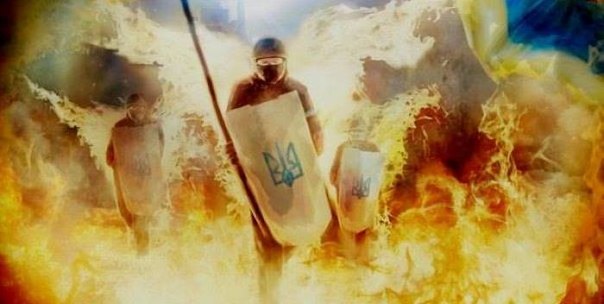 Warriors of light. The Heaven's Hundred of Euromaidan 
"Don't allow blind hatred to prevail over us" – famous intellectuals called upon Ukrainians not to accept violence as a routine and to not justify arbitrary rule by the war in Donbas, which has already dragged into its third year, in an appeal made on 20 February 2017.
The appeal noted that the war has changed Ukrainians: individuals succumb more easily to bitterness, becoming more and more hostile, ensnaring one another in bonds of intense hatred. People have become numb to death, and that denigrates the value of the human being, causing a society to become indifferent to suffering.
At the same time, the reforms of the post-Euromaidan government have not created conditions for the rule of law and law-enforcement institutions are sliding back to Soviet habits, which leads to more and more people rationalizing the legitimacy and morality of force as an instrument to effect justice. The writers of the appeal maintain that Ukrainians must not make the mistake of assuming that wartime conditions justify the suspension of democratic principles – as "God's laws are not suspended because we are at war."
Ultimately, the appeal warns, Ukraine must not turn into the aggressor it is fighting.
Don't allow blind hatred to prevail over us: An Appeal from "First of December" Initiative Group
Our lives have been fundamentally transformed by this war. It has been three years now since the Russian Federation, as an aggressor nation, has been conducting a war against Ukraine. The result has been a growing number of past and present losses of human life. In addition, it has also created serious economic and moral consequences. Everything that has occurred in response, and the actions of those responsible for governance or who influence decisions, should be evaluated within the context of these losses of innocent victims, the dead and maimed individuals, as well as the ruin of countless houses and property. Unfortunately, most of us would not be able to sustain such an examination for very long.
When one considers everything that has been brought upon us by this war, the objective of the aggressor becomes clearly evident. Consumed by hatred as he is, he won't be satisfied until we are seen to be filled with hate as well.
His entire being oozes filth, and he would love nothing better than for our words and thoughts to become similarly contaminated. Aggressive by nature, his dream is that his "might is right" attitude become the law that dominates our lives as well. His overarching objective is that we become a mirror image of himself. Unfortunately for us, it is still too early to tell if he hasn't had any success corrupting us.
In the confusion of spiritual denigration
Anyone who is the least bit attentive to the health of our national life will easily detect a malaise, like one listening to a patient's lungs and hearing bronchitis. Individuals succumb more easily to bitterness, becoming more and more hostile, ensnaring one another in bonds of intense hatred. The pressure of passive-aggressive behavior continues to build in reaction to the constant and daily deaths, from war, from car accidents, and as the result of being victims of violent crimes. When people become numb to death, the value of the human being is denigrated.
For all its work recently in implementing reforms, the leadership of the government nonetheless has not succeeded in creating an authentic Advocate. The judiciary and law enforcement system continues to falter and stall, meaning that practically speaking, any successes in the fight against human rights violations continues to happen piecemeal. Such failures are a particularly worrisome threat to a country that is in a state of war.
The temptation is that in the absence of effective laws, justice will be sought by circumventing the rule of law.
More and more people rationalize the legitimacy and morality of force as an instrument to effect justice. What is acceptable behavior on the battlefield against a wartime enemy is now assumed to be a legitimate response in civilian life against those accused of breaking the law. The result is that as a society we become insensitive to real human suffering.
Each one of us can add their own examples and experience to illustrate what has been said above. For example, in particular regions of the country there exist armed groups that are involved in the practice of "liberating" someone else's property for themselves. The black market commerce in food and drink is increasing. Some priests are refusing to bury the dead when it is revealed that they held ideological "inconsistencies." Gangs of young people are being formed, including those of abandoned children, and there are certain areas of our cities throughout the country where it is not safe to go out after dark. And what has been stated here is only an incomplete list!
The time has definitely arrived for us to ask ourselves: "What is happening to us? Why have we become the bearers of malevolence?"
These unsettling trends have gone well beyond the boundary of the usual habits of human sin. Without our being aware of it, they have become a threat to our national security. Our government agencies must give serious considerations to the implications of these threats, and our community organizations must as well, inasmuch as both sectors can easily become sources through which they spread. (And the opposite, that our healing can begin from within these agencies and organizations.) We must halt both the dehumanization of the person and the degradation of our government and community institutions.
Governmental and Societal Responsibilities
We expect from our government an organizational plan for the comprehensive defense of the country from the military, economic, and informational aggression coming from the Russian Federation. Only the government can bear that responsibility for the fight against crime, and to ensure the stability and security of the citizenry within the borders of the country. And at this time we express our gratitude to our soldiers who have borne and who are now bearing the weight of their service under the most difficult of conditions. We acknowledge their role in making it possible for there to be a sustainable peace throughout the greater part of the country.
In relation to the government, the country not only experiences governance and order but unfortunately there are times when it emanates a dark shadow – if civil servants forget the principle that the nation is healed of violence not by more violence but rather by justice, a principle commonly referred to as the supremacy of the rule of law.
We have not yet been separated from the Soviet justice system of punishment by any great length of time. The government agencies responsible for the fight against crime, unfortunately, are susceptible to reverting back to old habits of the use of force and the misuse of their powers. The extraordinary conditions under which we live because of the realities of war instigated by the Russian Federation and the collaborators whom they arm, finance, and support politically are not to be used as an excuse for more punishment and vengeance.
It is very important for the leadership of the country to listen carefully to those voices of warnings coming from our defenders of human rights, and for both the appropriate government and community checks and balances to be in place over the actions of the police forces and special law enforcement services. Rights must not be threatened for the sake of political expediency.
The nation as a whole has its own obligations in these matters, inasmuch as problems befalling those "higher authorities" are in some ways a reflection of the problems that plague the "lower masses." One serious mistake is made in assuming that wartime conditions require the suspension of democratic principles and the renouncing of those core values that are actually fundamental characteristics of what it means to constitute a human society.
God's laws are not suspended because we are at war. These divine laws are the essence of any common civilized life. The alternative is that in place of these fundamental laws of mutual relationships there will be a return of violence for violence at many different levels of life; every act of wrongdoing, unrestrained by human conscience, foments several other acts of wrongdoing. This law of spiritual decline is one that all of us need to be aware of, and to be vigilant against.
Be "defenders of light, defenders of moral good"
War starts within the human heart, and hatred can never stop it. In contrast, the path to peace depends on peace within one's soul, because it is only from the soul that authentic strength can be found. And a strong soul makes us invincible. No one knows the truth of this statement better than our country's volunteers, these selfless bearers of all that is good. And likewise, our fighters, any soldier who has ever comforted a distraught child or sheltered an animal injured by flying shrapnel has demonstrated the beauty of that inner peace. Our society is restless and longing for this boundless source of true human love, and it is the work we have before us to initiate that love and enable its strength to flourish.
It is entirely possible that this experience of adversity which today is darkening our world will release its hold on us tomorrow through the concerted efforts of our society, focused as we are on guaranteeing the spiritual safety of the country. In such a manner, the Ukrainian nation, under extreme times of testing, will be able to defend its right to freedom. Our war effort is noble, and we will emerge victoriously. What's essential is that when this war does end, we do not see reflected in ourselves the predatory smirk and unsated hunger of the aggressor against whom we have just struggled.
The unfortunate reality is that during a time of war it is impossible to avoid wounding the human soul. May our actions never be the cause of such harm. Do not allow blind hatred to prevail over us. We are human beings, and we have no desire to jeopardize our innate dignity. To nurture our moral strength, simply set before ourselves the portraits of the heroes of the Heavenly Hundred, and the portraits of the heroes of our casualties from this war.
With such a vision and perspective, everything will be possible for us.
The Initiative Group "First of December" was created on the twentieth anniversary of the referendum for the Independence of Ukraine.  It includes senior national intellectuals: Viacheslav Briukhovetsky, Bohdan Hawrylyshyn, Volodymyr Horbulin, His Eminence Cardinal Lubomyr Husar, Ivan Dziuba, Myroslav Marynovych, Myroslav Popovych, Yevhen Sverstiuk, Vadym Skurativsky, Ihor Yukhnovsky, and aims to achieve the establishment of new rules in the country.
More from First of December group:
Tags: Op-ed