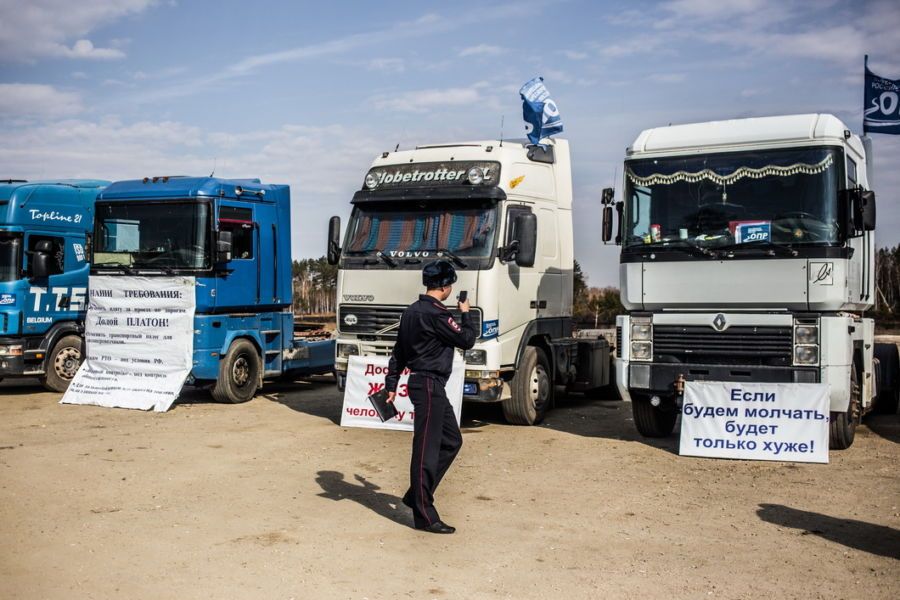 Russian police across the country make video recordings of trucks and signs of the striking long-haul truckers (Image: Anton Klimov / novayagazeta.ru) 
While some drivers are going home briefly to plant their gardens and while officials are claiming that the strike is collapsing, striking drivers in Daghestan today issued an appeal to Vladimir Putin detailing their grievances.
Arguing that the current situation in the transportation sector is "unjust," the drivers say that they have five demands they are confident will "improve" the situation. These demands include:
Complete cancellation of the Plato toll system
An end to the transportation tax
Better weighing of trucks and cargoes
Better work rules
A new system for calculating fuel taxes.
Significantly, the drivers base their arguments on constitutional grounds, arguing that the Plato system and other rules violate particular provisions of the 1993 Russian Constitution as well as specific Russian legislation.
Other developments in the long-haul truckers' strike during the last 24 hours include:
---
Related:
Tags: Anti-government protests in Russia, Daghestan, International, Putin regime, Revolution, Russia, Russian truckers