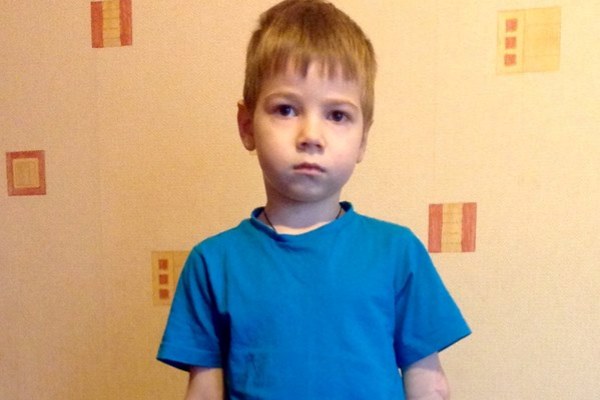 Two years ago, Klym Klymenko miraculously survived the bombardment of Kramatorsk by Russian separatist forces. His mother died while shielding her three-year-old son with her body. Klym was critically injured. In many respects, his story is typical of the tragedies — and occasional triumphs — experienced by the many victims of the Donbas war.
On February 10, 2015, Russian forces bombed Kramatorsk, a town in the Donetsk Oblast, some 50 km from the front line. They launched  Smerch and Tornado missiles at Ukraine's military headquarters near Kramatorsk, as well as a large residential area in the city. As a result,  17 civilians were killed and 60 were seriously wounded.
When the attack began, Oleksandra Klymenko ran to pick up her son from the nursery school. On the way home, they came under fire. The mother covered the little boy with her body but died on the spot. Klym survived but was badly injured. A local woman at the scene took him to the local hospital, realizing that if they waited for an ambulance he would not survive.
Shrapnel had crushed Klym's left elbow and right leg, and he had shrapnel wounds all over his body. Doctors in Kramatosk performed the first operation, managing to save his life. He was then transferred to Kharkiv. Eventually, surgeons in Kyiv were able to save the nerve in his arm but were not able to restore movement,
At the hospital in Kharkiv, the little boy met Tania Shatokhina, who was at the hospital with her daughter. When she learned about Klym's situation, she decided to help him
"I fell in love with him immediately," she explains. "He's someone very special, very positive. When you consider that he has been fighting since he was three years old. They tell him what to do. He's in pain but he does it. For two years we have been going from one hospital to the next and he has endured all of it. It's important to support something like this."
During Klym's treatment Tania met Klym's father, Oleksandr, who had been working abroad at the time of the attack. They married last year and now live in Tania's one-room apartment in Kharkiv with Klym, his older brother, and Tania's daughter.
The couple describe their son's many challenges.
"His arm had no motion. His fingers couldn't clasp. His hand couldn't function." Oleksandr says. "His injured leg is 3 centimeters shorter. His knee is facing sideways. He is growing and the deformity is becoming greater and greater. It is affecting his spine and internal organs. He has shrapnel throughout his body and in his head, resulting in 50% loss of vision."
Tania adds that Klym does not like to show his scars because he is embarrassed. He tries not to think of that tragic day. For a long time no one around him uttered the word "mother," but recently they have begun to discuss this subject with him.
Klym has already endured 8 operations, including one in Germany last year, where doctors were able to restore some functionality to his hand. That operation was made possible by funds collected from donors in Ukraine.
The little boy dreams of becoming an athlete and grows impatient when he can't run as fast as his friends. Meanwhile, his family is collecting funds for additional surgeries in Germany for his leg. They need 14,500 Euros. Specialized surgeries on that level are not being done in Ukraine, they explain.
Tags: Donbas war (2014-present), Kramatorsk, News, victims