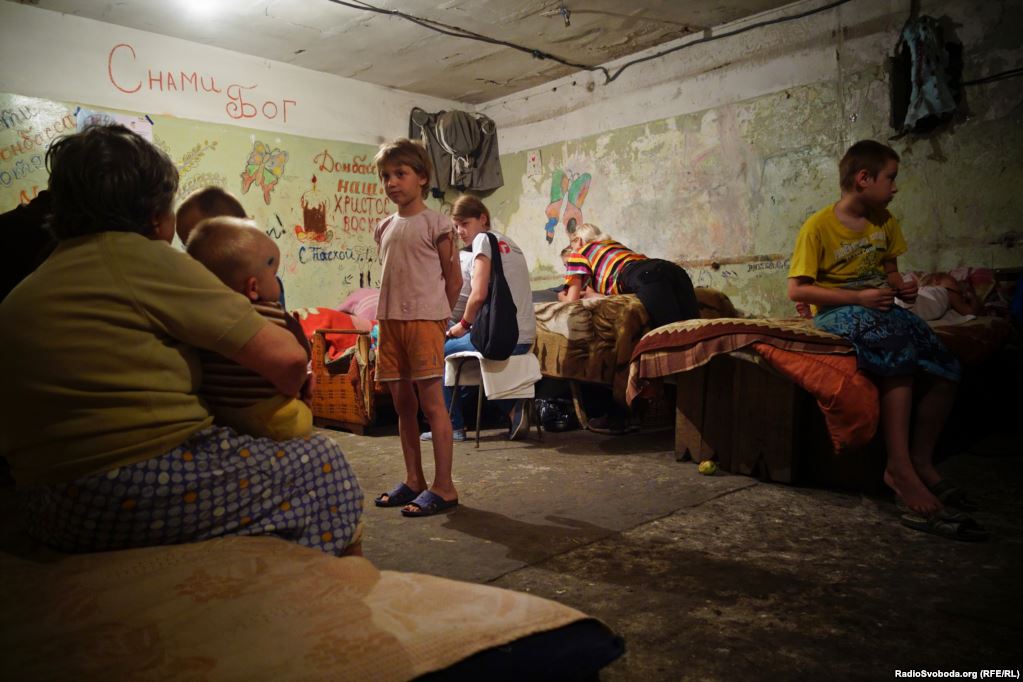 Many locals have taken up quarters in basements. Photo: Radio Liberty  
Russian journalist Kseniya Kirillova talked with Donetsk resident Elena Nekrasova (name changed for security reasons) who recounted the recent wave of searches and intimidation after the assassination of the so-called "leader of the DPR" Alexander Zakharchenko in occupied Donetsk.
"The Russian militants have always intimidated the locals, ever since they arrived in our area… so that almost no one dares to speak out or voice a pro-Ukrainian position as they know they could be killed on the spot. Right from the beginning of the war, they clearly demonstrated what would become of anyone that criticized or complained too much.

People are afraid to express their feelings, their outrage, because they could be thrown into jail, or threatened, mocked, humiliate, brutally tortured… and eventually murdered.  For example, from the very first days of the occupation, the invaders demanded that businessmen pay tribute money, which for some reason they called a "tax". To further "inspire" Donbas entrepreneurs to cooperate, "DPR officials" took them to the former SBU building, where the terrorists interrogate and torture locals. This was an effective move. After hearing the terrible cries of tortured prisoners, the businessmen agreed to everything.

This fear is all pervasive; it's everywhere; people look around before acting or speaking, and stop chatting as soon as they see the militants." says Elena Nekrasova.
According to Elena, after the explosion that killed "DPR" warlord Zakharchenko in the Separ Café, the "DPR" police and militant forces carried out extensive searches of apartments, buildings and vehicles.
 "People were even more frightened, but discontent is growing. The local population continues to be replaced by new arrivals from Russia. These Russian militants come with children, wives and retired parents; most recently many have arrived from Vorkuta and Irkutsk. They settle here and receive "DPR passports" in addition to their Russian passports. The authorities give them other people's apartments, houses or dormitories.

Apparently, food prices in our city have grown at the same rate as in Vorkuta, but Donetsk residents don't receive "northern" pensions or relocation allowances, which are issued to "newcomers" from Russia. Our pensions amount to approximately 3,000 Russian rubles (38 euros/$44 US), so locals simply don't have enough money for food. The people are very discontented. They say that the authorities have activated another famine, another genocide." complains Elena.
Elena maintains that the Russian "immigrants" in Donetsk were more distressed about Zakharchenko's death than the locals, who are actually more worried about their daily problems than about the fate of the Russian invaders or warlords.
"Grocery products are very expensive, low quality and unsavoury. People everywhere complain that diseases have risen: disorders of the stomach, liver, kidneys, blood vessels, heart; the number of strokes has increased… Teeth start to crumble, break and fall out. There's little money for medical treatment. There's also a severe shortage of doctors and medical personnel." adds Elena sadly.
However, the problems listed by Elena pale in comparison with the ecological disaster brewing in the Donbas. Last spring, Ukrainian media recently reported that the "DPR" occupation administration stopped pumping water from the "Yunkom" (Young Communard) Mine in the city of Bunhe, where an "experimental" nuclear explosion was conducted in 1979. At that time, Soviet scientists hoped to eliminate sudden methane and coal dust emissions. However, the explosion did not help prevent gas emissions, but in its place, a dangerous radioactive chamber called "Klivazh" (Cleavage) formed. Environmentalists state that, in the event of a halt in water evacuation, radioactive waste will be mixed with uncontrolled groundwater and will gradually rise to the surface from a depth of 1000 meters. This will lead to an ecological catastrophe.
"Polluted water rises to a certain level, enters small streams, and finally falls into the tributaries of the Siversky Donets River. We all know that this river is the main water artery in the region. But, there's a more serious problem than the water contaminated with radioactive substances. When these substances penetrate the soil, they become even more dangerous because new harmful chemical compounds are formed. These compounds are virtually unknown and have yet to be studied. The environment, which was created at a depth of 1000 meters, has many harmful "resources", which may impact the region for millions of years. Today, it's being gradually washed out and these elements are being brought up to the surface." explained the chairman of the Independent Trade Union of Miners of Ukraine Mikhailo Volynets in an interview with Ukrinform.
Experts have also noted that underground water displaces methane, which comes to the surface, penetrates into basements and first floors, where it may explode or poison the residents. Moreover, it is highly likely that sooner or later polluted water will enter the Sea of ​​Azov. Elena Nekrasova declares that these processes has already begun, and the consequences are visible to the naked eye in the city of Donetsk.
"They've stopped pumping water from the closed mines. Accordingly, the level of mine water rises and erodes the soil. Houses and buildings have already started to move, the foundations are crumbling, and large cracks have appeared in the walls. It's a real catastrophe. First, it's an environmental disaster; second, the mine is polluted with chemicals, not to mention the radioactive chamber. There's a huge crack in my basement, the floors are sagging and the foundation is sinking. The walls are inclined, with cracks running everywhere. In other words, our city is beginning to collapse in the literal sense of the word." sums up Elena.
Tags: Donbas war (2014-present), ecological disaster, International, Russia, Ukraine