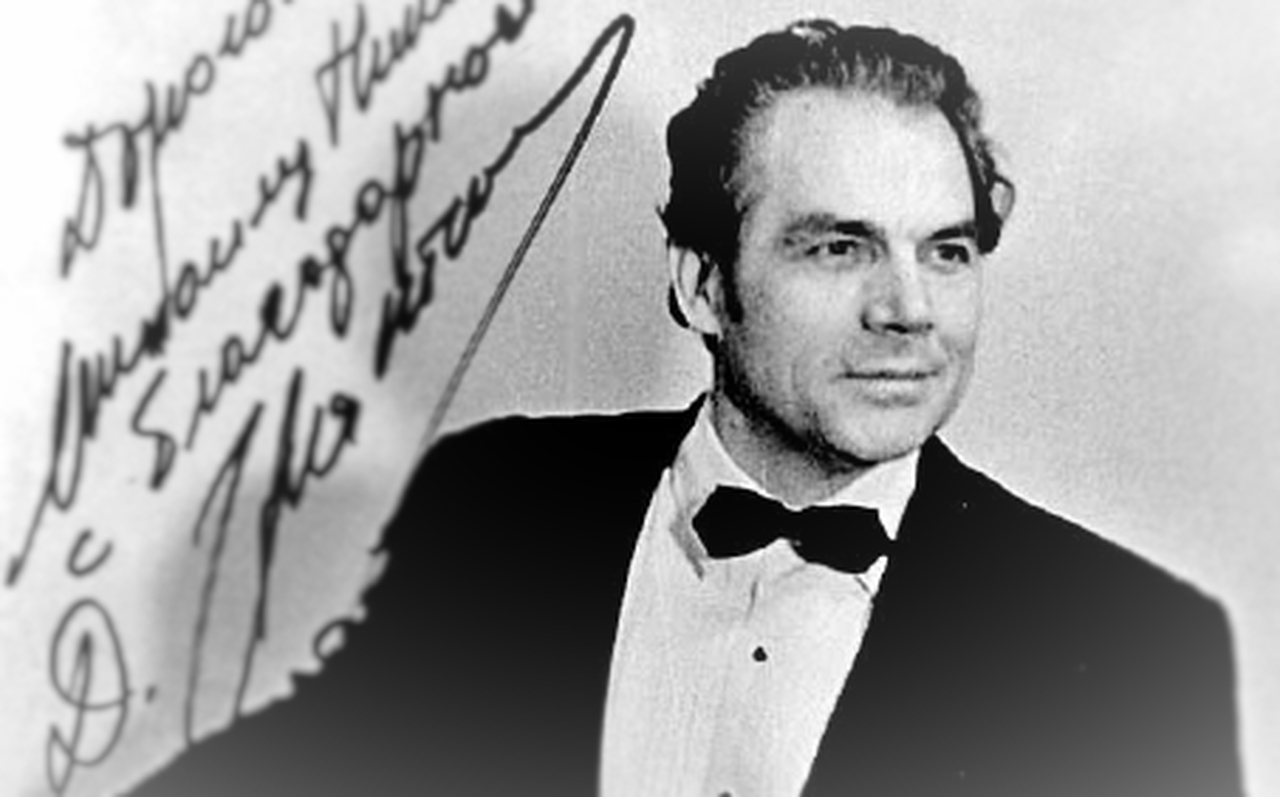 Ukrainian singer Dmytro Hnatyuk (1925–2016) 
The famous Ukrainian opera singer, Hero of Ukraine Dmytro Hnatyuk was born on this day ninety-two years ago.
Dmytro spent his childhood in Ukrainian-populated region of North Bukovina, which was under Romanian rule between the two world wars. Following the Soviet annexation of North Bukovina in 1940, Dmytro's elder brother fell victim of the Stalinist repression.
Nine years later, after the war, the young singer met Stalin face-to-face and talked to him, when Soviet cultural bureaucrats chose him, a student of the Kyiv Conservatory, to perform in the Kremlin at the dictator's 70th birthday. Later he would sing for Stalin's successors, Nikita Khrushchev and Leonid Brezhnev, as well as many foreign leaders.
While on the surface being bound to the Soviet totalitarian state, Hnatyuk brought the Ukrainian song to the whole world: from France to New Zealand, from Nigeria to the US, India, and Egypt. He promoted Ukrainian musical classics, including the compositions that had been banned under Stalin, though foreign papers often mistakenly referred to him as a "Russian singer."
"Sometimes you come back exhausted, almost sick, from a foreign tour," he said, "but at home, on the native land, you recover in just a few days!"
In 1964, Hnatyuk was one of the first to perform the renowned Ukrainian song Dva kolyory (Two Colors), which would be often perceived as an anthem of the 1960s generation of Ukrainians. The song's lyrics, authored by the poet Dmytro Pavlychko, focused on the interweaving of love and sorrow symbolized in the Ukrainian tradition by red and black colors.
The KGB, however, suspected a hidden message in the lyrics because red and black flags had been used by Ukrainian nationalists, who had fought against the Soviets. Hnatyuk, Pavlychko, and the composer Oleksandr Bilash were summoned to the Central Committee of the Communist Party to account for the supposedly "Banderite" composition. Nonetheless, they managed to vindicate the song, which became extremely popular in the coming decades.
For twenty-eight years, Dmytro Hnatyuk served as Principal Stage Director of Ukraine's National Opera. For seventy years, he was a loving husband of Halyna Hnatyuk, a well-known Ukrainian linguist.
In an interview he gave before his ninety-year jubilee, the singer recalled an incident from his youth when his father and he had found a lot of money spilled from a car onto the road. The father decided to search for the people who had lost them. When he finally managed to find the owners, he refused a reward saying "I don't want your money. Live in love and harmony, but I don't need other's fortune!"
Dmytro Hnatyuk died a year ago, in April 2016, aged 91. His wife Halyna passed away two months after him.
"In my life," the singer said in his late years, "there were hunger, cold, terrible war, and hopelessness. But if you have a purpose and achieve it, if you succeed in realizing your talent, thank God that your life is not wasted."
Dear readers! The times are changing and we are too – Euromaidan Press is planning a website overhaul. And we want to know what you want to see on our site and how it could be improved.
Please fill out this short form so we can bring you the stories YOU want to read. Thank you!

Tags: #ThisDayInHistory, Archive, singer, Ukrainian culture, Ukrainian music