In 1992-2014 Russia occupied Transnistria region in Moldova, Abkhazia and South Ossetia in Georgia, annexed Ukraine's Crimea and launched the war in Luhansk and Donetsk oblasts in Eastern Ukraine. We asked our readers, what country was under danger from Russia the most.
Among the 763 total votes collected in the poll more than one-fourth of participants (25,56%) think that Belarus is most imperiled by Russia, slightly less than one-fourth of the votes (23,86%) were cast for Ukraine. Baltic states were in the third place with 16,65%.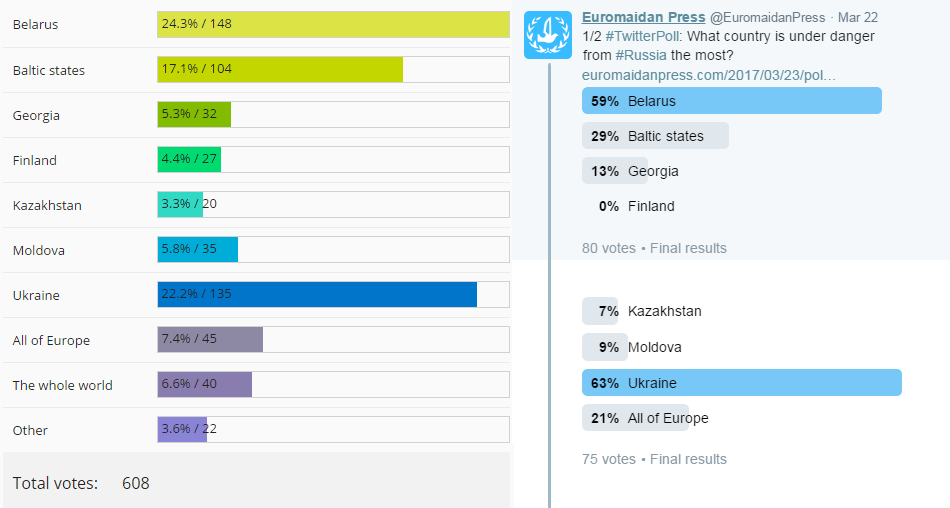 7,95% of our readers think that all European countries are under danger from Russia. Two countries gained more than 5% of votes: Georgia (5,55%), Moldova (5,47%). The whole world is endangered by Russia, 5.24% of poll participants think. According to the poll results, Finland and Kazakhstan are the safest neighbors of Russia with the least votes (3,53% and 3,31%). Other opinions gained 2,88%.
Armenia, Poland and Russia gained 2 votes each as countries imperiled by Russia. Other countries mentioned by our readers were  Spain, Japan, Montenegro, Slovakia, Israel, Romania and "the countries of the future Intermarium" (The Baltic States + Poland + Ukraine).
One comment reads, "There is no country under danger from Russia", another reads, "All of them". Some of the comments posted on Facebook concerning the poll: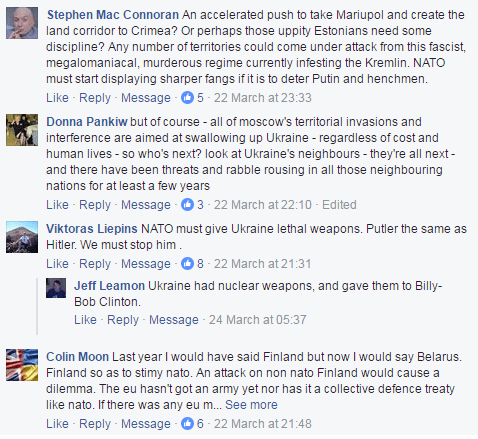 Next poll: What country will face the next Maidan?
Last weekend protesters took to the streets in Russia, Belarus, and Kyrgyzstan. Do you think the protests in post-Soviet countries will spark a new Maidan-like revolution? In what country?
[democracy id="2″]
Read more:
Dear readers! The times are changing and we are too – Euromaidan Press is planning a website overhaul. And we want to know what you want to see on our site and how it could be improved.
Please fill out this short form so we can bring you the stories YOU want to read. Thank you!