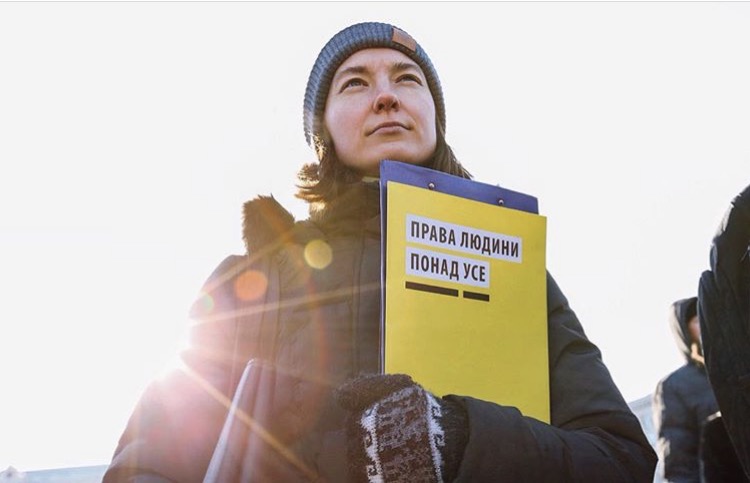 Woman holds leaflet with the words "Human rights above all." Photo by Reyana Bakshyshova 
On 26 January 2017, a prominent human rights lawyer Emil Kurbedinov was on his way to the home of a human rights activist where a police search and possible arrest was taking place, when he was detained by a group of masked officials. Kurbedinov was taken to a local directorate of the Russian Federal Security Service (FSB) for interrogation. Later that day Kurbedinov was found guilty of "circulating extremist material" and sentenced to 10 days of confinement. Amnesty International, among many others, said that Kurbedinov was targeted because of his human rights work and called for his immediate release.
Kurbedinov is a vocal critic of the Russian Federation's occupation of Crimea and has been actively involved in defending the Tatar Muslim community in Crimea, who have become a target by the Russian authorities.
Held for ten days, Kurbedinov got off lucky. "Тhere are activists who are wrongfully detained for years at a time and in far harsher conditions than I experienced," he says. Not only is Kurbedinov referring to prisons, but also psychiatric hospitals where conditions may be even worse. 
Psychiatric detention
Kurbedinov has been involved the defense of  Crimean Tatar activists, some of whom who have been unnecessarily confined in psychiatric hospitals. He says that between December 2016 and January 2017, ten Crimean activists were involuntarily sent to a psychiatric hospital in Crimea, where four of them remain.
"During their time in the psychiatric hospitals, Crimean activists are treated in a degrading and humiliating way. They are denied some of their basic needs such as access to a toilet and deprived of the right to meet with their lawyer on a one-to-one basis without a guard being present, which violates international law. They were interrogated about the criminal case and their views of the government. These cases highlight the issue that ordinary people and even lawyers have no civil rights whatsoever before the legal and judicial monolith in Crimea," said Kurbedinov.
Robert van Voren, a Dutch human rights activist and political scientist, said that since the annexation many ethnic Tatar activists who oppose the occupation have been arrested and subjected to abuse and imprisonment in psychiatric institutions.
"Since the annexation of Crimea, Russian authorities have prosecuted and forced into exile virtually all those who oppose the Russian occupation, including key leaders and activists within the Crimean Tatar community," said van Voren.
Read also: Ukrainian psychiatric hospitals: engraved in my eyeballs
All the Crimean activists were arrested on suspicion of involvement in the Hizb ut-Tahrir organization which Russia, unlike Ukraine and other countries, declared a 'terrorist' group.
However, the Kharkiv Human Rights Protection Group (KHPG) asserts that there is no evidence to suggest that the organization is connected to terrorism, nor is there any proof that the men were even involved in the group. Kurbedinov says that their arrest was illegal and a breach of protocol since it was not sanctioned by a judge but ordered by an investigator, who he identifies as S.C. Makhneva.
According to KHPG, a further 19 Crimean activists are currently in custody, accused of their involvement in the Hizb ut-Tahrir organization. Memorial, a Russian human rights organization, has declared all the activists in custody "political prisoners". KHPG claims that one of the detainees, Emir Kuku, was most likely arrested due to his work for the Crimean Contact Group on Human Rights, which involves providing legal assistance and support to members of Muslim ethnic groups.
Last year, Kurbedinov defended Ilmi Umerov, a Crimean Tatar activist, who openly opposed the Russian occupation and was forcefully confined in a psychiatric hospital for twenty days. Russia's Federal Security Services (FSB) detained Umerov in May 2016 in the Bakhchisaray region and charged him with "separatism." The case was widely criticized: Human Rights Watch, for example, called it "a shameful attempt to use psychiatry to silence him and tarnish his reputation." 
Read also: Who is Ilmi Umerov, the Crimean Tatar Russia so fears?
The psychiatric detention of activists is widely thought to serve as a signal to the citizens of Crimea, warning them not publicly criticize the regime. Quite simply, it makes them afraid to oppose the Russian authorities. More importantly perhaps, it discredits the voice of critics because, after all, who is going to take the views of "insane" people seriously?
From soviet to modern psychiatry
In the later decades of the Soviet era, psychiatry was used to systematically confine and punish dissidents of the regime. However, under Putin various cases of alleged punitive psychiatry have resurfaced, leading many to believe that the Soviet-era practice has returned.
The hospitalization of protestor Mikhail Kosenko in Russia in 2012 was widely held as an example of punitive psychiatry. Kosenko was convicted on charges of rioting and assaulting a police officer at anti-Putin protests in Moscow. The case sparked international attention from human rights activists who assert that the charges were false and his hospitalization was unnecessary.
The abuse of psychiatry in Russian criminal trials is not uncommon, according to Yuri Savenko, psychiatrist and the head of the Independent Psychiatric Association (IPA) in Russia.
"Psychiatry is now part of a frequent procedure in criminal trials where there is no concrete evidence, it is more economical in terms of effort and time to acquire a psychiatric evaluation," he says.
Read also: Is there a resumption of political psychiatry in the former USSR?
Madeline Roache is a London-based freelance journalist focusing on human rights in the former Soviet Union. She recently completed a Masters in Russian Politics at University College London, where she researched the use psychiatry for political ends.
---
Related:
Tags: #LetMyPeopleGo, Crimea, Human rights, Kurbedinov, Political prisoners, psychiatry, punitive psychiatry