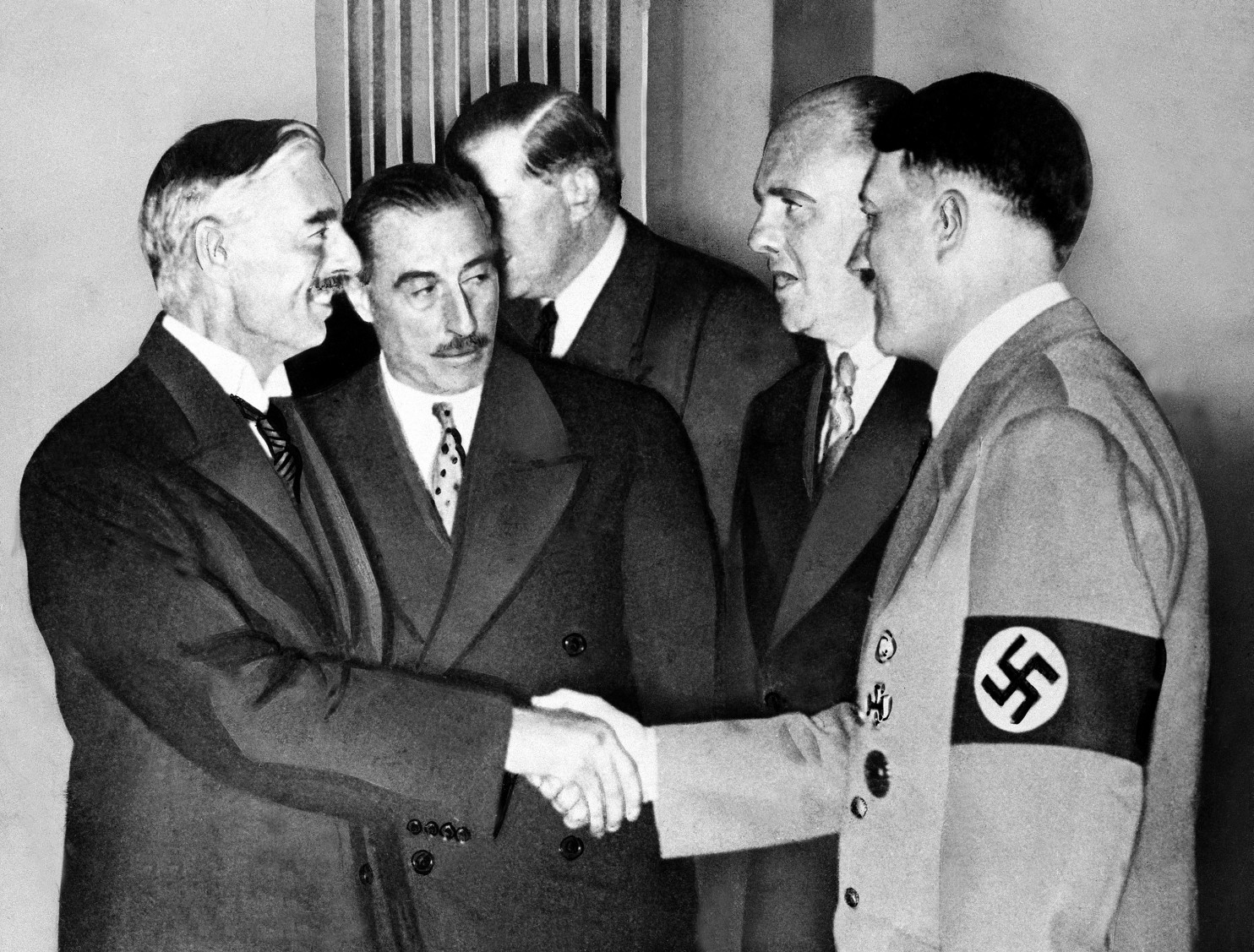 Hands clasped in friendship, Adolf Hitler and England's Prime Minister Neville Chamberlain, are shown in this historic pose at Munich on Sept. 30, 1938. This was the day when the premier of France and England signed the Munich agreement, sealing the fate of Czechoslovakia. The Munich Agreement became a byword for the futility of appeasing expansionist totalitarian states. (Image: AP) 
British Prime Minister Neville Chamberlain's dismissal of Czechoslovakia as an artificial country created at Versailles and one that was "far away" and "about which we know little" have long been the byword for the betrayal of a small country by a larger power and of the appeasement of an aggressor.
But Chamberlain's role as betrayer and appeaser in chief is now being challenged by US President Donald Trump's declaration that Washington doesn't know what is going on in Ukraine and therefore cannot evaluate it.
And Trump's words are given content by his vice president who says that sanctions the US imposed on Moscow for its actions in Ukraine can be removed if Russia cooperates elsewhere.
Americans are notorious for their ignorance about other countries. Last week, for example, the Russian media had a field day with the report of a poll Russian journalists conducted in New York City about how the US should react to Russian aggression against a non-existent country, "Kyrgbekistan."
Moreover, this ignorance often extends to the level of senior officials as when the White House suggested that it was concerned about Polish forces that supposedly were invading Ukraine at the present time.
But for anyone who has been awake the last three years to declare that he doesn't know what is going on in Ukraine at all, especially if that individual has been openly dismissive of intelligence briefings, suggests either stupidity, willful ignorance or something even worse. And for his deputy to say sanctions should be lifted not when their goals are achieved but when those who have committed a criminal act agree to help out elsewhere is perhaps even worse.
As Winston Churchill observed at the time of Chamberlain's collapse before Hitler, the British prime minister had chosen shame in order to avoid a war; but by so acting, Chamberlain's successor said, the author of appeasement would end by getting both. That is a hard lesson, but it is one that needs to be learned again.
---
Related:
Tags: #TrumpNash (Trump Is Ours), Czechoslovakia, Hitler, International, Neville Chamberlain, Trump, Trump-Putin deal, Ukraine-US relations, USA, Western appeasement, Western diplomacy, Winston Churchill