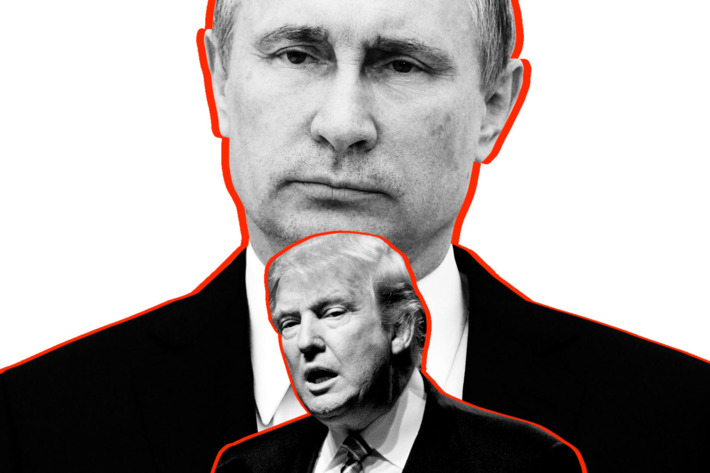 Photo: Daily Intelligencer; Photos: Getty Images 
The Russian Federation was falsely perceived as a partner to the United States and NATO after the fall of the Iron Curtain and any illusions of this notion should have been vaporized in 2008 when the Russian army attacked NATO candidate Georgia. This kind of Russian aggression expanded later into Ukraine in 2014 when Ukrainians chose to embrace the West rather than remain in the Russian orbit. Yet the real declaration of war on the US was the direct hacking of US institutions by the Russian government's cyber agencies. That is when the war between US and Russia expanded on three fronts: the less-obvious information warfare, proxy warfare, as known from the Cold War era, and the new frontier of cyber warfare.
For Donald Trump to side publicly with an enemy of the United States, and even go so far as to express praise for its authoritarian and kleptocratic president, is unheard of and truly alarming. Senator John McCain described Putin as a "thug and murderer," but the atrocities that this ex-KGB operative has ordered in Chechnya and Syria would qualify him as a mass murderer.
Trump has shifted opinion on various topics throughout the last year, but he didn't change course on his opinion of the Putin regime and the unprecedented appeasement of Russia's national interest.
During his campaign he expressed doubts about NATO and his advisors voiced criticism over NATO expansion, which is the classical excuse for Russian aggression toward its neighbors.
Once the Eastern European countries were liberated from Soviet occupation in 1989, they were eager to join NATO – the most powerful military alliance in the world – to prevent a repeat of history and another Russian invasion. All of these countries joined NATO (and the EU) in a democratic process supported by the majority of the people. Hungary, for example, held a referendum in 1997 which resulted overwhelmingly in favor of NATO membership. This came at a time when Russia was bombing Grozny and other towns in Chechnya, in reaction to their aspirations for independence. According to the United Nations, around half a million Chechens were killed by Russia's brutal military operations in the Caucasus.
This kind of Russian aggression reminded these Eastern European countries of their own experiences with their bullying neighbor to the East, and fostered an urgent need to be part of a strong defensive alliance.
It might seem as though Putin has chosen Trump to be his Trojan horse to eventually destroy America from within and enable Russia to pursue its national interests; however, there is one problem with this narrative. If this were really the case, it would, like most conspiracies, be kept secret, or at least they would try to keep it secret. I believe Trump's adamant and amplified public appeasement towards Russia serves a purely commercial agenda.
His own son, Eric, a senior executive at Trump Organization, admitted that they have many customers from Russia and they see a lot of money coming in from Russia. It is clear they want to continue to appeal to Russian multi-millionaires who seek to put their money in safe havens outside of volatile and unpredictable Russia. The Trump family want to make sure most of it is directed to their real estate developments. Until 2014, before Russia invaded Crimea and sanctions were imposed, most of the buyers of high-end luxury developments in Manhattan were Russian millionaires and oligarchs. In fact, there are rumors they directly financed a lot of the Trump projects (we won't know for sure until Trump releases his finances).
Trump simply doesn't want to alienate any potential Russian buyers and investors, but would rather see them flock to his projects not only in the US, but also in places such as Dubai (very popular with Russians), where Trump has business interests, including a big residential golf course project with his partner Hussain Sajwani of DAMAC. The over-advertised Akoya project hasn't attracted many buyers so far, due to Dubai's slowing housing market in 2016.
As for Russia, a Trump presidency will probably help diffuse the hostility between Russia and the US/Europe. Putin desperately needs sanctions relief, as Russia is currently running out of currency reserves and needs financing for their oil & gas projects. Having China as the only cash rich financier gives them difficult bargaining positions. China knows Russia can't turn to Europe or US, and, so, low-balls them.
Russia also needs money for its military ventures in Syria and Eastern Ukraine. While the latter has been somewhat of a success, with their proxy Assad retaining control of Aleppo, Ukraine has been a disaster, comparable to Afghanistan in 1980. According to leaked data, Russian casualties amounted to 2000 soldiers dead and 3000 disabled as a result of Putin's war against Ukraine. Putin wanted to regain Russia's former glory by dismembering Ukraine and annexing those lands to boost his popularity, while punishing Ukraine and setting an example for other countries such as Armenia or Moldova, who are still under Russian domination. The initial plan with "Operation Novorossiya" was for the Russian regular army, spec ops and pro-Russian insurgents – fully armed and supplied by Russia – to quickly take control of vast territories of Eastern Ukraine. But they were not able to advance to the ultimate prize, Odesa, nor the vital land corridor to Crimea. The fierce and unexpected Ukrainian defense has kept the Pro-Russian forces at bay in a rather small area in Donbas.
This failure puts Russia in a more desperate financial situation; sustaining Crimea is now much more expensive without a land connection and most of the residents of Crimea are complaining about hyperinflation and frequent power cuts.
Russia is losing money and wants the sanctions removed as a way of getting some relief and being able to raise capital. They see Trump as the man who can make the world slowly look past the annexation of Crimea by initiating rapprochement and lifting sanctions. It's either that or they have to wait and hope for the oil price to spike up again.
In appointing Rex Tillerson, a close friend of Putin, as Secretary of State, Trump hopes to bring an end to the suspicious element in the current perception Russians hold of America, which will also benefit the Trump Organization. Trump also sees the presidency as a great opportunity to boost his hospitality brand on the international level, where he hasn't been very successful in the recent decades, especially when compared to competitors like Hilton or Simon Property Group for example. Ivanka has also faced hurdles in promoting her fashion brand in places like Japan, which is why she was so eager to sit in the meeting with prime minister Abe.
It is very difficult to give president-elect Trump the benefit of the doubt regarding conflicts of interest. Naturally he will do everything to promote his business, even as president, because the presidency will end after 4 or, at most, 8 years, but the Trump organization will remain his primary business both for him and his family.
Trump will enter the White House with that thought foremost in his mind. He doesn't strike me as a person capable of putting US national interests above his own. He avoided serving in the armed forces. His efforts and actions in the past resemble a drive for self-centered gratification rather than patriotism or even a vested interest in contributing to the community and the American people.
Dr. A. Mansouri is a Senior Political Analyst at Journalist Club Vienna
Tags: International, Russia, Trump, USA