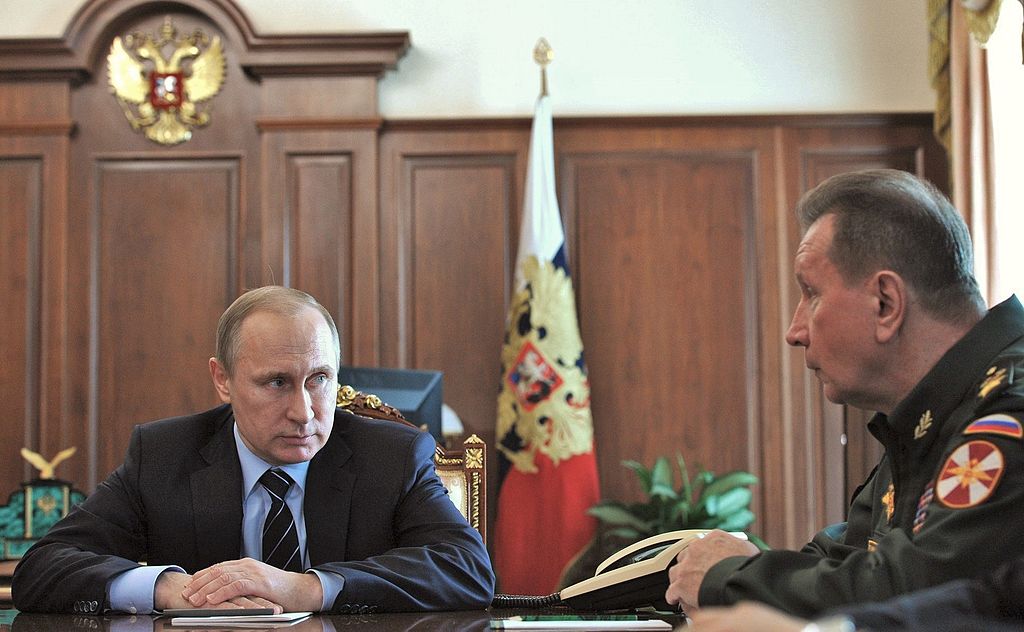 Putin with Viktor Zolotov, the head of the National Guard of Russia, an internal security force directly subordinated to him with estimated staff of 500,000. 
The Rosbalt news agency is reporting that the Kremlin plans to give the National Guard of Russia additional functions which will make it a full-scale force structure and one that will be "much more similar to the KGB" of Soviet times than the Guard originally appeared to be.
The National Guard of Russia (also known as the Russian Guard) is an internal security corps with estimated strength of 500,000, organized along military lines. It was established in April 2016 and is directly subordinated to Putin.
And what makes this especially worrisome, the New Chronicle of Current Events says, is that the leader of the Russian Guard, Viktor Zolotov, has said that his organization's function is the struggle against "'the fifth column'" and "'revolutionary stirrings'" in the population.
According to Rosbalt, the Kremlin has developed a plan to convert the National Guard of Russia into a full-scale force structure with its own investigative arm by incorporating within it the Interior Ministry's Administration for the Struggle with Extremism (the notorious Center E) and the Administration for the Security of Senior Officials.
The chief innovation here is that the Russian Guard will gain an independent ability to conduct police investigations, organize its own network of agents, and have the technical possibilities of listening to telephone conversations and seizing electronic correspondence of various kinds.
This newly beefed-up National Guard will thus find itself in competition and possibly conflict with the Interior Ministry and the Federal Security Service (FSB). That may be part of Putin's plan to secure his own position, especially since the head of the Russian Guard appointed by him is the former head of his own presidential protection service.
Given Putin's demonstrated faith in Zolotov, the New Chronicle says, this reported decision to create a new force structure around him may represent indirect evidence to "a new sharpening of conflicts among the force clans in the Kremlin."
At the very least, it adds, "the new structure will be much more like the KGB of the USSR than any National Guard."
---
Related:
Tags: FSB (Russia's Federal Security Service), International, KGB, National Guard of Russia, Putin, Putin regime, Russia, Viktor Zolotov