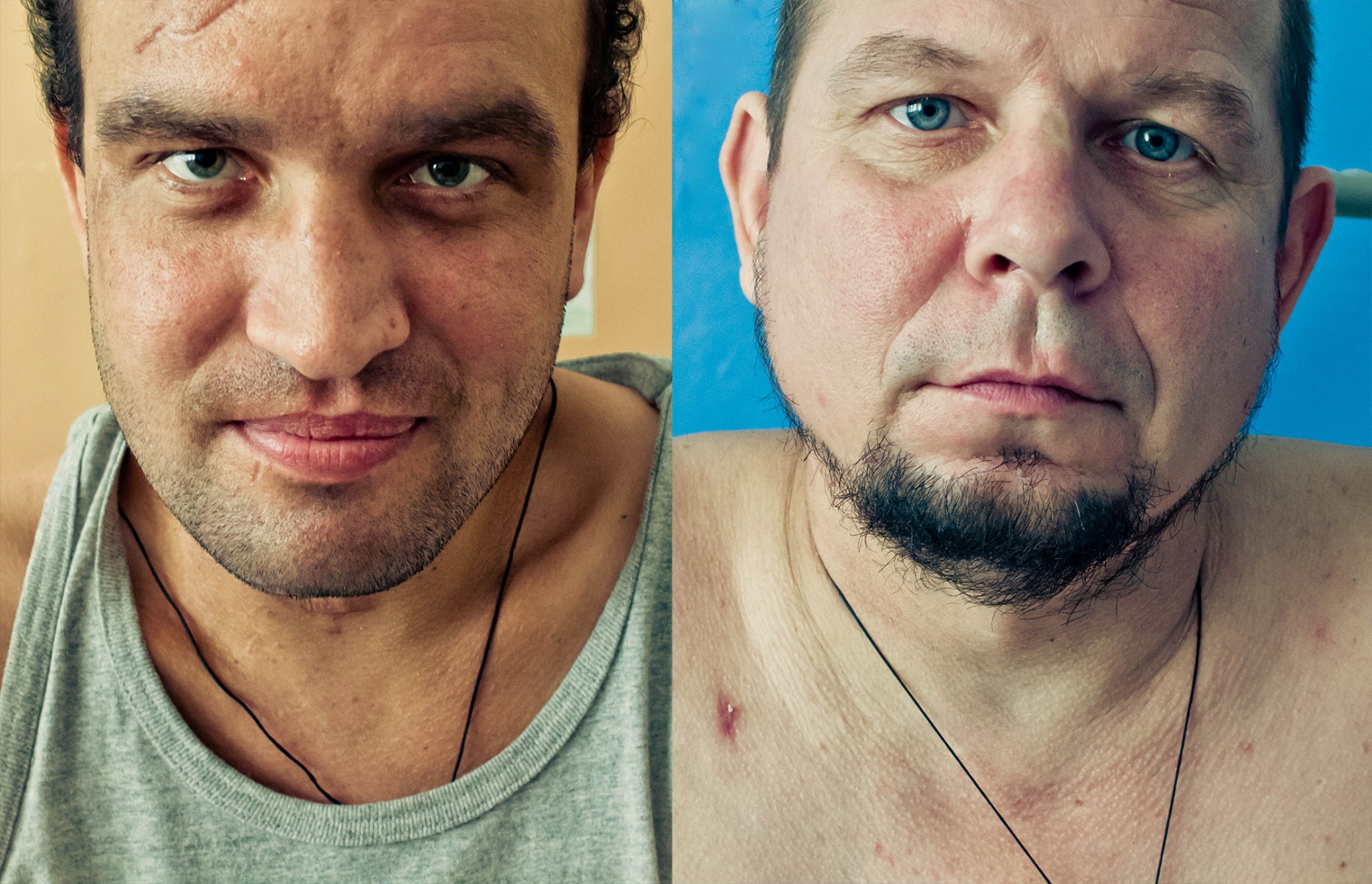 Ivan Mashyna (left), Ruslan Frizin (right) 
The war in Ukraine. "Little green men" (aka unmarked Russian soldiers) entered the Crimean peninsula at the end of February 2014. In spring of the same year, Russian troops moved into the Donbas, taking over the main administrations and setting up two puppet states – the "DNR" and "LNR". Despite political negotiations, agreements and truces, the war has not ceased and has penetrated the life of each Ukrainian. Western media have tired of reporting on these battles as daily combats are bland and boring, not spectacular… and thIs "hybrid conflict" is just too difficult to understand. The war in eastern Ukraine is in its third year, men are dying, many are maimed or severely injured, others are traumatized for life. Here is but a small chapter of individual lives – soldiers and their personal hopes and fears: of death, of never seeing their family, of the camaraderie, despair – and evil – of war.
RUSLAN FRIZIN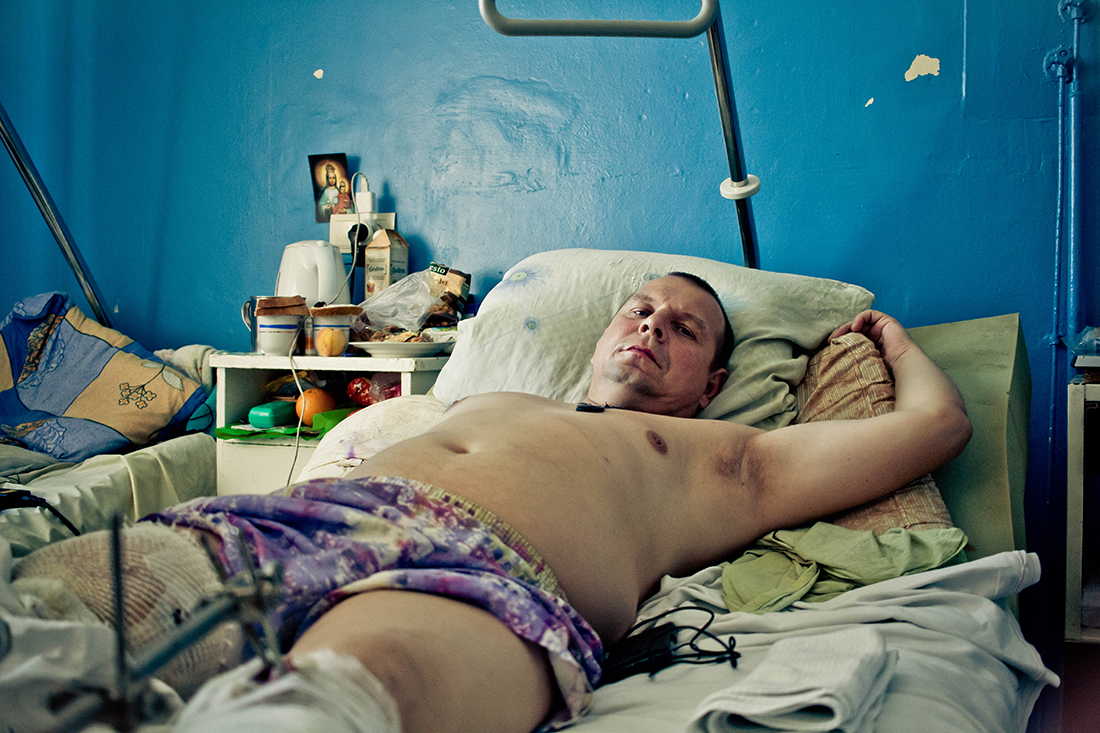 Ruslan is a big, burly man, but extremely soft-spoken with a childlike smile and a deeply patriotic heart. He was born in Korsun-Shevchenkivske, Cherkasy Oblast on March 22, 1974 where he worked at different jobs, mainly as a taxi driver. He worked mostly in Kyiv because it was hard to survive as an independent taxi driver in his hometown. His first words to me were spoken quietly, but firmly:
"We'll never… ever surrender our country to anyone. Putin shouldn't even try going any further. We'll be there waiting!"
Ruslan's girlfriend visits him as often as she can, but the distance is so great and money is scarce. Ruslan took part in the Orange Revolution and feels that Ukrainians had a great opportunity to put things back on course in the country, but politicians let everyone down. He actively supported the Maidan by driving people free-of-charge from various points of protest, and taking them to and from work.
On March 10, 2015, Ruslan joined the Armed Forces of Ukraine as a volunteer. He trained for almost two months on the Yavoriv Military Grounds, and was deployed to Severdonetsk and then Stanytsia Luhanska as a field engineer with the 53rd Brigade. Their job was to place mines along village roads and in forest areas.
"Many locals were friendly and helped us; others ignored us and looked the other way, so we didn't bother them. Our unit was so tight-knit and bound in friendship that we knew we could count on each other. Unfortunately, some enlisted men, who are alcoholics or drug addicts in civilian life, take up arms, but it gets worse for them on the front. You must be sharp and always on your toes." 
Ruslan was then transferred to an infantry division and deployed to Avdiyivka, Ocheredne and Mayorsk (Donetsk Oblast), patrolling various checkpoints, so he saw the enemy regularly. The checkpoints opened at 6 a.m. every morning and closed at nightfall… and then the shelling started.
On July 18, Ruslan was covering a demining unit when he stepped on a mine. He was immediately evacuated to the hospital in Bakhmut, where he was given emergency treatment. He was then transferred to the Military Hospital in Dnipro where his right leg was amputated; he recently arrived at the Lviv Military Hospital. He pauses a moment and sighs:
"I flew high up into the air, I sat up surrounded by smoke, I wanted to get up, but my leg was gone… I knew I was badly hurt, but I didn't feel anything. I didn't panic… I didn't lose consciousness throughout. Yes, I lost my right leg, and my left leg was fractured and pierced with multiple shrapnel fragments. This is my fate, and I must accept it. I have to take things in stride, wait till all my wounds heal and then I can think about getting a prosthetic limb. I'm an optimist. My leg is gone, but my conscience is clear."
At the end of the interview, Ruslan looked me in the eye and smiled:
"You know… the "DNR" and "LNR" are like two wounded animals that cannot survive without their Moscow benefactor. We must be patient and so must our leaders… Well, our government and politicians will change as no one is forever except for our Motherland. She is eternal…"
Ruslan recently returned to his hometown where he plans to get married. Wishing you the best, Ruslan!
IVAN MASHYNA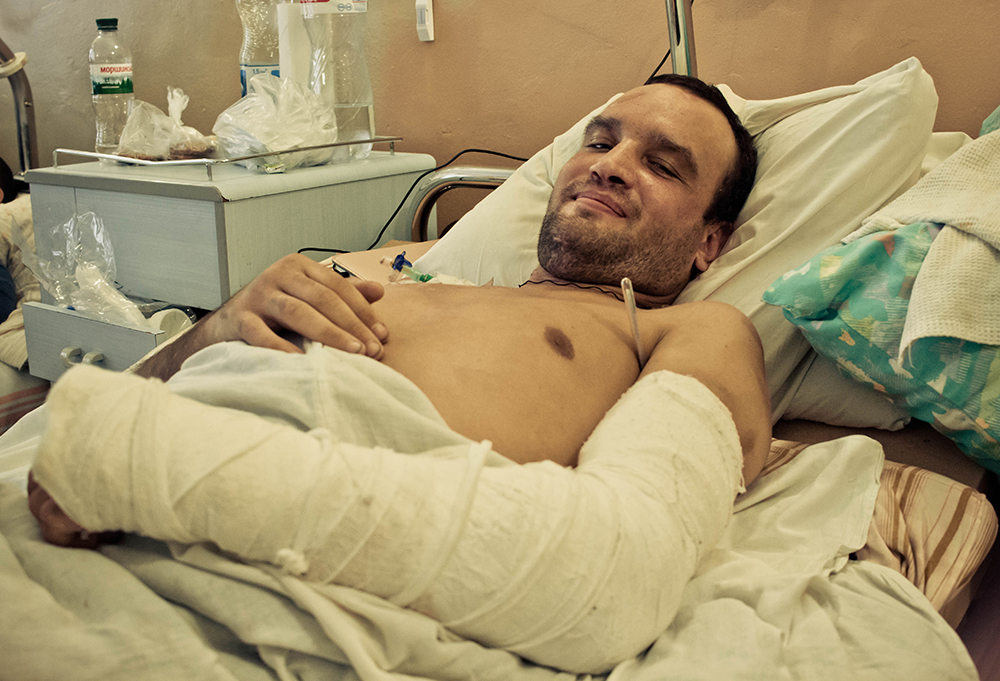 Ivan Mashyna, a cheerful and smiling young man, was born in the village of Hannivka, Mykolayiv Oblast on February 24, 1987. During his leave from military service, he got married on March 12, 2016 to his childhood sweetheart Kateryna who teaches Ukrainian language and literature in this tiny hamlet of 250 inhabitants.
Before the war, Ivan worked on local farms, behind the wheel of a combine harvester or a tractor. When the Maidan protests began, Ivan, like many young people, had great hopes that things would finally change, that the gangsters in power would leave and that an honest government would finally be elected. Then, Russian troops invaded Crimea and Donbas and Ivan was ready to go and serve his country. The draft notice finally arrived on April 4, 2015.
Ivan was sent to the Mykolayiv Training Grounds for one month and then deployed to checkpoints near Zolote (Luhansk Oblast). He was integrated into the Aidar combat unit and assigned to the front lines where Ukrainian soldiers were positioned in trenches (about 700-800m from the enemy).
"Did we see them?… Oh yes, they sometimes crawled close up to our lines… as close as 50m! Of course, we opened fire. We didn't want to be sitting ducks. We maintained good relations with our commanders on the ground and amongst each other. You ask about the locals?… Well, many were for Russia, so we avoided talking to them and went about our business. Sad…"
Ivan was deployed to different hotspots, such as Horlivka and near Mariyinka. It was near the village of Slavne that his vehicle drove over a mine and crashed into a tree. Ivan and the commander of the unit were severely injured. Ivan suffered multiple fractures in the right leg, left hand and skull, his stomach was ripped open, right lung punctured, and 4th and 5th vertebrae fractured. He was immediately transported to Volnovakha Hospital where he underwent urgent surgery, to the Military Hospital in Dnipro (8 days of morphine treatment), and finally to Lviv Military Hospital on July 20, 2016 where he had plates and screws implanted in his limbs.
"I just want to go home, live normally, work and build a family. We have a small house in the village and we grow all our vegetables and some crops. What else? I want every Ukrainian family to sleep peacefully. I don't regret going to war as we must defend our land, our women and children. But, just one remark… I wish our politicians would stop calling it ATO (anti-terrorist operation). It's a WAR!"
Ivan recently left the hospital on both feet, hobbling and limping, but smiling widely. Godspeed, Ivan!
As I was leaving the room, Ivan's neighbor Mykola intercepted me:
"I'd like to tell you a true story…My neighbor is Russian, born and raised in Lviv and loves Ukraine. She recently got a call from her relatives in St. Petersburg. They were very worried about her and told her they'd arranged accommodation for her near their apartment. They insisted she leave Ukraine, saying it was dangerous for Russian-speakers. She laughed loudly when she told me this story: "Can you believe it? They really think I'll be mugged, raped or molested by "fascist" Ukrainians!"… I know you've heard this before, but I just wanted to underline how brainwashed Russians are." 

 
All photos courtesy of Juan Mora. Juan Mora is a photographer and volunteer with Con Ucrania. He is currently based in Lviv. 
Tags: Donbas war (2014-present), International, Russia, Russian proxies, Stories from the Front, Ukraine, Ukrainian Army