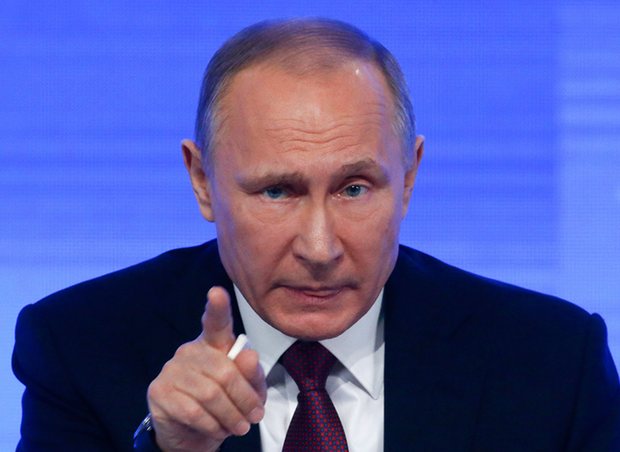 Photo: REUTERS/Sergei Karpukhin 
All talk of compromise with Putin is part of a plan for the political destruction of Ukrainian statehood. Such talk may be proposed either by definite Russian agents or by "dreamers" who simply do not understand the Kremlin's real goals.
Following the example of former "oligarch" Viktor Pinchuk and former diplomat Vasyl Filipchuk, the Ukrainian expert community has been discussing the question of whether our country should consider becoming actively involved in the search for a possible "compromise" with the Russian Federation — especially since the newly elected US president, Donald Trump, may be considering just such a compromise.
However, the very discussion of "compromise" is a kind of "virus of the mind" that has no relation to reality. And it leads not to the search for truth but to the destruction of Ukrainian statehood as such.
Can a neutral Ukraine exist, as does a neutral Finland or a neutral Austria? Of course it can. After all, NATO membership is not an end in itself. However, it is important to remember that such a Ukraine did appear on the political man in 1991. And after the rise to power of Viktor Yanukovych, Ukraine's "non-alignment" was even formalized by law. This did not keep Putin from attacking Crimea and Donbas. Not because Ukraine wished to join NATO, but because it was necessary to "protect" Russian speakers.
The neutrality of Finland or Austria was the result of war. In the case of Austria, this was a compromise with allies in the anti-Hitler coalition. In the case of Finland, it was a compromise with the Finns themselves that allowed the Soviet Union to avoid being distracted by a war on Finnish territory at a time of decisive battles with the Reich.
Finland's neutrality was paid for with the blood of two wars — the Winter War" and the "Continuation War." But most importantly, by 1945, Moscow no longer viewed Finland as part of its empire. However, in the fantasies of Putin and most of his compatriots, Ukraine is still viewed as part of the empire.
This illness can only be cured with time. When all Ukrainians begin to view Russians as foreigners and their culture and language as the heritage of a foreign country, when Russians themselves begin to travel  to Kyiv or Kharkiv as they now travel to Helsinki or Warsaw, it will have no significance if Ukraine is a neutral country or a NATO member.
The Baltic countries are NATO members, but Russian armies attacked Ukraine and not Estonia. Because Estonia or Latvia is already foreign territory for the Kremlin. And Ukraine not yet.
Putin does not need any Crimea or Donbas. For him, the occupied territories are a burden. But at the same time, they are also the key to conquering the rest of Ukraine.
This could be a military conquest with the help of tanks and bombs. Or it could be a political one, where a government comes to power in Kyiv that is able to dismantle Ukrainian statehood as such. The Kremlin has been thinking about this since 1991.
When Putin proposed to Belarusian President Alexander Lukashenko to "join Russia by oblasts (regions)," implying that the regions of Belarus did not differ in any way from Russian regions, he was not joking. Putin really thinks that way. And the average Russian — an ignorant chauvinist — also thinks that way.
And if the Mogilev or Vitebsk oblast can join Russia, then why not the Donetsk, Kharkiv or Chernihiv oblasts. What is the difference?
All talk of "compromise" with Putin is part of a plan for the political liquidation of Ukrainian statehood. It can be proposed by definite agents of Russia in the Ukrainian political or expert establishment, or by "dreamers" who simply do not understand the Kremlin's real goals.
If such agents and "dreamers" exist in the West — and in huge numbers — why would they not exist in Ukraine?
The agents need to be exposed and neutralized. And the "dreamers" ignored. I can offer no other recipe for preserving sanity and statehood.
Tags: Russia, Ukraine, Viktor Pinchuk