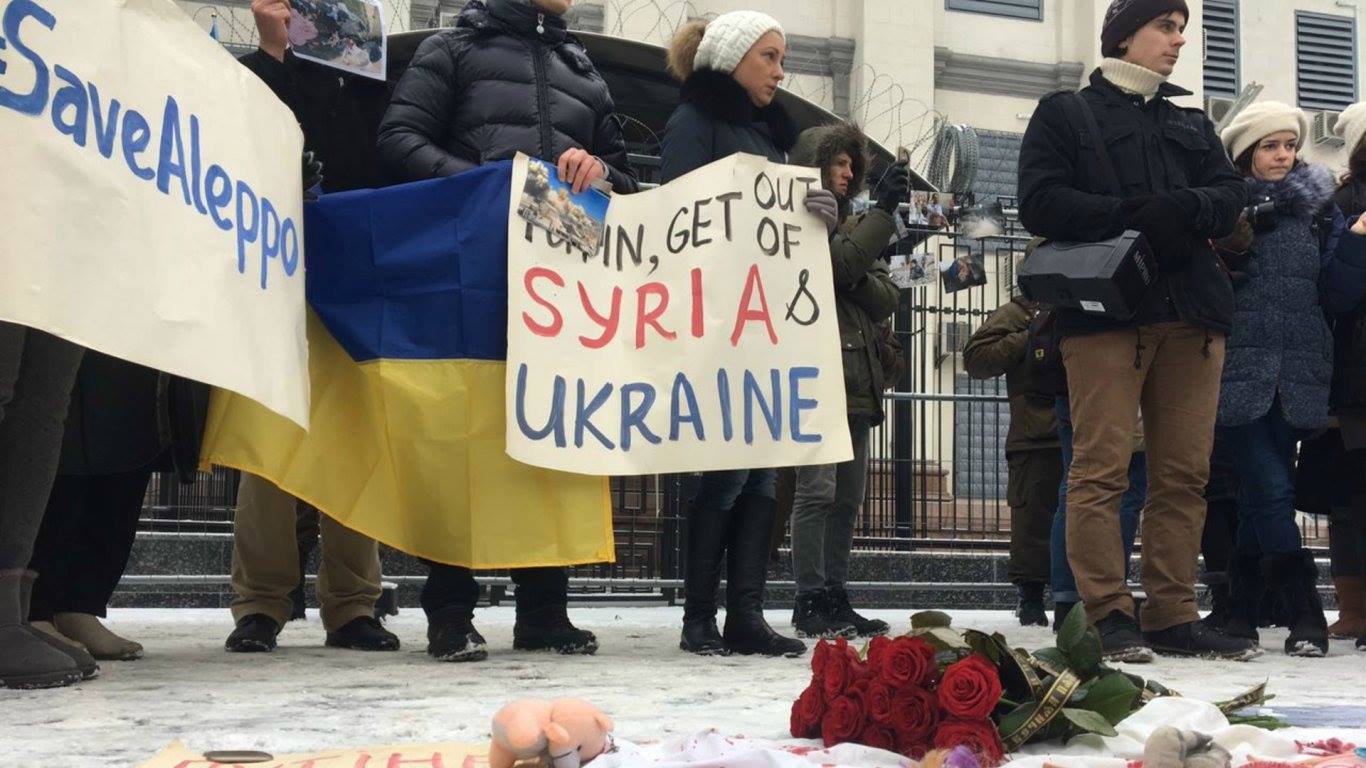 Photo: Oleksandr Ivanov 
On 15 December 2016, Ukrainians, Chechens, and Syrians held a protest at the Russian embassy in Kyiv, protesting against alleged war crimes of Assad-Russian forces in Syria and demanding safe passage of civilians from the city of Aleppo, which is under siege by pro-regime forces.
Roughly one hundred civilians gathered near the embassy to tape photos of violence against Syrian civilians, as well as displaying dolls sprinkled with fake blood.
By holding this rally, Kyiv joined the worldwide protests over brutal violence against civilians in Aleppo committed by Syria's Bashar al-Assad's regime, its allies, and Russia, giving them military and diplomatic support in a civil war that has already claimed at least 250,000 lives.
"When Russia invaded Georgia, many of us were indifferent, we didn't understand what was happening there, went on with our own lives. But after a few years we ourselves felt what a relationship with Russia means, and experienced all the hardships of it. Now we have many problems: a war, occupation, but at the same time, we can't stand idly to killings, deaths, and torture that take place in other regions of the world," Genadiy Afanasyev, ex-political prisoner of the Kremlin, told at the demonstration.
Adam Osmayev from the Chechen republic recalled: "22 years ago, Russia attacked the republic of Ichkeria, city of Grozny, in the same way. We were bombed with heavy airstrikes, and people didn't even understand what for. Thousands died, and the world did nothing, just expressed its concern. Then it was Georgia, and now Ukraine. And nobody did anything, thinking that it would never happen to him. It was the same with Hitler because everybody thought he would stop soon."
Muhamed, a Syrian that has been living in Ukraine for a long time, but has relatives in Aleppo, also spoke to the journalists: "Enough shedding blood of civilians and children. Enough of building your glory at the expense of other nations. Syria's misfortune can happen to any other nation, while nobody will be waiting for it. I wouldn't wish for anybody to be placed in such a situation as we are here in Ukraine, because of the actions of Putin and his regime."
The protesters presented their demands to Russia and world politicians:
Russia and the Syrian regime army must stop air strikes, using prohibited chemical weapons, extrajudicial executions and torture in Syria, stop the siege of Aleppo and other cities in Syria;
Russia and the Syrian regime army provide for the corridor for the escape of civilians from Aleppo;
Ukraine, the EU, and the USA must introduce sanctions against the Russian Federation over war crimes in Syria;
Russia must stop its practice of vetoing each resolution for the resolution of the conflict in Syria at the UN General Assembly and allow the situation in Syria to be passed to the International Criminal Court in The Hague;
UN countries should create an effective mechanism of bringing to responsibility persons responsible for the most serious crimes against peace and safety of humanity, particularly in Syria, in the conditions of a paralyzed UN General Assembly;
All sides of the conflict should adhere to principles of international humanitarian law, particularly of protecting the civilian population and treating those who surrendered.
Ukrainians MPs at the demonstration assured that they will support the demands of the activists in the Verkhovna Rada and will make a resolution on sanctioning Russia over war crimes in Syria.
The world community calls the situation in Aleppo a humanitarian catastrophe and calls on Russia and the forces loyal to Syrian President Bashar al-Assad to show restraint as forces loyal to them push rebel forces out of the last remaining parts of eastern Aleppo.
The UN's Unit for Human Rights told of receiving information that pro-government forces in Syria enter homes of residents in eastern Aleppo and shot civilians "on the spot," and reported that according to its information 82 civilians were executed in the city.
Jens Laerke, Spokesperson for United Nations humanitarian office, said that the situation in Aleppo is like a "total meltdown of humanity."
On 15 December, an agreement on the ceasefire and evacuation of civilians and rebels from eastern Aleppo was launched. The same day, the EU agreed to extend Ukraine-related Russian sanctions until mid-2017, but has made no additional decisions on Syrian-related sanctions.
Written by Alya Shandra, based on reporting by dyvys.info, Hromadske Radio, and Radio Svoboda.