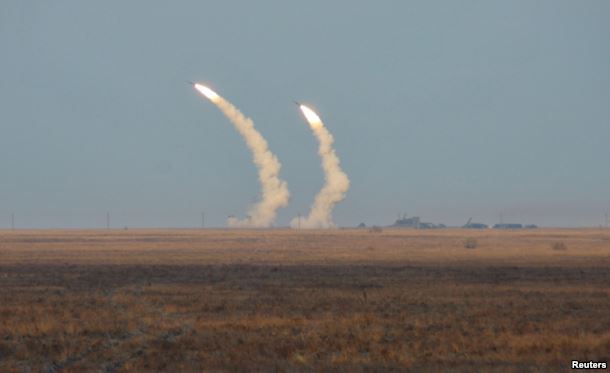 We have become accustomed to the fact that an event is not as important in itself as the information that accompanies it. This applies also to the events of December 1-2, when Ukraine's top leadership seemingly put itself on the brink of open war with Russia.
The threats of the Russian bear
To summarize, the Ukrainian side stated that it would conduct missile training exercises on December 1-2 over the Black Sea, including the airspace that Russia has claimed for itself. The Russian side began to threaten missile strikes if Ukraine held military exercises near occupied Crimea. The warning was delivered in an official letter from the Ministry of Defense of Russia addressed to the military attaché at the Embassy of Ukraine in Russia.
Overall an interesting situation developed. Ukraine considers Crimea as its territory; Russia considers it Russian territory. Ukraine believes it has the right to conduct military exercises in this area. Russia, on the contrary, considers this unacceptable. Would Russia resort to shooting down Ukrainian missiles during the exercises and even launch attacks on Ukrainian missile sites? This would mean outright aggression. Thus we would no longer have ATO (Anti-Terrorist Operation) but war with the northern neighbor. This could represent quite a risk for Russia. After all, if such aggressive actions took place, Russia's recent definite "breakthrough" on the international scene could be reduced to nothing. Besides, the question remains if Russia is ready for full-scale war with Ukraine.
But we will not discuss what could have happened. Let us discuss what has happened.  Immediately before the training exercises, Ukraine's Air Force command declared that the Ukrainian side had adjusted the borders of the test area over the north-western part of the Black Sea. Thus, Ukraine had made concessions. The missile drills were conducted. Russia did not resort to aggressive actions.
Instead, each party generated its share of PR. Ukrainian senior officials reported that the exercises were successful. In other words, they had not been frightened by Russia. And that in general Ukrainian territory extends right up to the Kerch Strait. The Russian side, in turn, declared that it was able to keep Ukrainians from conducting full-scale military training. And that this training was worthless.
In short, each side had its version of truth.
Russia's small defeat
We do not know who initiated these missile tests — if it was a purely Ukrainian initiative, or if it had been suggested by Ukraine's partners, or if it was the result of a joint decision by Ukraine's government and its allies. Of course, it is a military secret. Even though this secret could provide much clarification– especially in the non-military sphere.
The context of these exercises is no less important. Recently, Russia's military has demonstrated some success in Syria. It is no secret that the Syrian government forces are being supplied and instructed by Russians. These successes have been possible largely thanks to Russian aviation. Unfortunately, in Ukraine during the years of independence, not only the aviation was destroyed but also the anti-aircraft defense capability. What has remained is no cause for celebration. Aircraft has been used very little in the Donbas war, and air warfare has not taken place. But if Russia had tried to use aviation, Ukrainian army losses would have been significant. This is why it was important for the Ukrainian side to show that it is renewing missile forces and air defense.
What did the Russian side gain during these drills? By and large, not so much. It allegedly has defended its "sovereign" territory in occupied Crimea. Ukrainian missiles did not risk flying there. In fact, Russia has once again appeared as a country that is feared. A few of the Ukrainian officials and mass media played along, who spoke of the "unpredictability of Russia."
However, Ukraine still won this PR war
First, Ukraine's missiles generated a real hysteria in its northern neighbor. Although, by and large, they represented no threat to Russia. At the very least, this hysteria did not present Russia in the best light and I do not think it added to its image. Russia behaved as a typical aggressor. For example, what was the impact of the claims by its leaderships that it was willing to bomb Ukrainian missile sites?  This could have made a positive impression on the Russians but certainly not on the international community.
Second, by its aggressive hysteria Russia has again drawn attention to the Crimean problem.
Third and finally, by holding the missile exercises, Ukraine has demonstrated that it is able to defend its territory and its airspace. Therefore, if Russia's large-scale aggression against the Ukrainian state begins, the Russian troops will not find it an easy ride. Russia has lost its blitzkrieg opportunity against Ukraine. Hopefully forever.
Against the background of Russia's real and imaginary successes (the Dutch referendum,  the election of socialist presidents in Moldova and Bulgaria with demonstrated pro-Russian sympathies, and so on) Ukraine's missile exercises near Crimea represent a defeat, albeit a small one, for the nuclear "superpower." We hope that Russia's larger defeats are still ahead.
Petro Kraliuk, Ph.D., is a Ukrainian philosopher, writer and journalist, Honored Worker in the Science and Technology of Ukraine, and Pro-Rector for Teaching and Research at the National University of the "Ostroh Academy."
Tags: Russia, Ukraine's missile drills