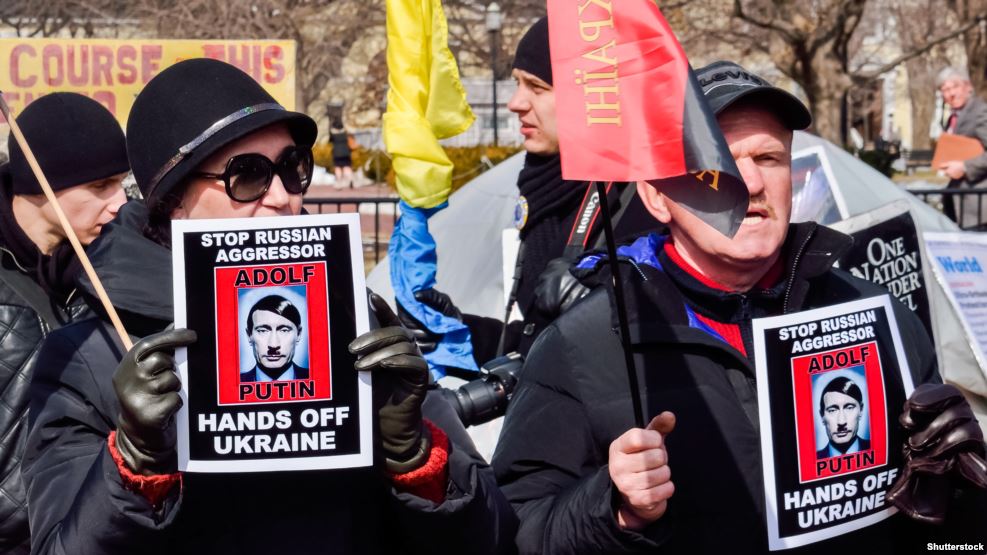 Protest near the White House against Russia's aggression against Ukraine, March 2014 
During Barack Obama's farewell meetings with the leaders  of the five leading European countries, Ukraine was one of the main topics of discussion. The US president and his European counterparts agreed that sanctions against Moscow should be retained until Russia fulfills the Minsk agreements.
Thus the main goal of Russia diplomacy — the removal of sanctions while continuing the Minsk agreements and control over the Donbas — remains an unrealized dream. It really was an ambitious goal. The Kremlin wanted for the US and EU sanctions to be lifted precisely when Russian companies still have the chance to obtain new loans to cover their debts. If sanctions are not lifted by next year, many Russian state companies will become insolvent and be forced to default. This is Vladimir Putin's nightmare.  Because the actual refusal by Russian state companies to pay their debts will occur against the backdrop of disappearing reserves. And the struggle over financial flows that is taking place literally before our eyes only aggravates the turbulence in Russia's leadership. The recent arrest of Alexei Ulyukayev, the minister of Russia's economic development, is one of the manifestations of this instability.
What will Putin do now? It is not difficult to predict. Russia's important task now will be to reach an agreement with the new US administration. Putin will need to convince Donald Trump that he is the best ally in the fight against the "Islamic state."  Exchanging sanctions for the Russian-US antiterrorist alliance can become an important part of Kremlin's new agenda. It can be part of the same "reset" discussed by representatives in Trump's entourage.
But will Putin succeed in this maneuver? Its use is limited by the concluded negotiations between Obama and the Europeans. Sanctions against Russia are turning out to be an important part of Euro-Atlantic solidarity, a demonstration of readiness to comply with the norms of international law and to protect these norms. It is unlikely that the American administration will sacrifice Euro-Atlantic solidarity for Putin.
The Russian president has already tried to cheat Barack Obama, to prove to the 44th US president that he is an ally in the fight against the "Islamic State" and that for the sake of this myth it is worth closing one's eyes to what the Kremlin is doing in Ukraine. But it turns out that the Russian army has been fighting not with the "Islamic state" but with the Syrian people. That it is killing not the extremists but the residents of Aleppo. What Putin is interested in is not the destruction of terror but the victory of his ally Bashar Assad.
Putin will try to sell Trump rotten goods.
Tags: Putin, Sanctions against Russia, Ukraine