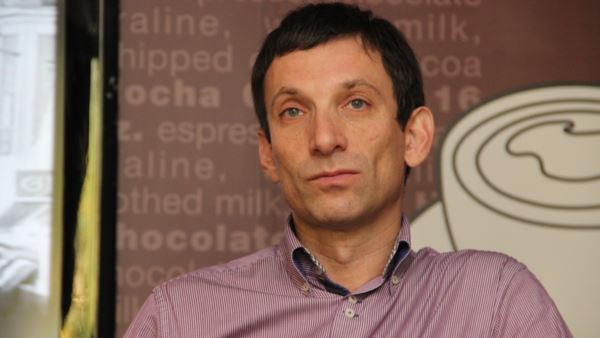 Vitaliy Portnikov. Photo: Vysokyi Zamok 
In this wide-ranging interview with Vysokyi Zamok, the well-known journalist and political analyst Vitaliy Portnikov shares his views on the recent electronic declarations in Ukraine, the country's endemic corruption, possible reforms, the prospects for peace in the Donbas, and Russia under Putin.
Corruption in Ukraine
Let's begin with the electronic declarations which have so inflamed DonbasUkrainian society. What implications will they have for the state?
I don't understand why people saw something there that they haven't seen before.  I haven't read any declaration and do not plan to do so. People who examine the state of someone else's fortune first need to realize what country they live in. This is a country of profound hypocrisy. In this country, a great number people live in the shadow economy. I believe this applies to 70-80 percent of the economy. People who work in the shadow economy and who do not pay the required taxes are criminals. Both the employers and their employees. They have family and friends who know they are committing a crime, but they remain silent. Some 99.99 percent of adult citizens of Ukraine are involved in black, gray, and countless other schemes to avoid paying legitimate taxes. Is it any wonder that ministers, deputies, and officials are richer than anyone else? No, it's logical. If a society has certain rules, those who are better at taking advantage of these rules, who are more cynical, usually get the bigger prize. Very deservedly. If you look at a pack of thieves, the leader is generally the one who is most daring and reckless.
What is surprising is not the enormous wealth of those in power but the gap between them and ordinary people.
There is nothing surprising here either. It is typical for a third world country. At the bottom, people simply avoid paying taxes and hide their income, and at the top they have access to the budget, to the division of enormous sums. The opportunities increase in proportion to one's place in this criminal pyramid.
Thus, there are no honest people in Ukraine?
Honest people leave such a country. A person who wants to live honestly and does not accept these rules of the game usually leaves such a society.
But you and I have not left…
Perhaps because we were able to adapt to these rules. By the way, for most of my life I have not lived in Ukraine.
But you have lived here for at least 10 years.
It has not been easy. But I know where I am. Not everyone wants to realize it. They read the declarations and grab their heads. But this is ordinary cynicism. The gap is meaningless. If people are shocked by the size of the gap, then the only thing they want is to take the place of someone on the other side of the precipice. The cynicism lies in the fact that during elections people vote for the parliamentary candidate who promises to build a playground or stadium. And they don't question where this money will come from.
Will these declarations change anything in peoples' awareness?
It depends on the conclusions drawn by society. If society realizes that the system needs to be changed, then it must state openly that we have lived in a criminal society for 25 years, where we ourselves have not paid taxes and now we have understood how immoral we were. We, the people! These electronic declarations are the lustration of our immorality. However, if we become outraged that the declarations are terrible, and if we focus on where these people got all this money, then this means only one thing: the desire of the small piglet to take the place at the trough where the large pig eats. Any piglet that finds itself at the trough becomes a big pig.
Is there a public demand to change the system?
I don't think so. The public demand needs to consist of the following words – amnesty of capital. Then we need to announce the transition period. During this time we reform the judiciary, law enforcement, tax law. We change the balance of power. And this means there is no voting for the presidential party in parliament. There needs to be a balance of the parliamentary-presidential republic and respect for the prime minister as the head of government. This is what Ukrainians lacked, and under pressure of public opinion they got rid of the first reformist government of this country — the government of Arseniy Yatseniuk. It was the work of his government that brought about the changes that we are witnessing now. I mean the electronic declarations. And it is clear why reformers in the government of Volodymyr Groisman find things so difficult now — there is no trust or balance.
In my opinion, there would be no electronic declarations if not pressure from the EU. Where does the Yatseniuk government come in?
He came after Maidan and began to change the country, but he was stripped of that several months ago. After the change of government, the balance of power was destroyed.  All power is now controlled by the presidential administration, and even if the president were a perfect man, this perfect man who controls parliament, government and all law enforcement agencies cannot evade responsibility for his actions. Without a balance of power there can be no change. If the transitional period is protected — and Ukrainians themselves can secure it with their votes — then in 2-3 years tough sanctions must be introduced against those who break the law.
Will the amnesty of capital give the current politicians the right to keep getting elected to parliament?
They will have the same right to be elected as the ordinary person who has not paid taxes for 25 years. They are all the same criminals. The voter will evaluate the politicians. The immoral politician has an immoral voter. If we continue to elect the same politicians, then that's the way we will live.
In your view, who can be the next president?
I haven't thought about it because it doesn't matter. Everyone is looking for personalities, but they are not the problem; the problem lies in the system's processes. Who would have thought that the current president would follow Yanukovych?
These were extraordinary circumstances.
And who knows if they won't happen again.
What do you think about the new generation of politicians?
They don't exist.
And the Euro-optimists, your former colleagues?
They followed the path of least resistance and have become part of the existing system. The only thing that differentiates many of them from their colleagues is their younger age. They have agreed to participate in the system that, in fact, has been preserved after Maidan.
What political party will you vote for?
The one that represents my political views.
Is it one of the current ones?
For now, I don't see it. The National Front used to be a serious reformist political party.
Reformist? During the government of Arseniy Yatseniuk the hryvnia was devalued three times. People were just robbed.
This is irresponsible populist demagoguery that allows you to vote for crooks and to continue to leave them in power. The hryvnia was devalued three times because in 2013 the government of Yanukovych and Azarov practically destroyed the Ukrainian economy and maintained  the stability of the national currency through continuous financial injections. When the Maidan protests were already taking place, Yanukovych traveled to Putin for loans because the state treasury no longer had money to support the hryvnia. Under Yanukovych the country was totally robbed. But even before that time there were no necessary changes to the economy. And we all accepted it.
Do you think the state is capable of at least protecting Ukrainian culture? What do you think about placing quotas on Ukrainian songs?
A state that wants to protect its culture and language has the complete right to resort to so-called positive discrimination. This is what France has been doing for decades. Not all countries do. For example, Netherlands doesn't do that. Now what songs do we listen to — French or Dutch?
Russia and Putin
Fine. Let's talk about Russia, where you spent many years.  Why did Putin appear there?
Because there was a demand for an authoritarian state, where money was divided  between the state, regions, and citizens. Additionally, citizens did not want to work hard to change the country. It didn't even have to be Putin. For example, it could have been Prymakov or Luzhkov.
Putin initiated the law on the Russian nation. Why?
This is a desire to live according to Soviet patterns. In the Soviet Union there were the Soviet people. Putin wants to create the Russian people. But it is impossible to create a political nation with laws.
What is the meaning of the monuments that are being unveiled in Russia? Volodymyr the Great, Ivan the Terrible?
This is an attempt to impart a new chauvinistic content to the old soviet ideology.
This applies to the monument to Volodymyr? Did they erect it near the Kremlin to defy Ukraine, to demonstrate that he is not some Ukrainian Prince but Russia's foundation, its heritage. Isn't this an attempt to steal Ukrainian history?
For Russia, Ukraine does not exist. There are only certain rebellious territories. This is not a claim; this is the clear understanding by Russians that Prince Volodymyr is the founder of their state. This is what was written in all the textbooks of the Russian empire and the Soviet Union.
Should Ukraine respond in some fashion?
Why should Ukraine respond to monuments in a foreign country? We aren't Greeks, who are fighting for the name of Macedonia.
Under what conditions is a change of power possible in Russia?
Under conditions of economic, social and political collapse.
If these changes occur, what kind of government will come after Putin?
This depends on the public demand at the time. It's a wide range — from democratic, liberal forces to openly nationalistic, chauvinistic ones. There is an additional question — will Russian be able to remain intact?
Donbas War
Let's talk about the war in the Donbas. How do you see the future of the currently occupied territories? Do they have a future as part of Ukraine?
This is a long and complicated process that will largely depend on the processes in Russia itself. There are several possible outcomes. The first one is the integration of these territories into Ukraine in the coming years. Second, the crisis may last 20-25 years, similar to what happened in Transnistria or Karabakh. Third, Ukraine may restore its territory through military means due to a weakened Russia. Fourth, Russia will begin a new military operation to occupy new territories in eastern Ukraine. Naturally, for Ukraine the best option is the restoration of territorial integrity without great loss of life.
With this population?
People are the same everywhere.
Not everywhere, and the voting results show this clearly.
Nevertheless, we live peacefully in one country with Mariupol and Kramatorsk. And we will live peacefully in one country with Donetsk and Luhansk, as well as with Simferopol, Sevastopol and Yalta. If you don't like this, then you should not live in this country.
I'm not saying I don't like it; I'm simply looking at reality…
The reality is that we need to build a democratic country, where the rights of everyone will be respected. But a country built on different economic conditions. A person in Lviv who does not pay taxes is as despicable as the person who does not pay taxes in Donetsk. Even if this person speaks   a  pure Ukrainian and voices patriotic slogans. He is even more despicable because he considers himself a patriot. The person who does not pay taxes in Donetsk may consider himself a patriot of Russia who therefore does not want to pay.
How do you explain this patriotism towards Russia? Why did people betray their country so eagerly at the first opportunity and rush out with Russian flags?
In Halychyna (Galicia) in 1939 people also came out with Soviet flags. A portion of the Ukrainian population of Halychyna welcomed the Soviet troops.
First of all, far from all of them, and second, there were certain reasons. Ukrainians had been oppressed by the Polish authorities. In the Donbas nobody persecuted the Russian speakers. They even got their president.
In the Donbas not everyone ran around with Russian flags. There is always a part of the population that welcomes invaders.
How had Ukraine wronged them?
We had not built a normal state and we left them at the mercy of criminal clans.
The entire population of Ukraine was at the mercy of criminal clans, and we are still feeling the consequences now.
For years we did nothing to make the state Ukrainian. For years we voted for thugs. We did nothing to protect these regions from Russian propaganda. We have all failed. If we had not had Maidan in 2013-2014, we would not have a state.
This is precisely why Maidan happened because those who were entrusted to build a state turned out to be incapable and were ready to hand it over to Russia. By the way, you were very active during Maidan. Why didn't you go into politics after the Revolution of Dignity?
Because Ukrainians have a rather simplistic notion of politics. They look at political activity as access to    financial streams. For many, politics is tied to enrichment. Each such conventional little Ukrainian is like the little piglet I talked about who wants to become a big pig. And I want to be a political activist and not a piglet. I'm a political activist even now because I create meaning in this society. I provide certain ideological benchmarks. I also try to teach people to think according to categories and not personalities. And I don't need the mandate of a parliamentary deputy or a ministerial portfolio. Mahatma Gandhi was not a member of parliament or the prime minister of India, but he changed the country. And I aspire to that kind of role. If people accepted my action program, I could change Ukraine in two years.   Transform it into a Romania or Poland. It is simply the matter of public demand, which does not exist for now. And it probably won't exist during my lifetime, and, unfortunately, I'm already 49. If this public demand is formed when I'm 60 or 70, I am ready to lead the country. I can guarantee you prosperity in Ukraine.
Tags: corruption in Ukraine, Donbas, Featured, Portnikov, Ukraine, Ukrainian economy