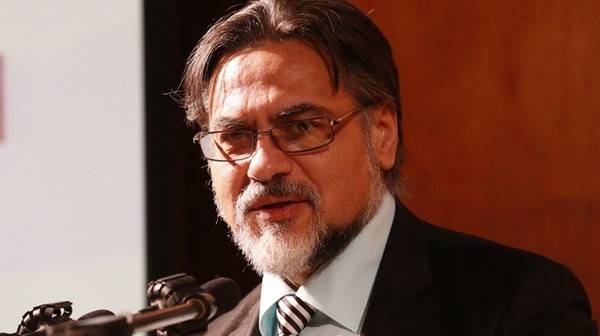 Vladislav Deinego, "LNR"s official envoy to Minsk talks 
In an interview with TV channel Luhansk 24, Vladislav Deinego, "LNR"s official envoy to the Minsk talks, openly declared that Russia is fighting on the side of "LNR" militants. His statement fully negates testimonies by so-called witnesses who claim that a "civil war" is raging in Ukraine. On the one side, some people are trying to cover up for the aggressor state (Russia), while here on television, Mr. Deinego publicly states that Russia is actively participating in the war and supporting the separatist "state of Luhansk".
In response to the TV host's statement that Ukrainian radicals could "destroy the 'LNR'" just as local radicals in Libya destroyed Gaddafi, Deinego replied that Russia has always come to the rescue of the "LNR" in times of need, has saved the puppet state many times from destruction, and will deploy its troops in Luhansk Oblast in future if hostilities between the Armed Forces of Ukraine and the separatists escalate:
"You're forgetting one small point. When the situation was very difficult for us, we very quickly received support from our brothers who are really not that far away. So, even if we don't have enough troops or munitions, we can be absolutely sure that they will help us. The Russian army will be deployed to our territory."
Well, what will journalist/blogger Ruslan Kotsaba, his lawyer Tetiana Montyan, and deputies from the Opposition Bloc [party] say now? With each passing day, it becomes more and more difficult for them to justify their claim that a "civil war caused by the Maidan" is raging in Eastern Ukraine. No sooner had Russian citizen Aleksandr Zhuchkovskiy, who's been fighting for the terrorists in Donbas since the Strelkov days [Igor "Strelkov" Girkin – former colonel of spetsnaz troops of the Russian FSB, lives in Moscow, commanded Russian troops and mercenaries in the Russian annexation of Crimea and the occupation of the Donbas in the spring-summer 2014 – Ed.],  published his "outstanding article" in the spirit of Nazi pamphlets of the 1920s than in comes Deinego to add fuel to the fire!
Well, we all know what's really happening. You can't hide elephants in mouse holes…
More information about Zhuchkovskiy here
Related:
Tags: Donbas war (2014-present), International, Minsk protocols / Minsk agreements, Politics, Russia, Russian aggression, Russian Army, Russian occupation, Russo-Ukrainian War (2014-present), Ukraine