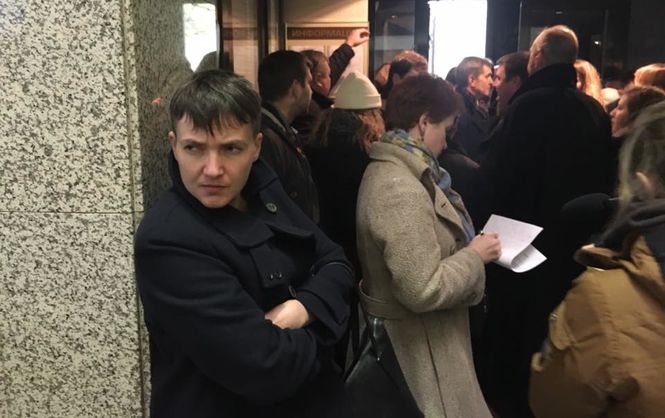 Photo: Roman Tsymbaliuk 
From the moment that Savchenko's plane landed at Boryspil airport, we needed to stop thinking about her and her attempts to live up to her own image and, instead, to focus on those remaining in Putin's dungeons.
The appearance of deputy Nadiya Savchenko in the Russian capital has provoked mixed emotions, as is often the case with the former hostage. On the one hand, it is significant that Savchenko came to the trial and supported our prisoners (Ukrainians Stanislav Klykh and Mykola Karpiuk, charged with killing Russian nationals during the Chechen War, 20 years ago — Ed.) at a difficult time. On the other hand, how did she even manage to appear in Moscow?
It is obvious how. In order for Savchenko to be able to cross the Russian border and to stay peacefully in Moscow, a special decision by the Russian leadership was required. And the personal approval of President Vladimir Putin. Naturally, without it Savchenko simply would have been stopped while still at the airport. And there should be no doubt about how these decisions are made. And neither should there be any doubt about why they are made.
For Putin, Savchenko is a person that can become a factor in destabilizing Ukraine — a "live bomb." And if people are beginning to forget her, then why not remind them.
On the other hand, why shouldn't Nadiya Savchenko herself exploit the situation that allows her to come to the trial? Or should she begin thinking about the plans Putin has in store for her?
Savchenko's opponents will say that she should take all the factors into account. This is why she is a deputy and a politician. But this is tricky as well.
Savchenko is no politician. She is a tired women who threw herself into politics the day after she was released from prison. She is just learning to be a politician and perhaps will never become one. We can think of quite a few deputies who have a rather conditional attitude toward politics.
And when it comes to the post of deputy, the addition of Nadiya Savchenko to the Batkivshchyna (Fatherland) party list and then to the delegation to the Parliamentary Assembly of the Council of Europe (PACE) was primarily an important element in her defense. And, incidentally, it worked.
Savchenko is free while almost all the other Ukrainian hostages are still being held by the Kremlin. Ukrainian voters voted for Nadiya as Putin's hostage, and they were right to do so.
But to expect that the released hostage would become a responsible politician with the wave of a magic wand is also irresponsible.
Ilie Ilașcu, a prisoner in the Transnistrian torture chambers, who was elected by his compatriots to the parliament of Moldova, left his country altogether after release and became a Romanian senator. But his countrymen had saved his life, and is this not enough? Is it not enough that our solidarity helped Nadia Savchenko regain freedom?
But from the moment that the plane with the freed hostage landed at the Boryspil airport, we needed to stop thinking about Savchenko and her attempts to live up to her own image and, instead, to focus on those remaining in Putin's dungeons. It is better to channel our energy and emotions for these people.
Tags: Nadiya Savchenko, Putin, Ukrainian hostages