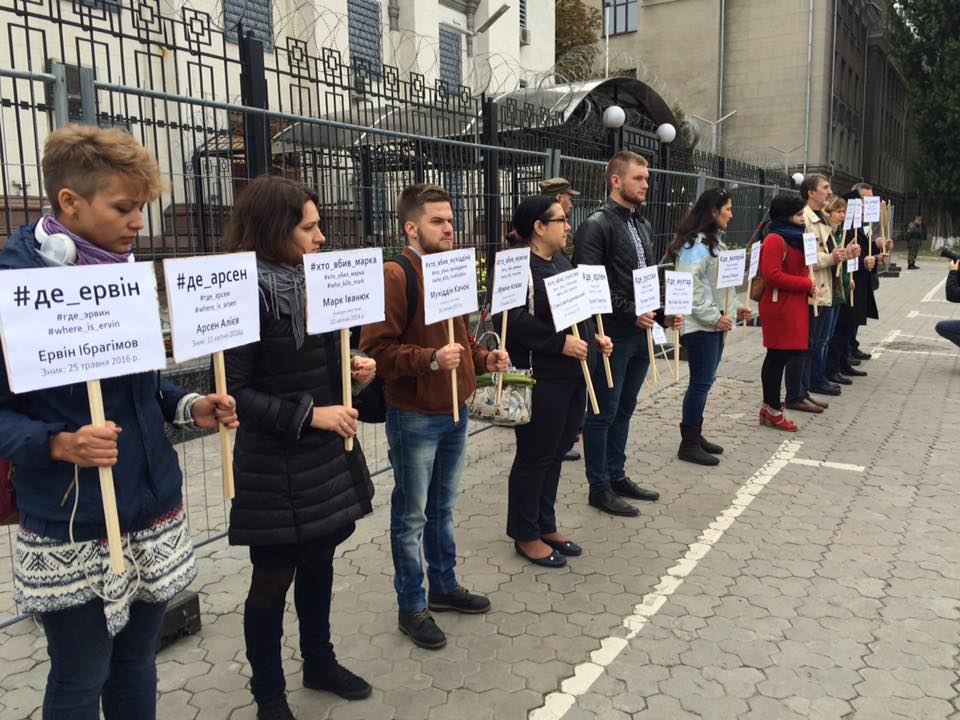 27 September 2016 - Activists near the Russian Embassy in Crimea holding the signs with the names of people who went missing in Crimea. Photo: Roman Spiridonov 
On September 27, a chilly autumn day, several Crimean activists once again protested at the Embassy of the Russian Federation in Kyiv to remind about people who went missing in Crimea. The activists gather here every month – attracting public attention gives hope for changing the situation.
According to the Crimean Tatar World Congress, 9 people were killed, 15 kidnapped, and 25 are imprisoned as political prisoners after Russia's illegal annexation of the peninsula in March 2014. However, this list is not exhaustive – relatives of missing people often don't reach out to organizations and media for help, fearing retribution from the Russian authorities. Kidnappings have become a common form of intimidating Crimean Tatars, the majority of which oppose the Russian occupation of their homeland.
Read more: 9 killed, 15 kidnapped under Russian regime – Crimean Tatar World Congress
Two years ago, on 27 September 2014, a son and a nephew of the famous Crimean Tatar activist Abdureshit Dzhepparov were kidnapped in Crimea. According to witnesses, unknown people took 19-year-old Islyam Dzhepparov and his cousin, 23-year-old Dzhevdet Islyamov into a van and drove away in an unknown direction. For two years, Russian law enforcement bodies carry out a so-called investigation with no results. According to Abdureshit Dzhepparov, the Investigative Committee of the Russian Federation creates an illusion of an investigation, but is in fact covering up traces of crimes committed against Crimean Tatars.
Also, four months have passed since Ervin Ibragimov, member of the World Congress of Crimean Tatars, disappeared without a trace. There are recordings showing that he was kidnapped by people wearing the uniform of the Russian State Inspection of Road Safety.
The activists believe that even these small protests can make a difference.
"We realize that there is no other way. If we don't do anything, nothing will happen. It is a reminder for Russia that we know [what it has done] and we will not leave until we hear something about these people," says Yevheniya Andreiuk, deputy coordinator of the organization Crimea SOS.
Ms.Andreiuk reminded that it is thanks to the pressure of the international community that Crimean Tatar leader Ilmi Umerov was recently released from a forced psychiatric evaluation.
In the case of Ibragimov, Ukraine has already applied to the UN working group on the enforced disappearances. The working group in its turn has applied to Russia demanding to provide complete information on the incident.
"There has been no answer from Russia yet. But it is important that UN mechanisms are involved. The next logical step will be to apply to the European Court on Human Rights, even though it is a long procedure," Ms.Andreiuk says.
However, the activist recognizes that the most complicated thing in this situation is to actually return the person.
Zevri Kurbedinov, another participant of the protest is confident that the outrageous behavior of the Russian Federation becomes possible also because of peoples' indifference:
"We, Crimean Tatars have a bad proverb – let a snake which does not bite you live a thousand years. It is created by dishonest people who are trying to justify their indifference to what is going on, their сowardice and callousness. I want to stop it. That is why I am here."
Crimean Tatar activism does make a difference. At least the Ukrainian authorities now attempt to oppose human rights violations by Russia.
"Now, a platform on liberating political prisoners has been created within the Ministry of Foreign Affairs together with activists. Yes, it is not about those who are missing, but still, there are some actions," explains Yevheniya Andreiuk.
According to her, an official statement from the Ukrainian side follows every human rights violation in Crimea. Also, the activist admitted the good work of the Ukrainian delegation in the annual Human Dimension Implementation Meeting which is taking place in Warsaw from September25-27.
Among other Ukrainian actions regarding Crimea are the recommendations of the Ukrainian Parliament to take remove special status from the Crimean city Sevastopol and to change the status of the Autonomous Republic of Crimea to a Crimean Tatar Autonomy. The recommendations have been supported during the Parliament hearings devoted to the Strategy of reintegrating temporarily occupied territory of the Autonomous Republic of Crimea and Sevastopol.
"This is what Ukraine should have started doing 20 years ago, not the two last years. This is the question of the self-identification of the Crimean Tatars. And it also answers their questions of what the Crimean Tatars are suffering there for and what will happen after the de-occupation," Ms.Andreiuk said.
Tags: Crimea, Crimean Tatars, Human rights