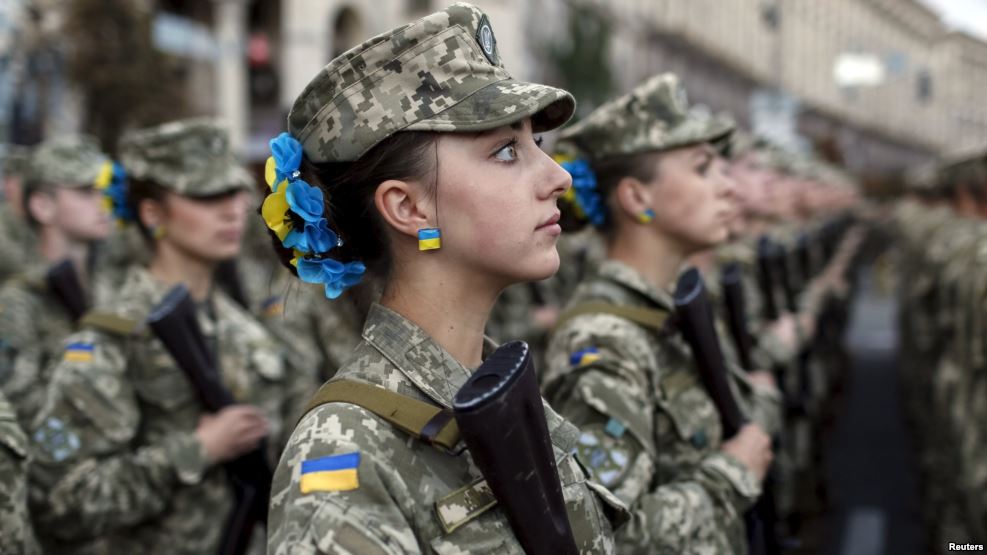 Ukrainian servicewomen at rehearsal for Independence Day parade in Kyiv, August 2015  
Army haircuts are not just the usual closely-cropped heads, crew cuts or buzz jobs. Military hairstyles can change as every national army wants to look original. A new trend has been launched by Ukrainian female soldiers whose braids or buns interwoven with blue and yellow flowers have surprised many people for the third consecutive year.
Neatly set hair, braided tresses of different shapes and sizes, interwoven blue and yellow flowers – this is the current trend for all the female cadets of the Petro Sahaidachny National Academy of Ground Forces.
It all started in 2014 when more and more officers were being trained due to Russia's invasion in the Donbas. Since this time, this symbolic expression of patriotism has become a tradition which has been regularly picked up by other female enlistees.
"We always walk around in these hairstyles – it's become part of us. Two years ago, we got it from the older cadets; we liked the idea and we support it!" – says cadet Olha Pryshnevska.

"I can march and sing, but it doesn't bother me and my hair stays in place." – comments Dariya Yaremchuk.
The army is the army: the demands are the same as in most armies – long hair cannot lie on the collar, so it should be neatly styled and perfectly set.
"We get up at 5 a.m. to get everything done: shower, make-up, hairstyling. There are a lot of guys here, so we should look attractive!" – jokes Olesya Tarkovska.
The cadets do their hair themselves, helping each other at times. All of them know how to braid hair from childhood.
"The classic bun can have a small braid around it. First, brush your hair, push it through the bun holder, then take another elastic band, separate the hair in two, and braid one part."
The girls try to create more complex styles or come up with new ideas for special ceremonies or the taking of the oath of allegiance. They say that every girl can do it herself, but it just takes practice.
This trend within the ranks of Ukraine's women soldiers seems to have struck a chord with female military representatives from NATO countries. They may borrow the idea of ​​using their national colours in their hair at ceremonial events.
In most countries, both men and women soldiers keep their hair short as it's more convenient in active service. More and more servicemen and women consult with stylists because they want to look hip and modern in the army, but without violating military rules. For example, the "clean-shaven or bald look" means parting with your past life; as they say, once you enlist, you start everything from scratch. The "military" style is a neat crew cut, and then there's the "buzz cut". Ukrainian soldiers like to have a "chub" or "oseledets" (forelock) an element of traditional Ukrainian Kozak hairstyling. It features a thick lock of hair sprouting from the top or the front of an otherwise closely shaven head. Today, the Ukrainian braid has entered the catalogue of military hairstyles.
Tags: Donbas war (2014-present), New Ukraine, News, trends, Ukraine