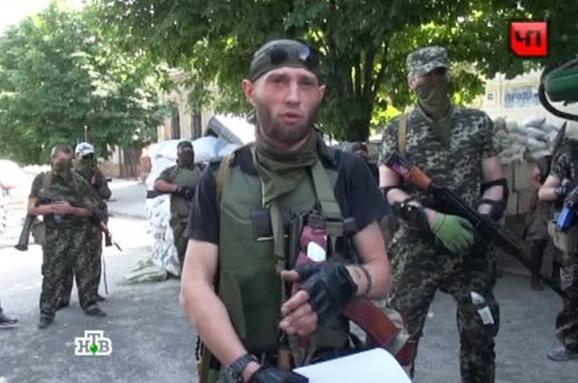 Russian mercenaries from Chechnya in Donetsk, Ukraine (Image: Сергей Шаргунов / Facebook) 
The Ukrainian Interior Ministry's Dnipro-1 battalion has eliminated a Russian subversive group, a terrorist nicknamed Chechen and a Russian general, the National Defence Headquarters of Dnipropetrovsk Region has reported, the Interfax-Ukraine news agency reported at 16:09 Kyiv time.
It said that the Dnipro-1 fighters had carried out a special operation in Telmanove, a town southeast of Donetsk, in the early hours of 9 October. As a result of the operation, terrorist Andrey Borisov (Chechen) and three Russian military were killed.
"Russian general Sergey Andreychenko is among the killed," the report reads.
The battalion commander, Yuriy Bereza, denied allegations that the battalion members treated the enemy cruelly.
"The killing of Chechen, the Russian mercenaries and a general is just one of the many operations with a similar outcome. There is nothing to be surprised with. The same will happen sooner or later to anyone who dares to come to our land. That is why all accusations regarding the inhumanity or immorality of the scary 'punishers' from the Dnipro-1 are unfounded. After what the Ukrainian battalions had to go through in Ilovaisk (the site of brutal fighting between Ukrainian troops and pro-Russian separatist forces in late in August), after the atrocities and tortures towards our servicemen in terrorist captivity, it is expedient to kill those who continue firing even at the time of the 'truce'," Bereza was quoted as saying.
Photo: caption of the terrorist nicknamed Chechen
Tags: Donbas, Donbas war (2014-present), Russian Army, Telmanove