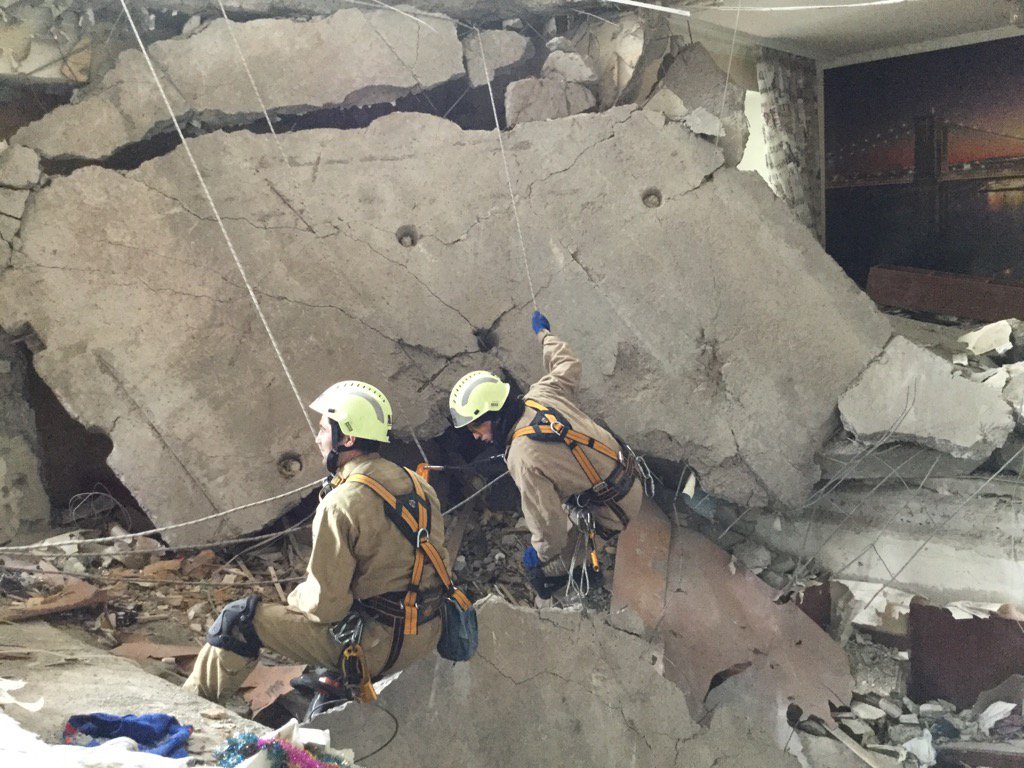 February 20, Avdiivka. MEP Rebecca Harms, "Apartment" Credit: twitter.com/rebharms 
In this series, we are teaming up with the tireless social media activist who goes by English Luhansk on twitter to produce open source updates about the military situation in Donbas. We analyze reports from Donbas local twitter accounts and translate it into a comprehensive overview of what's going on on the ground. Yesterday's digest can be found here: #DonbasReports: 62 attacks, 1 KIA, 1 WIA. Blockade campaigners detained in Kyiv
On February 20 the ceasefire announced earlier by Russian Foreign Minister Lavrov did not bring quiet to the Donbas. An everyday scenario of pointless harassing fire was applied again.
A quiet night along the entire frontline, an almost quiet morning in Donetsk:
07:46 Makiivka Vostochnyi: A loud boom, Gvardeyka direction
08:20 Donetsk: 8-10 OSCE vehicles crossed Zolote Kiltse southwards, with 2 trailers (covered)
08:30 Donetsk Vetka: Shooting, loud and close, heard very distinct
Some separate loud sounds were heard in Donetsk area, a single report from Mariupol:
11:25 Mariupol: Mariupol can hear something. At Illicha even windows tremble
~11:35 Donetsk: The first boom
12:02 Donetsk: A boom
12:07 Marinka: Periodically, booms and large-calibre machine gun in the southwest, calm in the town
12:23 Donetsk: "The sun is shining, birdies are singing, and Abakumova is listening to yet another cease-fire in the west"
12:29 Donetsk: Another boom at 12:29
13:03 Avdiivka: Overhead contact system is repaired at Ocheretyne-Avdiivka [railway] section
More people in uniform on the streets of Donetsk:
13:54 Alchevsk: "Yesterday, lots of orcs[=a local nickname for "militants"] were all over Alchevsk, inclгвштп those with backpacks and cases, people in mufti with cases with them"
14:21 Donetsk: "Today lots of military in public transport, shops. Mostly without chevrons. west/backpacks and bags. In groups & by 1"
14:35 Donetsk: "In the city, I saw many orcs in uniform today, and in mufti. Walking, bastards"
Some activity in Luhansk Oblast:
15:03 Kadiivka: Suddenly, they've started to boom. Popasna, on your end?
16:15 Bryanka: Bryanka is listening too, panes tremble
Kadiivka: About 15:00 something boomed on the block. They report a grenade blown up at #13, #Yunykh_Lenintsiv in an apartment
And an ordinary Donetsk evening begins:
16:37 Debaltseve: "Heavy rumble is heard outdoors"
16:43 Makiivka Gvardeyka: Booms became more frequent
16:45 Yasynuvata: it has been very loud
16:46 Yasynuvata: Explosion or a salvo from within the city limits
16:54 Yasynuvata: "Black smoke over Svoboda"
17:08 Novhorodske: From time to time it rumbles far away, Yasynuvata direction
17:12 Avdiivka: "I affirm, a pat was great, but most probably, disposal, not incoming"
Mariupol area and Svitlodarsk bulge join the evening developments:
17:38 Novoazovsk district: "It begins"
17:43 Svitlodarsk Bulge: I bit loud
17:48 Avdiivka: From the southwest, sporadic sounds are heard, kind of grenade launcher
17:53 Novhorodske: Cannonade from Yasynuvata–Avdiivka direction became closer. Sometimes even machine gun fire is heard
17:58 Makiivka Khanzhonkove: It's heard
18:03 Yenakiieve: I went out onto the balcony: so far from all sides Makiivka and Horlivka "withdraw weapons" [=cannonade]
18:16 Horlivka: Pretty intense battle is heard from the north-northwest
18:31 Horlivka : Zaytseve–Holmivskyi – ongoing battle, very well heard in the center
18:31 Horlivka Stroitel: Southwest: anti aircraft gun fire
18:42 Makiivka Gvardeyka: YaBP direction: intense shooting + light booms
19:05 Horlivka: Southwest: heavy something joined [the cannonade]
19:10 Novhorodske: Not so boring evening continues. Due to echo from arroyos, I have to go out to see it's not shelling from all sides
The evening battle begins in Dokuchaevsk area (south of Donetsk):
19:21 Dokuchaevsk: Outgoing rounds, loud
19:22 Dokuchaevsk: [Russians] started to fire heavy [cannon] from us
19:26 Volnovakha: Probably, it flies towards Berezove–Stepove [from Dokuchaevsk], it's quiet here
19:44 Donetsk Petrovka: 2 fire engines towards Oleksandrivka
19:56 Dokuchaevsk: Tough battle in town's west
Horlivka also activates:
19:56 Horlivka: Battle in Shyroka_Balka direction
19:57 Dokuchaevsk: Loud, outgoing
19:59 Dokuchaevsk: "F*ckup, something flies out with whistle"
20:02 Horlivka: Machine gun, mortar fire at Shyroka_Balka. A tank?
20:10 Dokuchaevsk: Seemingly, UA return fire has started in the area of pass-by

~20:00 #Dokuchaevsk, footage of #Yasne direction @The_Ukrop https://t.co/UIRpkw44ZY

— English Lugansk (@loogunda) February 20, 2017

20:15 Taramchuk: Yep, impacts were juicy [~19:21], heavy ones are heavy
20:20 Dokuchaevsk: There was a great f*cking massacre for about 20 min, sounded like within the town…
20:30 Donetsk Kalinina Marabushta: We've just heard several far claps from the north
20:34 Dokuchaevsk: Reload is finished [=shelling resumed]
20:42 [Yasynuvata]: "Machine gun fire at Kruta_Balka, YaBP. Tanks booms and bazookas. For 2 hrs, misc intensity"
20:45 Makiivka: "Cheryomushki: heavy ones are heard" "Gvardeyka, Vostochnyi: I've set a window open – the north rumbles"
20:45 Makiivka: North: multiple frequent and strong
Almost quiet in Donetsk, but something still rocks Horlivka area, and a battle is still ongoing near Dokuchaevsk:
20:52 Horlivka: Outdoors, it sounds louder and louder. Outskirts catch impacts, be careful
20:53 Marinka: Sporadic small arms fire, generally quiet in the town
20:53 Toretsk: Sporadic distant incoming fire in series by 3-4
20:55 Horlivka: In west-southwest, impacts are heard
20:59 Horlivka: "kettlebells" are falling outdoors
21:01 Novhorodske: It seems to be firing at us (to my right), again an SPG shells like the day before yesterday
21:02 Horlivka: Goes on. Heavy shots and impacts are heard from the west
21:05 Horlivka [pro-RU source]: Every 5 seconds, or maybe each second… they shell
21:11 Dokuchaevsk: It is loud in the town again
21:12 Dokuchaevsk: Started over
21:24 Dokuchaevsk: 120mm fire has started, very tough
21:29 Dokuchaevsk: RU outgoing fire too
21:32 Dokuchaevsk: Incoming fire on the slagheap
21:32 Horlivka Stroitel: [southwest] so far they've calmed down
21:37 Dokuchaevsk: Rattling started – machine guns/assault rifles
23:33 Donetsk Naberezhna: "Allegedly, it is equipment clattering. I don't get"
74 attacks, 2 soldiers WIA, 7 injured
The ATO Headquarters reported 74 attacks on February 20, 2 servicemen were wounded in action, 7 more injured:
From midnight tensions reduced along the entire contact line, the enemy lowered the number of attacks with use of heavy weapons, but later 120mm mortars were used again.
ATO spox: 2 UA AF servicemen WIA. 7 were injured, when their car ran over a booby-trap mine

— uacrisis (@uacrisis) February 21, 2017
Mariupol sector

Novotroitske was shelled with use of 120mm mortar
Large-calibre machine guns and small arms were used in attacks on Chermalyk, Talakivka, Hnutove, Vodyane, Shyrokyne.
Snipers opened fire on Vodyane, Pavlopil, Shyrokyne, Novotroitske, Hnutove.

Donetsk sector

120mm and 82mm mortars were used to shell Novoluhanske, Avdiivka, Luhanske, Zaytseve, Zhovte.
BMPs repeatedly attacked Opytne and Luhanske.
Avdiivka was attacked by snipers.

Luhansk sector

ATGM complexes were used to attack Novooleksandrivka.
Mortars, grenade launchers, small arms, ATGM were used to attack Novozvanivka.
Sniper fire was conducted in Stanytsia Luhanska, Zhovte.
ATO spox: @MNS_UA officer, wounded on Feb 2 in Avdiivka, died

— uacrisis (@uacrisis) February 21, 2017
Rescue worker Dmyto Tryteykin, wounded on Feb02 in Avdiivka, died in Dnipro hospital today https://t.co/urSBHLnWSi pic.twitter.com/02GHxjQhjK

— English Lugansk (@loogunda) February 21, 2017
OSCE records more ceasefire violations, confirms civilian casualties
The OSCE Special Monitoring Mission to Ukraine (SMM) released its latest report, based on information as of 19:30, 19 February 2017:
The SMM recorded more ceasefire violations compared with the previous reporting period in Donetsk region on both 18 and 19 February.
In Luhansk region, the SMM observed more ceasefire violations on 18 February but fewer on 19 February.
The SMM confirmed civilian casualties in Avdiivka and Trudivske and observed infrastructure damage as a result of shelling in Avdiivka, Trudivske, Pikuzy, Novooleksandrivka, and Zolote.


The SMM followed up on reports of civilian casualties. On 18 February, a Ukrainian Armed Forces soldier in government-controlled Trudivske (47km south of Donetsk) told the SMM that there were civilian casualties from the town as a result of shelling that had occurred the night before (see damage to infrastructure below). At a hospital in government-controlled Volnovakha (53km south of Donetsk), the SMM spoke with a man (43 years old) and his son (15 years old), who told the SMM that they had been injured during shelling in Trudivske the night before. The SMM saw a bandage on the father's arm, and the head surgeon told the SMM the man's arm been lacerated by shrapnel and that there was still shrapnel embedded in his shoulder. The son was lying on a hospital bed, and head surgeon told the SMM the boy was suffering from a broken clavicle and scapula and had shrapnel removed from both areas.

On 18 February in Avdiivka, a man (in his late fifties) told the SMM that his sons had been injured after the wall of their apartment had collapsed on to them the night before following an explosion. At the Avdiivka city hospital, the surgeon who said he had treated the boys (about 15 and 20 years old) told the SMM that the older brother had bruises on his ribcage, nose and left leg and the younger brother had bruises on his face and head. The surgeon said he had treated and released the boys. Back at the site of the damage on 8 Yubileinyi Street both the boys told the SMM that they had been sitting in a room near a window on 17 February when a wall had fallen on them following an explosion.

The SMM observed cuts to electricity and water supply in the areas of Avdiivka and Yasynuvata as a result of shelling.  It monitored adherence to the ceasefire and facilitated the repair of critical infrastructure.
The SMM recorded ceasefire violations in each of the three disengagement areas in Stanytsia Luhanska, Petrivske and Zolote, and its access remained restricted.
Outside of the disengagement areas the sides also continued to restrict the Mission's monitoring and in Debaltseve small-arms fire passed within 10-20m of an SMM member.
The Mission continued to observe the blockade of railway tracks near Hirske, Bakhmut, and Shcherbynivka.
It visited four border crossing areas not currently under government control.
The Mission observed public gatherings in Kyiv in honour of the anniversary of events at Maidan and in support of the blockades of railway tracks.
See also: #DonbasReports EU: guests visit war-torn Donbas
Tags: DNR ("Donetsk People's Republic"), Donbas war (2014-present), DonbasReports, Donetsk, News, OSCE, Russo-Ukrainian War (2014-present), Stylianides