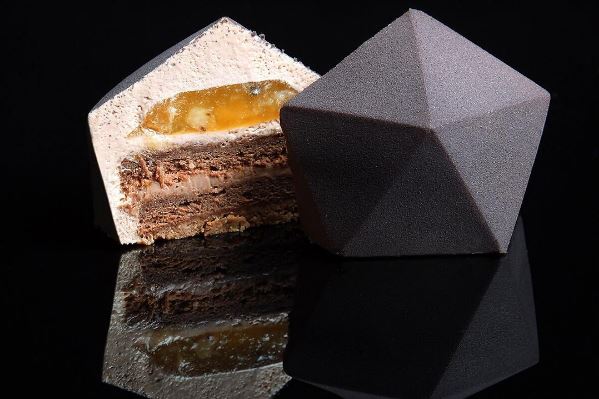 Geometry. The figure #6. Photo: dinarakasko/Instagram 
Dinara Kasko, an innovative confectioner from Ukraine, is inventing some creative desserts.
Culinary arts teamed up with architecture in her edible masterpieces, and the results stand out with their unusual shapes and unsurpassed taste. Before creating the sweets, Kasko simulates them in special programs and contemplates the smallest details, because she is an architect by education.
As the 27-year old confectioner told in an interview, she does not want to emulate others in her work, but wishes to create unique desserts. To do this, she has not only the knowledge but also a great desire to implement all her ideas.
"Starting from the second year of university I worked in an architectural studio, and after graduating worked in the Dutch company as a designer-visualizer and also worked as a photographer for 3 years, at the same time leading a few construction projects in my city," Kasko tells about herself. "When I was 17 years, I began to travel and now has visited 16 countries. My dreams are Tanzania, Norway and a world tour. Then the "kitchen" and cakes appeared, and I went on maternity leave. I am working as much as I can because I have a small daughter and no nanny and no kindergarten. Now I scheduled several workshops in different cities of Ukraine and Russia. Tell me, where would you like to see my masterclasses? Also, I would like to try myself in a restaurant or pastry-shop where will be creative ideas and creative people infected with love for pastry," she wrote in her instagram account.
Dinara Kasko tells that she models her moulds in 3DMAX, prints the master model on a 3D printer and cast the mould of silicone.
"I've used such geometric constructing principles as triangulation, the Voronoi diagram, biomimicry. Biomimicry is using the models, systems, and elements of nature, macro elements in general. It can be anything, fragmentation of expanding shells in spiral, herb structure, or the form that bubbles take," she wrote on her Instagram account. A series of geometric pastries is grounded on contrasts, using simple geometrical figures, straight sharp lines, minimalist style, contrast lighting, and one color to create an "inedible appearance, but at the same time to be very gentle and delicious inside."
The ingredients used are as fantasy-provoking as the forms: meringue, mousse with mascarpone, mango, strawberry and the rain with raspberry powder, chocolate sponge cake, streusel with nuts, mousse with chocolate Valrhona Caramelia, ganache with Caramelia and yuzu, jelly with yuzu and passion fruit and more.
Below is a slideshow with comments from the confectioner's Instagram account.
Tags: Art in Ukraine, News, Ukraine