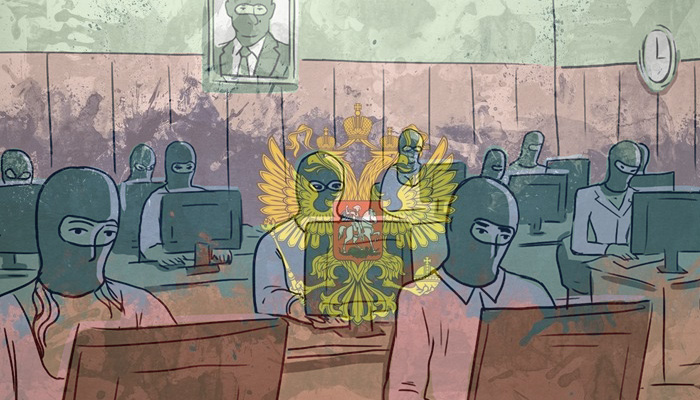 Mass media have often reported on the attack of Russian trolls on Ukrainian and western information resources.  An army of paid bots leaves comments on the sites of the largest European and American online sites, engages in polemics in forums, and also massively penetrate professional networks, such as LinkedIn, that are used by many for the exchange of professional resumes and job vacancies, including some government organizations.
In addition to unloading copious amounts of disinformation, slandering, and insulting opponents, trolls employ a technique well-known to Russian and Ukrainian Internet users.  They succeed in blocking their opponents by lodging a large number of complaints about them.  More often than not, the mechanism for blocking user accounts is automatic and determined by the number of complaints received, and this is a favorite tool of the trolls.  Now, maybe for the first time, such an attack has targeted respected American experts, government employees, and even intelligence service veterans.
This was the case a few days ago when LinkedIn, a site for professionals, banned the accounts of several people who had dared oppose those who posted pro-Putin comments.  Among the "casualties" of this network attack were Army veteran Eric Tallant, retired senior CIA officer Charles Leven, and New York attorney James Berger.  All three were notified that their accounts had been blocked "for repeatedly posting unwanted/inappropriate content, and using the platform to harass other members."
"No group owner ever complained to me about too many, unwanted, or inappropriate posts. Harassment, if any, was harassment back to trolls and extremists who were harassing me and others… it could have been an orchestrated attack, including by bots, and I was given no opportunity to respond," explained Charles Leven in an interview with our site.

"I suspect I've become the target of a neo-Nazi, pro-Kremlin, former Finnish pastor. He launched an attack using real and fake proxies. Some have ties to the Russian Orthodox Church (ROC) as alleged metropolitans.  Funny thing! I never even interacted with the guy. I simply posted a link that briefly mentions him," Eric Tallant told us.
Warning notices of possible bans were received by other members of the virtual network, for example, US Department of Commerce official Jason C. Groves.
"I have never sent spam or unwanted communications to another member. I have commented on threads of trolls. I have never acted dishonestly or posted inaccurate or objectionable content, only the truth which repulses trolls and the occasional swear word… But I swore an oath to 'support and defend the Constitution of the United States against all enemies, foreign and domestic; that I will bear true faith and allegiance to the same,' and I will continue to do so," averred Jason.    
Still another troll victim is French-based foreign policy expert Giles Raymond DeMourot.  One of the most active pro-Russian LinkedIn users, Yana Dianova (Яна Дианова) complained to the LinkedIn management that he (Raymond DeMourot) was using a false profile.  After three days, Giles was able to establish his rights to an account and as a precaution sent a copy of his passport to the LinkedIn support staff.  The French-based expert notes in this connection that the company management apparently operates according to a double standard, reacting vigorously  to complaints from Russian trolls without giving them a critical examination, while they treat other members of the network more sternly.
"They refused to apologize for having given credence to Ms Dianova's allegations without any form of verification. Then arose the case of another Russian troll, Fred Eidlin, who was fraudulently using the title of "visiting professor at Karlova University." I produced an email from the vice-rector whom I had contacted saying he had no right to use this title. LinkedIn is still allowing him to fraudulently use the title!

"Ms Dianova continued to defame me and others and I filed a notice of defamatory content and partly won: LinkedIn said they had taken appropriate action. The action taken was, I believe, to ask Ms Dianova to stop defaming me explicitly, i.e. to quote my name. This was observed, though some statements clearly referred to me," Raymond DeMourot informed us.
According to James Berger, any time the discussion turned to Russian policies, particularly, but not exclusively, the illegal Russian occupation of part of Ukraine, he and those who agreed with him were "repeatedly threatened, abused, and subjected to character assassination."
"More shockingly, during the past week, I and my like-minded colleagues have now had our LinkedIn accounts deleted based solely on having used LinkedIn – as professionals … Meanwhile, countless actual violators of the User Agreement – many of whom we had sought to expose by presenting evidence – remain unquestioned, ignored and even supported. How could this be?" asks the attorney.
James Berger is convinced that such a company policy can be explained only by an apparent bias.
"Still more fascinating is that a number of those convicted of the unpardonable sin of "unprofessionalism" are military veterans and/or current or former public servants who have sworn oaths to uphold the truth and have literally placed their lives on the line to advance that mission. Yet in the sick and upside down world of LinkedIn, allegiance to the bottom line always trumps commitment to sacred ideals," says the outraged advocate.
The attorney affirms that he will demand an apology from LinkedIn for its biased policy and questions whether Microsoft shareholders are prepared to invest 26 billion dollars in a company which could cost them their reputation.
Unfortunately, we might add that a similar situation exists on Facebook and several other social networks.  American companies have shown themselves unprepared for the information war.  Their systems for handling complaints apparently were not set up to handle the possibility of well-financed and organized attacks. For the time being, the Kremlin's trolls are swimming in success.
Tags: Russian infiltration of US politics, Russian propaganda, Trolls