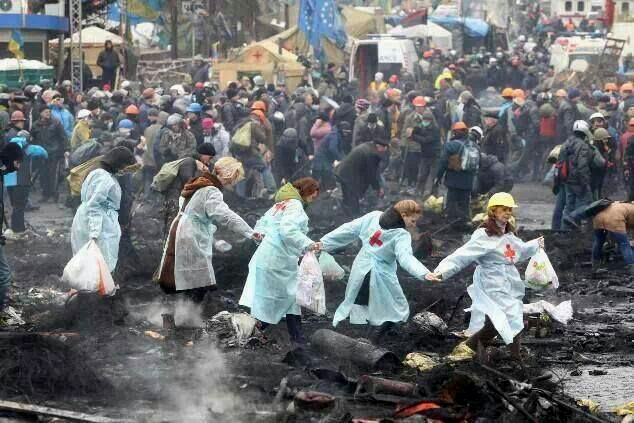 Volunteers make their way to the wounded on Kyiv's Maidan square in the winter of 2014. Photo: Tamara Gurzuff 
By the time Russia started its invasion into Ukraine, the Ukrainian army was small, weak, disengaged, and disorganized. It was being destroyed deliberately for many years by the Ukrainian government. Thus, at the crucial moment, ordinary people decided to leave their everyday life and devoted themselves to volunteering for the Ukrainian army.
Read also: Who destroyed the Ukrainian Army?
For now at least two extensive studies were carried out in order to describe the quantity, features, and motivation of Ukrainian volunteers. The most current research was conducted by USAID (United States Agency for International Development) together with Ukrainian department of GfK (Gesellschaft für Konsumforschung) at the very end of 2015. Another one was held by the Ukrainian foundation Democratic initiatives between 14-22  November 2015.  
Studies claim that the regions which support the Ukrainian army most actively are liberated territories of Donbas (with 19% of citizens involved in volunteering) and the western region (with around 14% of them). Euromaidan Press met representatives of both top-active areas to find out what the phenomenon of Ukrainian volunteering is.
Under bullets and shells: volunteering on the frontline
Kseniya Bykova got her first contusion while pulling wounded people out of the fire during Euromaidan protests in Kyiv in 2014. Since then, she went as a volunteer through all main hotspots of the war: Sloviansk, Kramatorsk, Dzerzhynsk, Horlivka, Ilovaisk… So did her 24-years-old son, who is now demobilized. Kseniya left her business to be able to drive to the frontline at least once a week. She delivers food, outfits, and anything else that soldiers are missing.  "When the fighters leave home during the rotation, they give my phone number to the next batch. Almost each battalion knows how to reach me," Kseniya says.
Kseniya understood at once that it would be easier to work with a team of supporters, so she created "Volunteers of Komsomolsk" NGO in the city of Horishni Plavni (Poltava Region). But, as she says, she has never been passive or indifferent, even during peacetime: "I took part in all three revolutions, which have taken place in Ukraine since 1990, so I did not have any doubts whether to help my country or not."
Kseniya's story illustrates one more significant result of the USAID and GfK studies: the number of volunteers in Ukraine increased only by 3% compared to the pre-war period. Meanwhile, the number of activists who volunteer full-time rose from 6% up to 23%. This likely means that the people who were active before the war with Russia are now at the core of civil society too, but it takes them more time and effort. In turn, the passive majority remains the same.  
Social psychologist Solomiya Onufriv believes that such results are quite natural: "There is a phenomenon in a social psychology called 'influence of minority.' That is something that we can observe now when the proactive part of Ukrainian society realized that any change must begin with themselves. These people are confident, successful, and they encourage other Ukrainians to join them. With regard to the proportions of active and inactive citizens the situation in Ukraine is also common when compared with average European figures. It was Spanish philosopher José Ortega y Gasset who first wrote about 15% of the responsible minority that takes action to transform society in Europe. We can observe now almost the same percentage of Ukrainians (13%) being responsible for social transformations in our country."
According to Kseniya, Ukrainian soldiers are not getting enough linen, ankle boots, and are constantly lacking quality food. So these are the main things that she delivers each time. "When I was first asked to deliver things to the soldiers, I was pretty shocked that they actually had nothing. Not even helmets and bulletproof vests. Finally, the Ministry of Defense took over some of the essentials, but it is still not enough, especially on the frontline. For example, the coffee and tea are disgusting. I also do not know why they receive such terrible canned-goods. It is impossible to eat that shit, it is just poor quality," she speaks resentfully.  
Kseniya buys almost all that's needed from abroad – China, Poland, Germany, Italy. She says it is cheaper even taking into account the delivery costs. Sometimes she encounters people who try to make money on war, but Kseniya knows the real price of each item by heart, so she accepts only the cost-effective options. "We are now rather experienced and we know exactly what is needed in different areas. It is important because many boys are very shy and they will never ask you directly about some little things like sweets which they all adore. Of course, it is not necessary there, but such things make them feel better. These guys appreciate our help. They always return outfits that they do not need anymore, so I can pass it to other soldiers. We feel like a team indeed."
The responsibilities in "Volunteers of Komsomolsk" NGO are shared between its members. Some people collect money, others buy goods, Kseniya and her husband (he was not accepted to the army) – drive goods to the frontline. At each stage, photos are taken and receipts are sent to prove that all support is used properly. "Now we use much more skills that I thought we needed at the beginning. We must take pictures so that it was impossible to understand the location of the battalions, we have to take into consideration the climate conditions of different destinations, as it affects the range of stuff which is needed there. It is not as easy as it looks," Kseniya adds.
Volunteering in Donbas is not only difficult but also unsafe. Kseniya says that despite all international agreements there is permanent fighting there: "All volunteers are accustomed to the explosions. When Donbas is silent, we begin to fear. It means that something really bad is being prepared." She claims that media does not cover even a half of horrors that occur in the war-zone. According to Kseniya, to make sure that nothing will leak, authorities banned some of the volunteers who are on the frontline from appearing in TV-shows or give comments. "We are treated as people who know too much," Kseniya explains.
Kseniya has several rules that help her to be as effective as she can. Firstly, she does not deliver any alcohol to the soldiers and never visits those platoons that she found drunk at least once (yet in her experience there was only one such case). Kseniya also tries to interact only with those soldiers who went to war at their own will. "It is clear from eyes of the person if he came to protect his country or to earn money, hiding behind his fellows. I am not a fan of these 'mommytakemehome' guys. I think that it is our command's mistake to let such unprepared people fight."
Apart from material aid, mental support is another big issue that Kseniya as a volunteer has to deal with. She receives night calls from the soldiers who need somebody to talk with, messages from their wives and mothers who can not sleep at home, she tells children stories about their dead fathers. "Nobody makes me do it, but I have lost more than a hundred acquaintances or friends since the beginning of the war, so I know how hard it is."
According to Kseniya, lots of people are leaving "Volunteers of Komsomolsk" NGO for two reasons: post-traumatic syndrome and financial difficulties. "People can't cope with such big stress infinitely, so they have to quit for some time. But this break comes as another stress for them – people start blaming themselves for not helping their country. Another issue is cash. You always need someone to earn money for you if you want to volunteer. Not everyone has this opportunity."
Kseniya says, she is engaged in volunteering because she is a Ukrainian patriot and can not stay aside. She got used to the sound of bullets and shells and feels more comfortable on the frontline than at home. She claims that she is ready to get back to normal life as soon as the Ministry of Defense begins to fully perform its duties.
Making sure the war isn't forgotten: volunteering in the rear
Many families from western Ukraine lost their relatives and close friends in the Donbas war. For them, it is a catastrophe that changed lives forever. But for most people living in peaceful regions, events in Donbas are just a picture on TV. There is no one to blame for this turn of events, according to psychologists. People who drink coffee and listen to jazz in Lviv can't fully understand those who are fighting in the East. The country is polarized by the war, so here, in western Ukraine, volunteers face absolutely different challenges than at the frontline.
Katia Cheremnova is a 19-years old student. She grew up in the south-Ukrainian city of Mykolaiv and moved to Lviv to study at the university. She started volunteering two years ago for personal reasons: her fiancé and now husband went to the front as a volunteer. Over the past year with other students, she collected nearly $20 000 for the needs of the Army, which is more than 340 monthly Ukrainian minimum wages. Katia is a modest girl. She worried before the interview and said she is not the best person to talk about volunteering.
The NGO that she set up is called Volunteer regiment and now has 10 regular members and many online supporters. She believes volunteers in Lviv have a completely different status than activists in Mykolaiv due to the general political climate in the region. "It was quite embarrassing for me, a girl from Mykolaiv, to encourage Lviv citizens to give money, but then I understood that nobody condemns this here, unlike my native city," Katia explains.
On the other hand, she mentioned several obstacles which were unexpected for her as a resident of a much smaller city. "There are too many organizations and activists in Lviv that act at the same time, so it is really hard to motivate locals and catch their attention. We often do our best to organize a charity fair or another event but we finally get nothing, because people are scattered among dozens of events or just have their own business," she says.
Katia claims, it is almost impossible to get some real money in Lviv just asking about it. So, the Volunteer regiment NGO has another approach – not only take from people, but also give them something in return. "We created many projects. Some of them don't take many efforts but bring good cash. Photo sessions, book sales, literary festivals, and many other interesting events. We try to entertain, educate, and develop our community. This stimulates people to engage in charity, so we can help the army," Katia says.
There is a well-known date auction among such projects. According to the idea, boys and girls are filling in profiles, placing their photos and describing interests. Other people who are interested in having a date with them place bets. The person whose bet is the highest gets contact information of his or her sweetheart. The money goes to support the army. "We have recently improved the format of this auction. Now we offer people not a date, but an opportunity. For example, somebody holds a free tour around the city, another one teaches how to dance salsa. So we not only collect money but also stimulate our people to communicate and be active," Katia adds.
Katia's friends are usually older than she is. The young lady jokes that she does not know how it is to be a teenager. She has to combine volunteering with studying and it is not always easy for her. But she enjoys what she does and is not going to give it up. Katia's dream is to come back to Mykolaiv and develop it using knowledge and experience gained in Lviv.
Social psychologist Solomiya Onufriv considers that volunteers are the main mediators between the war zone and the rest of Ukraine: "Volunteers will always remind people who fight that they are supported and people who live in peace that they are protected. Thus, the phenomenon of Ukrainian volunteering is connected with the largest post-Maidan psychological transformation of the Ukrainian people: our internal and external identities are changing to be more aware and responsible."
Tags: Volunteers