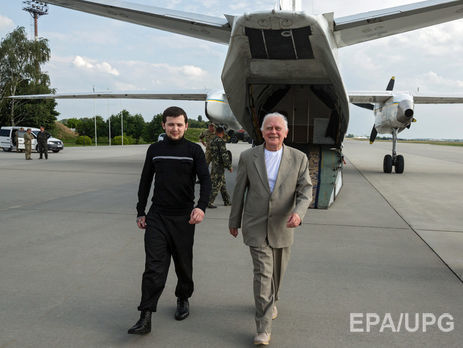 Ukrainian political prisoner Yuriy Soloshenko was released from Russia on June 14. He reports that he met and talked to Russian officers in the prison hospital. They readily named the numbers of Russian military units that were sent to fight in Ukraine.
Yuriy Soloshenko stated that these Russian army officers were imprisoned because they disagreed with Russian aggression in Ukraine.
 "I was with Russian officers who described what was happening, told me the numbers of military units and the names of the soldiers who were sent to fight in Ukraine. I know for a fact that if not for Russian intervention, we'd be living peacefully and quietly in our country."
When asked why the Russian officers were in prison, Soloshenko replied that they were facing several charges, but, in fact, they were accused of supporting Ukraine.
 "They were in prison because they share our thoughts about Crimea and the situation in eastern Ukraine. Of course, they're facing other charges, too. They've been charged with insubordination. They're highly respectable people; they have many medals and decorations. I have great respect for them. I made several new friends in prison, decent people, and I'll definitely keep in touch with them."
Yuriy Soloshenko, ex-director of the Poltava military factory Znamya was arrested in August 2014 when he arrived in Moscow for a business meeting. The FSB said that he was trying to steal secret components of anti-aircraft missile systems intended to build up Ukraine's air defense. Soloshenko denied the charges. In October 2015, the Moscow City Court sentenced him to six years in a strict-regime penal colony.
On June 14, 2016, Yuriy Soloshenko and Hennadiy Afanasyev were exchanged for two Ukrainian citizens suspected of separatism and treason, namely two journalists from Odesa, Olena Hlishchinska and Vitaliy Didenko, who, according to the Security Service, helped found the breakaway "National Council of Bessarabia".
---
Related:
Tags: Afanasyev, Crimea, Donbas, International, News, Opposition crackdown, Russia, Russian aggression, Russian Army, Russian invasion, Russian military, Russian regular troops, Soloshenko, Ukraine