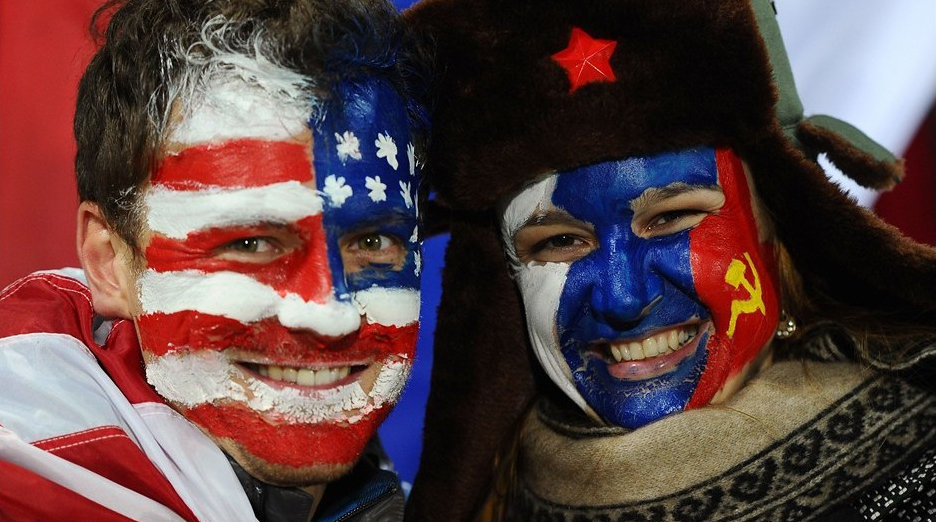 US residents are subjects of everyday Russian jokes. Photo:  istochnik-rassveta.dn.ua 
While most inhabitants of the United States think about their work, family, and everyday life, they might not even have a clue that somewhere miles away from them in some Russian province people also think about "Americans": their work, family, and everyday life. Thinking, comparing, and justifying their own problems with these comparisons.
The word "Americans" appears in everyday Russian conversations more often than Americans themselves would imagine. And the tone of these conversations is typically negative.
At the end of April 2016, the Russian sociologist Denis Volkov published an article with the headline "Why we do not like America." According to opinion polls conducted by the Levada think tank, the peak of anti-western sentiment observed in 2015 had already passed. In that period, the attitude of 81% of Russians towards the United States was negative, 71% was also negative towards the European Union. Recent data has shown that it has declined to 64% and 60% towards the USA and EU respectively. According to the data, the United States has been at the top of the list of Russia's enemies since 2008, sharing first place with the ISIS(!).
Russian analysts from the above mentioned think tank described how anti-USA opinion has developed in Russia:
Early 1990: Sympathy and hopes for cooperation with the USA.
1993: Attitudes towards the USA harden. As a result of the Russian economic crisis, the gap in the two countries' standard of living becomes ever more apparent. Also, differences in opinions on international politics become clear.
1996-1999: Negative attitude towards the USA increases.
2008: USA heads list of Russian enemies (35% of respondent opinion).2014: proportion of people who consider USA as the no.1 enemy rises to 65%.
Since 2000, Russian authorities have deliberately employed anti-Western sentiment to find justification for events which are happening in the world.
The analysts placed a major part of responsibility in making the trend become nation-wide on the media:
"The views which a person receive from media are absorbed automatically as they are. In the future, they can be reproduced during the life of a viewer and even passed to new generations. In other words, much of what is reported by TV is accepted uncritically by the majority of the population. And the more monotonous and primitive are subjects of TV news, the better they are digested. If in 1990s some TV programs could be balanced by others, during the 'cleansing' of information space in the 2000s, Russian media became more uniform, which eased the task of forming the desired to for authorities public opinion."
Russian media are carefully following events in the USA and don't waste a chance to present their opponents in the most sinister light. For example, in the Russian informational field there is a widespread conspiracy theory according to which the 9/11 tragedy in fact was caused by the USA. Also, Russian media were attentively focused on covering Oregon farmers protests in winter 2016. According to them, this event was a starting point for the collapse of the USA. Reading the headlines about USA in Russian newspapers and sites makes one feel that we are in the middle of the Cold War.
So what exactly Russians do not like about Americans?
"
The natural guardians of the truth"
Designating an enemy is a way to explain the huge gap created by their own imperialistic ambitions and faith in Russian national superiority  versus the plummeting  living conditions and the increasing half-century delay in technology development. After all, there has to be someone whom to blame that the nation with such a "big soul" (as Russians see themselves) is forever lagging behind in all areas of quality of life?
The "big Russian soul" is an argument against any success of the others. Supposedly, technical progress in any field means nothing comparing to it.
Popular Russian comedian Mikhail Zadornov whose work is described below expresses an opinion which is common among Russian pseudo-scientists and philosophers:
"It is the female part of the hemisphere. People who speak Russian or Slavic languages have a thicker female, intuitive, non-rational part of the brain. And people who think in Western languages, they have a more developed rational brain. West developed the rational brain, and Western languages ​​are very rational … we have a language to express the feelings and the natural feelings, but it is not for business.
Therefore we can not say that we are backward. We are the keepers of the natural truth.
And Orthodoxy  does not use Latin for prayers, because Latin is a stump of the Old Slavonic language, specifically invented for uttering prayers."
If, according to Zadornov and others, Russians are so deep and close to nature, that means that Americans are just incomparably stupid.
Why Americans are "stupid"
It is likely that deep inside the Russians realize the contrast in living conditions between the two countries. However, to recognize it outwardly would mean that there will be no one to blame for their problems. So, this recognition appears in a form of finding weaknesses (as presented by Russians) of the competitor (because there always has to be one).
"Who is smarter: Americans or Russians?" is the question in popular Russian web service otvet.mail.ru. You can find following answers there:
"We [Russians] are not smarter, we are wiser and quick witted."
"Comparing to Russians, Americans are more simple-minded. They even write on pouches with milk "Open here" and "open from the other side".
"My friend went to America and send me aletter that they start to learn the multiplication table only in 7th grade. Americans are stupid!!!"
"Americans are stupid" is a trend in Russia. And when you want to have more detailed explanation on the subject, better watch a performance by Mihail Zadornov.
The trend father
By far, Mykail Zadornov is not the only contributor to the trend about "stupid Americans." However, he made his career of satirist on making fun of Americans. Russians needed a reason to be proud of themselves and he gave it to them by praising the "big Russian soul" and demonstrating the enemy's "stupidity." Zadornov exploits Russian chauvinism. That is what made him so popular.
In the 1990s he, following the popular liberal trends in Russia at the time, advocated democracy. To describe the level of his popularity in Russia it is worth to mention a single fact: on the 31st of December, 1991 at 23:45 it was him, not the Russian president who congratulated the country with the New Year in a traditional televised speech.
More than 10 years later his pro-democratic comedy routine changed, as well as his views. Now he, the one who laughed at the Soviet Union and dictatorship in the late 90s, is a strong supporter of Communism and calls to vote for the party in the elections.
A huge part of his satirical works are devoted to "stupid Americans". These performances gather full houses and are broadcast at major Russian TV channels. He sometimes tries to justify his parody by saying that he did not mean to say that Americans are stupid, he just wanted to show that Russians become stupid when they try to copy Americans. Nevertheless, even if his intentions were sincere, it is not what his viewers take away after his perfomances. Most often he speaks about routine everyday situations:
"People started to come to me at the streets and say "You are right, they [Americans] are so stupid. I say "Are you telling me?!
"You can't imagine how many letters I receive. It is so interesting to read letters from people who visited America [the USA]. Two young men stopped me in the street and said that they used to be interns in America and told me about the situation when they fried potatos in a dormitory and Americans asked:
Why are you frying potatos, can't you just buy them?
Because it is cheaper.
But how do you know when they are ready?"
At this point the audience starts to laugh and Zadornov interrupts the narrative by his famous phrase "They [Americans] are soooo stupid". The audience laughs again. And he goes on "The Russians guys did not answer the Americans that they are stupid, but said instead: We check them with a fork.' However, after the potatos they started to cook eggs… Do you know what I find great? That Russia is on the right course. Why should we laugh at the Chukchi? [Soviet jokes would often portray the Chukchi, a native northern people of Siberia, as stupid — Ed.] Another thing is the American way of life. It's the way of life, not the Americans. The Americans are kind. They think that they should kindly destroy Iraq. They are confident that Jesus taught that when you were slapped at the right cheek, you should turn the left one and hit from below with an uppercut. They are really kind, but not educated enough. And it is very easy to lead a person who is not educated enough in any direction."
These jokes might seem silly and harmless, however they find positive feedback among the Russian audience. The education system, the way how things are organized, the manuals for ovens – America is presented as another world, where everything is stupid. So what, one might ask?
The thing is that these jokes get transformed into real actions when serious questions are on the agenda. Russian media outlets present the world to a national viewer in a bipolar way, where Russia is in a fight against the West headed by the USA and specifically against the NATO. The West is shown as the main cause of the world destabilization. So, when there is a need to use military hardware against Ukraine, it happens with a silent approval of the multi-million Russian audience which is confident that this war is against the West and the "stupid Americans."
---
Related:
Tags: Russian propaganda, USA