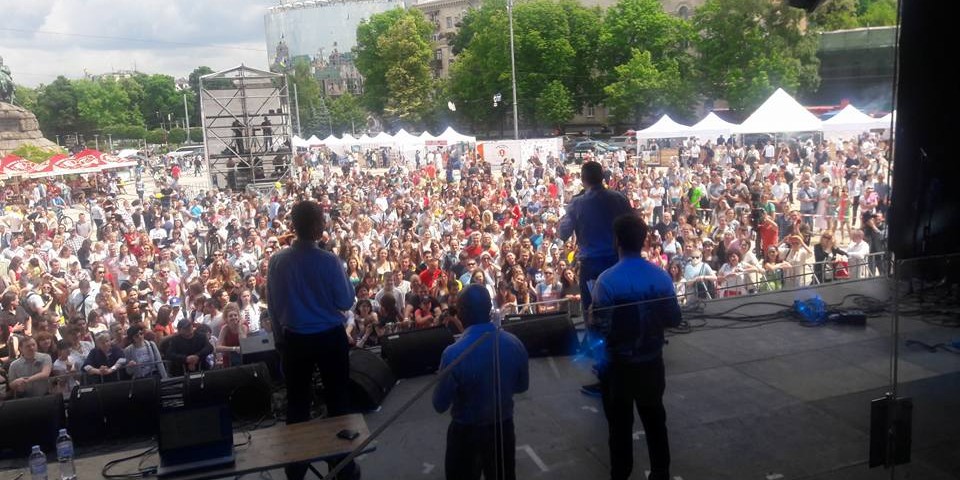 An English lesson takes place in Kyiv as part of the GoGlobal initiative. 28 May 2016. (Photo: uaspeaking.org) 
On May 28, Ukraine endeavored to set a Guinness world record by holding the world's largest English lesson. The event was organized by the GoGlobal NGO together with the US embassy as part of the Year of English in Ukraine and days of America in Ukraine.
Over 50 cities from all over Ukraine participated, the largest lessons being in Kyiv on Sofiyivska ploshcha and in Lviv near the opera theater. Kyiv mayor Vitaliy Klitschko, Ukrainian MP and founder of GoGlobal Mustafa Nayem and deputy Minister of European integration Ivanna Klimpush-Tsyntsadze were present at the lesson in Kyiv, in Lviv – mayor Andriy Sadovyi and US ambassador to Ukraine Geoffrey Pyatt, who greeted the Kyivans via Skype.
Vitaliy Klitschko urged Kyivans to learn English and promised to organize English training for the municipal police.
.@GeoffPyatt talking to even larger than usual Vitali Klitschko as prepare to set record for largest English lesson pic.twitter.com/X0ML7yhr5t

— Ian Bateson (@ianbateson) May 28, 2016
According to the organizers, with this lesson Ukraine should set a Guiness world record. Earlier, the largest foreign language lesson took place in Germany and gathered 6287 people. On 28 May 2016 at 13:30 CET, Ukraine started its English lesson in the format of a discussion club. The lesson lasted for 35 minutes. These lessons took place in 104 locations of 55 Ukrainian cities – at universities, libraries, language schools, education centers and squares of many cities, including Kyiv, Lviv, Vinnytsia, Odesa, Ivano-Frankivsk, Khmelnitskyi, Mariupol, Kramatorsk, Kharkiv and other cities.
The results will be known approximately two months after the Guinness world records committee will process all the materials submitted by the organizers. Video and photo evidence of the lessons and official statements of independent observers will serve as proof for the Guinness world record book. More information: uaspeaking.org
Only 4% of Ukrainians regularly consume information in English, according to the director of the Razumkov center's sociological service. This creates a language barrier that many foreigners visiting Ukraine have observed. Apart from this Guinness world record lesson, English lessons at summer camps all over Ukraine are soon to start with the participation of English-speaking volunteers.