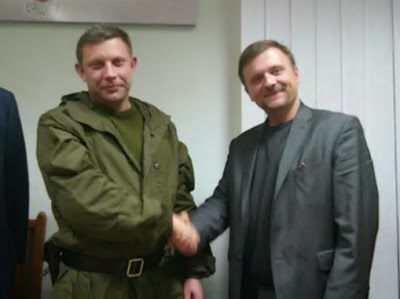 (L-R) Aleksandr Zakharchenko, leader of pro-Russian separatist terrorists and Mateusz Piskorski, November 1, 2014, Donetsk 
In the late 1990s, Mateusz Piskorski was an active member of the
Niklot Association for Tradition and Culture
, a neo-pagan, "metapolitical fascist" group that was influenced by the ideology of Zadruga, the Polish inter-war neo-pagan fascist movement. Apart from the indigenous Polish inter-war influences, Niklot was inspired by
völkisch
ideology, the writings of Italian fascist
Julius Evola
and French New Right thinker
Alain de Benoist
. The group was also characterized by its Slavic ultranationalism and opposed "the intermixture of cultures, languages, peoples and races". Niklot published neo-Nazi
zines
Odala
and
Wadera
, and actively recruited its members from skinhead and National Socialist Black Metal subcultures. The following quote from one of
Odala
's articles provides a telling glimpse into the ideology of Niklot:
Considering the decay and multiraciality of the West, only a united Slavdom — the northern empire of the rising sun — is the hope for the White Race and anyone in the West who does not support the Slavs betrays the White Race and himself.
The neo-pagan, pro-Slavic world-view became an ideological link between Polish and Russian neo-Nazis. By invitation of Pavel Tulaev, head of the Russia-based far right Cultural Exchange Association, former co-editor of the journal Nasledie Predkov and co-editor of the neo-pagan racist journal Ateney, Piskorski and Niklot's Marcin Martynowski, as well as members of other Polish neo-Nazi groups, paid their first visit to Russia in August 2000.
They held meetings with leaders of several Russian far-right organizations to discuss prospects for cooperation between the two countries. Stressing their Slavic ultranationalism, the Polish visitors expressed their concerns about the German influence in Poland. As Piskorski summed up in his article for the Russian newspaper Ya – Russkiy, "what is now going on between Poland and Germany is not a fair and open war, but a covert German economic invasion, inherently a kike method of penetration".
In the beginning of the 2000s, Niklot was successful in infiltrating established political parties and often joined protests alongside the right-wing populist Samoobrona party led by the late Andrzej Lepper. This was a point of entry for Piskorski and some others among Niklot's top members, including Martynowski, into the party in 2002. Piskorski rapidly progressed up the career ladder and became an important ideologue of Samoobrona and the party's international relations officer.
Initial contacts between Piskorski and the Russian fascist Aleksandr Dugin's International Eurasian Movement (MED) and Eurasian Youth Union (ESM) were established already in 2004, when Piskorski and the ESM's leader Pavel Zarifullin monitored the 2004 parliamentary elections in Belarus. Piskorski and Martynowski visited Moscow in 2005; in particular, they discussed the creation of a Polish branch of the MED but this project was never fully implemented.
A more fruitful result of Piskorski's contacts with Russian nationalists was his visit to Transnistria as an observer of the "parliamentary elections" in December 2005. At a press conference of international observers, Piskorski declared that he would do everything to convince the Polish authorities to recognise Transnistria as an independent state. Piskorski's trip to Transnistria and his statement provoked a scandal in Poland. Consequently, Samoobrona's leader Andrzej Lepper, who aimed at securing the position of Deputy Prime Minister — following the party's success at the 2005 parliamentary elections that made it the third biggest party in the Polish parliament — threatened Piskorski to expel him from Samoobrona for his visit to, and behavior in, Transnistria.
Over the years, Piskorski established a variety of contacts with Russian officials, and their "election observation" in favor of Kremlin's interests became an entrance ticket to participation in other Russia-related activities.
In January 2007, Piskorski and his associates registered the European Centre of Geopolitical Analysis (ECGA) that would, in particular, provide electoral monitoring service to interested parties. The ECGA featured several Samoobrona members, including Martynowski, Konrad Rękas and Marcin Domagała, as well as Polish right-wingers such as Przemysław Sieradzan and Kornel Sawiński who would later become representatives of Dugin's MED in Poland.
The pro-Kremlin nature of the ECGA manifested not only in their "electoral observation" activities, but also in publications indirectly linked to their monitoring. In 2009, Aleksey Kochetkov, the head of the pro-Kremlin electoral observation organization CIS-EMO, and Piskorski — together with Aleksey Martynov, director of the International Institute of the Newly Established States — co-authored a Russian language-book titled South Ossetia: Armed Aggression and Peace-Making War in which they attempted to condone Russia's war against Georgia in August 2008. While grounded in the Kremlin's official narrative of Russia's "peace enforcement operation" in Georgia, the authors' argument condoning Russia's war went beyond this official line and represented a point of view of Russian imperialism:
For Russia, the participation in the events of August 8 in South Ossetia and their consequences became a certain "point of no return". A huge country that was humiliated for 17 years has now been revived as an empire. […] An empire has a right for intervention beyond its borders. It has a sphere of influence and a sphere of strategic interests. Before August 8m 2008, the entire world was considered a sphere of influence of the USA. After that day, it became evident that a second military and political pole exists – the Russian Federation.
Piskorski also became an important communicator of pro-Moscow narratives in Poland and the Russian state-controlled media such as RT, Sputnik, and the now defunct Voice of Russia. But his Russian media status of a "prominent Polish geopolitical analyst" was hardly commensurable to his limited political significance or the ECGA's negligibility in his home country, Poland.
In 2014, the Russia-based Civic Control association, which aims at legitimizing controversial elections and declaring them free and fair, entrusted Piskorski ECGA and the Eurasian Observatory for Democracy and Elections (EODE) led by Belgian fascist Luc Michel with drawing up the main list of international observers for the Crimean "referendum" in March 2014. This list was then passed to the Crimean parliament that officially issued invitations to prospective election monitors. They were members of European far-right organisations such as Jobbik, Vlaams Belang, Ataka, Tricolour Flame, FPÖ, Lega Nord, and Plataforma per Catalunya among others. A number of left-wing (Die Linke and the Communist Party of Greece) and pro-Russian "trusted people" observed the "referendum" too.
Later in 2014, Piskorski took part in the Third International Parliamentary Forum organized by Sergei Naryshkin, the Chairman of the Russian State Duma [parliament]. Anti-US sentiments, as well pro-Moscow narratives on the "Ukrainian question" and the Western sanctions dominated the forum. Piskorski talked of "the most violent geopolitical struggle waged for Ukraine against Russia and Eurasian integration, against the Eurasian integration bloc as an idea that [was] being turned into reality, but also against Europe and European integration, and against the European Union". In another speech, Piskorski discussed the "geopolitical plans" of the ominous unnamed forces that wanted to configure "social historical conscience" and create "new artificial identities", but expressed his hope that Russia, together with the anti-American forces in Europe, would be able to ruin these plans.
In November 2014, Civic Control, Piskorski's
ECGA
, and Michel's
EODE
co-organized "electoral observation" of the 
fake parliamentary elections
on East Ukrainian territories occupied by the Russian troops and pro-Russian separatists, and Piskorski was personally greeted by the leader of the pro-Russian separatists Aleksandr Zakharchenko.
In early 2015, Piskorski founded a new party called Zmiana that attempted to combine Polish right-wing and left-wing extremists and position itself as openly pro-Russian. One of the leading members of Zmiana is Bartosz Bekier, the leader of the Polish fascist organisation Falanga that is on friendly terms with pro-Russian separatists in Eastern Ukraine and Bashar al-Assad's regime in Syria.
In January 2016, Piskorski – together with several Polish journalists – visited Crimea annexed by Russia and declared that the Russian occupation forces respected the rights of all ethnic groups living in Crimea. Piskorski naturally neglected
multiple
human rights violations
in Crimea, including politically motivated murders, tortures, terror campaigns and abductions.
Tags: Far right, International, Neo-Nazis, Poland, Russian nationalists