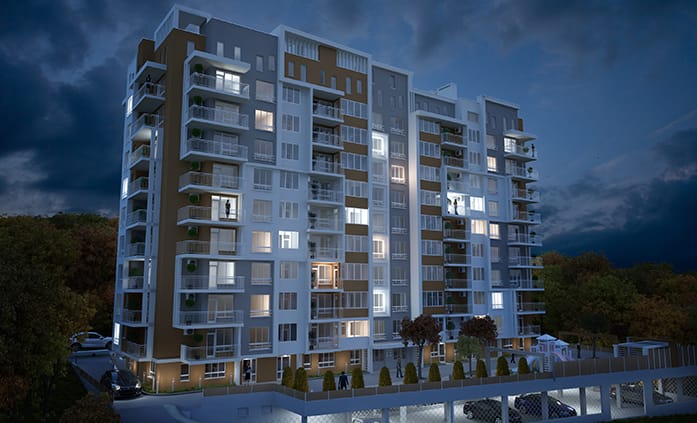 Project of IT incubator in Lviv, Ukraine to be built by 2017. Photo from: http://itcluster.lviv.ua/ 
In recent years Ukraine's economy has become a byword for cronyism, oligarchic control and levels of corruption which are almost unimaginable for a large, notionally democratic European country.
The problems bedevilling economic growth and development are legion: reams of Soviet-era red tape choking up deregulation and transparency, thousands of shady state-owned enterprises serving as private bank accounts for oligarchs, and near constant political turmoil and infighting.
To make matters worse, the war in Donbas and threat of Russian invasion have struck a serious blow to industrial production and foreign investment.
Nevertheless, amid such dire assessments, it is important to remember Ukraine's staggering economic potential.
A highly educated country with a population of 45 million and extensive mineral and agricultural resources, Ukraine is certainly capable of emulating and even surpassing the 'Polish miracle' (since 1989 Poland's GDP has doubled).
The eruptions of the Euromaidan Revolution seemed to signal just such a turning point in the country's economic fortunes. Indeed, although corruption persists and political or judicial reform has been lacking, a great deal has been done to reform Ukraine's economy.
The recent political turmoil is hardly encouraging but it should be remembered that in the four most reformist post-Soviet countries the government changed on average once a year during the first decade of transition. Moreover, many of the non-political civil service positions are now staffed by Western educated officials and the World Bank predicts modest economic growth for Ukraine 2016.
It is important to remember that Western countries have much more to give than just money. In many ways, their expertise and administrative experience is a more valuable resource and could be useful to Ukraine in myriad different ways.
Bodies like the European Energy Council and the US Bureau of Energy Resources could advise on energy reform.Financial professionals can advise on the establishment of a truly independent Central Bank to reduce volatility, while EU civil servants can advise on fiscal policy.
Moreover, the US and European governments could do more to encourage private investment in Ukraine through institutions such as OPIC, the Ex-Im Bank and USAID.
Ukraine has a highly qualified and highly educated workforce and has great potential in the spheres of IT and manufacturing. Western Ukraine has much growth potential, especially considering the region's low wages – in dollar terms pay in coastal China is twice as high and in Poland five times higher. 
However, in order to make good on the country's enormous potential, the political, governmental and judicial leadership must seize the opportunity that Euromaidan has presented. It is not too late to turn Ukraine around and follow in the footsteps of Poland and the Baltic States.
Related:
Tags: #UAreforms, corruption in Ukraine, Economy, reforms in Ukraine, Ukraine